For immediate release
Boccia Canada – Liverpool, England (August 12, 2018) – Team Canada started the individual competition at the BISFed 2018 World Boccia Championships with strong performances from a trio of veterans, Alison Levine (Côte-Saint-Luc, QC),  Eric Bussière (Verchères, QC),  and Hanif Mawji (Burnaby, BC).
Teammate and relative newcomer to the National Team, Philippe Lord (Blainville, QC) faced two tough BC3 opponents today in Portuguese athlete José Macedo ranked seventh in the world, and Korean Junyup Kim, ranked twelfth. Lord struggled in the first two ends against Kim leaving him trying to climb back in the last two ends, but ultimately coming up just short.
On a positive note, Levine capitalized on a few mistakes from her opponent Matjaz Bartol of Slovenia.  After throwing all his six balls in the third end in an attempt to hide the jack, Levine destroyed his blockade in two shots and played her remaining balls to earn three significant points and put her in the lead going into the fourth end. The play-by-play announcers correctly predicted that it would be extremely difficult for Bartol to come back from this end, especially against the seventh ranked Levine. The first two ends had Levine down 2-1, which made every inch matter as the match wore on. After that third end and down in the match, Bartol started to feel frustrated  and attempted to open up the game, which gave Levine  the advantage. She won the match by a 6-2 margin.
"I took care of business today," affirmed Levine.  "By winning both my games, staying in control of my emotions, and playing the way I can, just like I do in training."
BC4 Coach César Nicolai was proud of how Alison played, completing a great day of competition by following their game plan to a tee. "In her second game, Levine had great first balls that immediately put pressure on her opponent, allowing her to stay in control of the game from the start. She continued her strong game play not allowing her opponent a single point."   The final score was 6-0.
Tomorrow's objective is to win her last pool game, to qualify for the 1/8 finals. "Tomorrow is another day, and we need to continue this way to keep on playing," added Levine.
After his first day at the World Championships, Bussière is very satisfied with his two victories. His game play was very efficient and the placement of his balls were very strategic. His first match against Belgium's Pieter Cilissen started slow, but Bussière's consistency played in his favor, ultimately winning the match 6-4.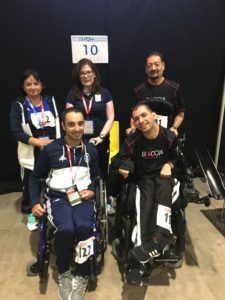 Bussière continued his excellent play in his second game of the day. "In the second end, Eric had no pity for his opponent scoring five points in the game and an extra point due to a penalty. He took full control of the game earning six points," noted Head Coach Mario Delisle.
In a low scoring game, Mawji knew the importance of playing a cautious and strategic game. The third end proved to be the turning point for Mawji, earning three points to put him ahead 4-1 going into the fourth end. All that was left to do was to play great defense and keep his opponent to less than three points. A successful last end left his opponent only earning one point, and Mawji victorious.
Individual competitions continues tomorrow with the four Canadians back in action bright and early in the morning.
Livestreaming of the event is available at, https://www.youtube.com/watch?v=PVsfZaTkGjU. For a full list of today's results, consult www.BISFed.com
Results Summary
BC1
Hanif Mawji (CAN) 4, Mauro Perrone (ITA) 2
BC3
Eric Bussière (CAN) 6, Pieter Cilissen (BEL) 4
Eric Bussière (CAN) 12, Maria Bjurstrom (SWE) 0
Philippe Lord (CAN) 2, José Macedo (POR) 5
Philippe Lord (CAN) 2, Junyup Kim (KOR) 5
BC4
Alison Levine (CAN) 6, Matjaz Bartol (SLO) 2
Alison Levine (CAN) 6, Nuanchan Phonsila (THA) 0
-30-
For media inquiries:
Natalie Antoine
613-608-4347
Levine, Bussière and Mawji go undefeated on day one of the BISFed World Championships