For immediate release
Boccia Canada – Liverpool, England (August 16, 2018) – The pairs competition began at the 2018 BISFed World Boccia Championships with Team Canada BC4's red hot and winning both their pool matches today. With these victories against Russia and Slovakia, Canada has already qualified for tomorrow's quarterfinal regardless of the result of their final pool match against the United States.
Iulian Ciobanu (Montréal, QC) and Marco Dispaltro (St-Jerome, QC) made their first appearance of the tournament in the BC4 pairs first match against Russia. BC4 Coach Cesar Nicolai started these two to give Alison Levine (Côte-Saint-Luc, QC), additional time to rest after a hectic past couple of days with her fourth place finish in individual play.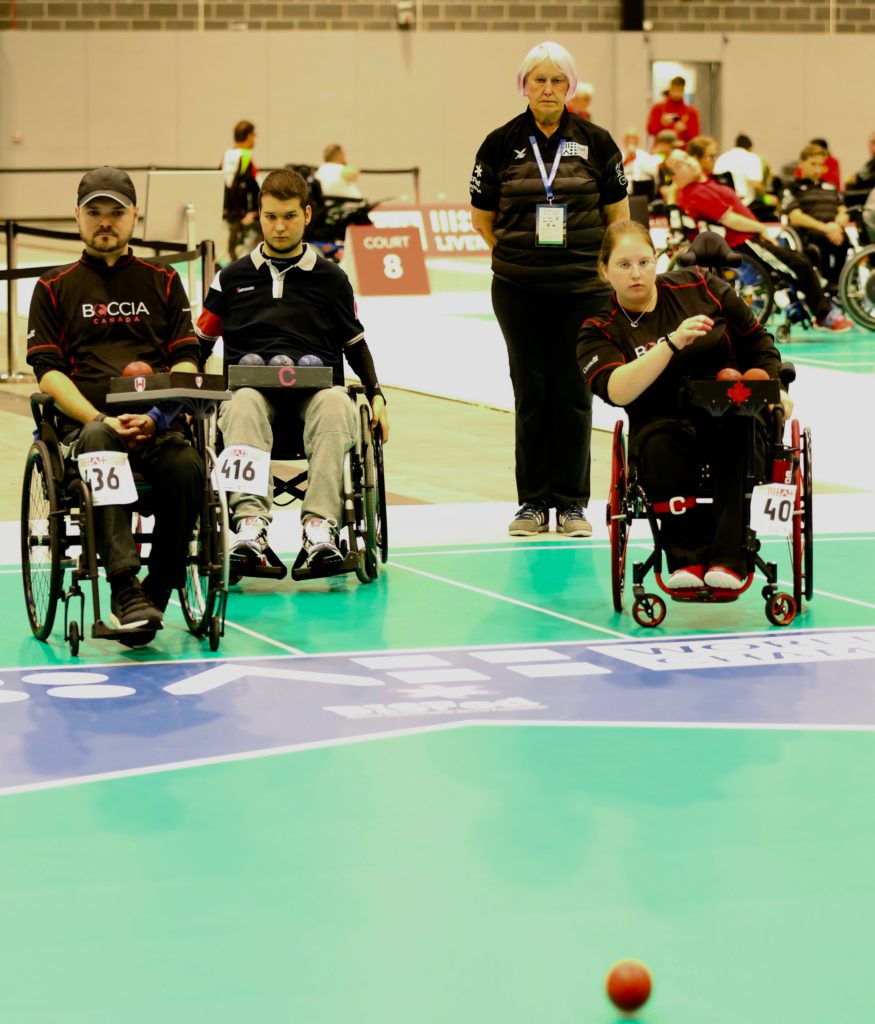 The Russians played tough in the first end stealing three points to take the lead. To change the momentum, Nicolai substituted Dispaltro for Levine, her confidence high from the individual portion of competition. This strategy worked in Team Canada's favor, grabbing two points in a tight second end. A superb displacement from Levine was a key moment in the third end as Canada grabbed another point.
Heading into the fourth and final end the score was three-all, with the match on the line. The Russians decided to play the last end in the back half of the court, but struggled on the placement of their first ball. Team Canada took full advantage and blocked access to the jack. With their last ball, Russia was in line for the extra point and victory, but Levine still had two shots left to go. Levine hit the blue ball further away from the jack, allowing the Canadian pair to score two points and win 5-3.
"The Russians were ready to compete and it wasn't easy against them especially in that first end," stated Ciobanu. "We broke the ice with this first match and we built some confidence for the next one."
In their second match of the day, Levine and Ciobanu played the first end against Slovakia, the number one ranked BC4 pairs in the world. The pair began strongly, jumping out to a 2-0 lead. Levine and Ciobanu combined to play a steady and strategic remaining two ends, only allowing the Slovaks two points and claiming a 5-2 win.
"You can feel the athlete's confidence and positive energy shining through today," stated Head Coach Mario Delisle. "We have to go one match at a time, but we are certainly confident heading into tomorrow's competition."
The BC4 pairs are now undefeated at the World Championships and set their sights on tomorrow's match against the United States for the last pool game. The Canadians have already qualified for tomorrow's quarterfinals, but will wait to see who their opponent will be.
Livestreaming of the event is available at, https://www.youtube.com/watch?v=Rmx63CutfhY. For a full list of today's results, consult www.BISFed.com
Results Summary
BC4 Pairs
Canada 5, Russia 3
Canada 5, Slovakia 2
-30-
For media inquiries:
Natalie Antoine
613-608-4347
Levine, Ciobanu and Dispaltro knock off number 1 and 8 ranked Slovakia and Russia