Boccia Canada – BISFed Montreal World Open
Levine, Ciobanu and Dispaltro One Point Away from the Semi-Finals
Montreal, April 28, 2018 – Canada's BC4 representatives Alison Levine (Côte-Saint-Luc, QC), Iulian Ciobanu (Montreal, QC) andMarco Dispaltro (Saint-Jérôme, QC) came very close to qualifying for Sunday's pairs semi-finals.
The three of them joined forces on Saturday to beat the Colombians 4-2 and crush the Americans 8-1.
"We had an excellent match against Colombia. We had never beaten them in pairs before this morning," observed coach César Nicolai.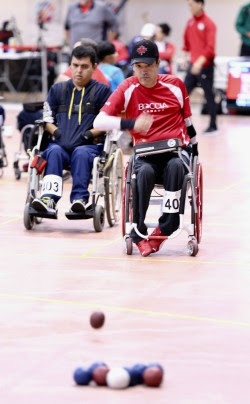 Marco Dispaltro in action
Photo: François Prince / Boccia Canada
"The day started really well. We came back strong after trailing a little in the first three ends. Iulian made some great moves in the fourth end and we managed to win 4-2," added Dispaltro.
However, in their last match of the day, Canada's colour bearers bowed out to the Hong Kong team 6-1.
"In the game against Hong Kong, we were lacking in our execution. We knew there was little room for error because they have an excellent player who is the Paralympic champion. He has the physical strength it takes to really move the balls and he played perfectly today," explained Dispaltro.
"He didn't miss a single ball. And when you play against him, if you don't perform perfectly and he doesn't miss a ball, well, it's game over for you. We're aware of what we didn't do well and what we have to work on."
With Canada, Colombia and Hong Kong in a three-way tie with two victories and one defeat each, the for-and-against points differential was the deciding factor, meaning that Canada will not advance to the semi-finals.
"We had to win the third match to guarantee our advancement. And barring a win, we had to lose by less than four points. Basically, if we'd lost 6-2, we would have moved ahead. It's very frustrating," said Nicolai.
Levine, Ciobanu and Dispaltro ended up with a fifth-place finish.
"There's still a lot of work to do but we can see the light at the end of the tunnel. The chemistry between the three of us keeps developing so we'll be really hard to beat in the future," Dispaltro noted.
In BC3 pairs, Canadians Bruno Garneau (Montreal, QC), Eric Bussière (Verchères, QC) and Philippe Lord (Blainville, QC) were defeated in their three matches of the day against the United Kingdom (7-2), South Korea (5-3) and Argentina (4-1) in Group A.
"The first two games went well but the last one against Argentina went pretty badly," noted coach Kristin Dorrance. "We modified our strategy and that helped a little, but we had trouble with precision. It was okay but it wasn't perfect and at this level, okay is not enough."
On Sunday morning, Canada will face off against Australia in its last Group A match.
Canada's BC1/BC2 team, which is made up of Éric Lefebvre (Montreal, QC), Hanif Mawji (Burnaby, BC), Benoit Ostiguy (Montreal, QC),Michael Mercer (St. John's, NL) and Tammy McLeod (London, ON) lost its three matches of the day to Brazil (17-0), Argentina (12-0) and Hong Kong (5-3) in Group B.
Ranked fourth in their group with three losses and no wins, the Canadian BC1/BC2 team did not qualify for Sunday's semi-finals. They finished eighth in the competition.
"We knew it would be difficult to win a match because this team is in rebuilding mode. We've seen progress from one match to the next but our athletes certainly haven't yet mastered this level of play," said head coach of the national team Mario Delisle.
Competition will resume on Sunday and close with the medal presentations for the various categories.
About Boccia Canada
Boccia Canada is the boccia delivery arm of the Canadian Cerebral Palsy Sports Association (CCPSA), the National Sport Organization for the Paralympic sport of boccia. Boccia Canada is focused on providing athletes and individuals of all ages and skill with the chance to play a unique Paralympic sport. CCPSA collaborates with partners to increase the participation of Canadians with cerebral palsy and related disabilities in sport and physical activity, while leading, developing and growing boccia from grassroots, to producing World and Paralympic Champions.
About boccia
Boccia is a Paralympic sport of precision and strategy similar to lawn bowling or curling, played by athletes with Cerebral Palsy, Muscular Dystrophy and related disabilities. It is one of only two Paralympic sports that do not have an Olympic counterpart. Athletes compete in one of four sport classes based on their level and type of disability: BC1, BC2, BC3 and BC4. For more information on boccia, visitwww.bocciacanada.ca.
-30-
Information:
Jennifer Larson
jlarson@bocciacanada.ca
Levine, Ciobanu and Dispaltro One Point Away from the Semi-Finals