For Immediate Release
September 14, 2016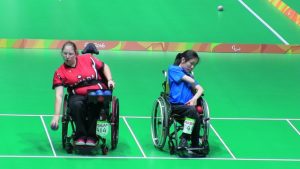 (RIO DE JANERIO, Brazil) Alison Levine (Montreal, QC) qualified for the quarterfinals at her first Paralympic Games today in impressive fashion. Everything was riding on her final match of pool play against Ximei Lin of China. With a three way tie among other players in the pool, Levine had to either win by a total of five points or win three of four ends. In the end, she did both, securing a spot in the playoffs.
"I wasn't going to let her have it. This was my game" says Levine.
Levine struggled in the first end, giving up one point to Lin. In the second end Levine threw her jack at five meters but was not able to follow up with a decisive scoring shot, leaving room for Lin to move in. The dynamic of the game began to shift when Lin became noticeably nervous and missed the open jack with two straight shots, finally nailing it with her third ball. With Levine's power she was able to quickly recover control and score two points. The real turning point came in the third end where Levine was able to steal control of Lin's jack. With just one ball, Levine blocked Lin's line of sight and placed her ball in scoring position directly beside the jack. Lin used up her next five balls to try and displace Levine's shot but it was to no avail. With her opponent out of balls, Levine could focus on widening her lead. She used her last four balls to score three points to finish the end. Going into the final end leading 5-1, Levine knew she had to increase the spread to be sure of advancing. Taking a deep breath and playing with all she had, she threw the final jack at 5 meters and followed it with a good first ball. Again Lin took five shots trying to recuperate, finally landing closer to the jack with her second last ball.
Levine took her time. She was calm and focused and, on her own second last ball, opened the jack with a little push for one point. It was then Lin's turn to throw her final ball. Lin came up short in her final shot, giving Levine the point she needed to take the game 6-1 and advance to the quarterfinals, where she will face Pornchok Larpyen of Thailand. Levine is the sole female to advance in the BC4 category.
"I feel awesome and I am looking forward to tomorrow." says Levine, "Thailand took us out of the pairs and I want to win this game for my teammate. The support that I had from the Canadians in the crowd was fantastic, especially in the first end when I was down by one point."
It was a tougher day for Levine's mentor and teammate Marco Dispaltro (St. Jerome, QC), who did not advance.
He began his day with a 6-1 loss to Ximei Lin of China. Dispaltro gave up three crucial points in the first end, boosting Lin's confidence and giving her momentum for the rest of the game. Despite stronger play in the final three ends, Dispaltro was unable to close the gap.
"We are at the Paralympics and you need to play your best boccia to win games. Marco had a bad first end on his jack and at this level you have no other chances. Lin played a strong game and she got the win." commented BC4 coach Cesar Nicolai.
Dispaltro finished his 2016 Paralympic journey in his final pool game against world number four Yuansen Zheng of China. These players have enjoyed a healthy rivalry in recent years, as it was Zheng that Dispaltro defeated at the 2014 World Championships to earn the world number 1 ranking.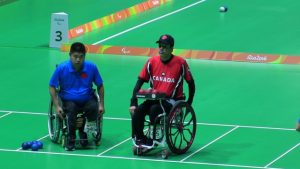 Zheng played an incredible game, leaving no room for error. It was a game of cat and mouse where control was gained just as quickly as it was lost. Unfortunately, the balls did not roll in Dispaltro's favour. An impressive ricochet from Dispaltro in the second end yielded no points as Zheng quickly recovered with a perfect placement from which Dispaltro was unable to recover. Dispaltro played great defense in this match, but Zheng was relentless. The final score was 9-0 for Zheng, who finished pool play with a perfect record.
"Zheng played a very strong game and I wasn't able to open the jack and take control, particularly at the middle of each end. It's disappointing but I'm happy for my teammate and how she played." commented Dispaltro.
In other play, BC3 athlete Eric Bussiere (Vercheres, QC) finished pool play with a tough loss to world number two Han Soo Kim of Korea, ending his dream of a Paralympic podium finish.
"My strategy was to play like I always play; with confidence and no matter what have fun. I won the final end with one point, it is not a lot, but against the world number two I am very proud of myself," says Bussiere, "I still have a lot of work to do. I need to focus on some new balls and some ramp modifications, but I am looking forward, staying positive that I can still progress and be ready to dominate at the 2020 Paralympics."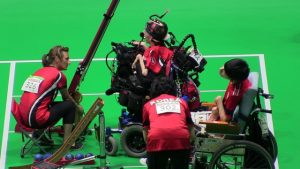 It was a very close game and hard fought battle by Bussiere against the more experienced Kim. In the first end Kim placed a perfect jack and Bussiere was forced to use half of his balls to successfully displace it. Kim came back and used the opening Bussiere left to score two points in the first end. Again in the second and third ends Bussiere had to take a more defensive strategy to displace Kim's perfectly placed balls. Good defense by Bussiere allowed Kim to only score two points against him, but it also limited his offensive opportunities. In the final end, Bussiere came out strong and fought hard to put some points on the board. Bussiere pushed Kim to play defense allowing him to score one point for Canada ending the game at a score of 4-1 for Kim.
"The Korean was almost perfect compared to yesterday and he just didn't give enough opportunities to Eric," said Head Coach Mario Delisle. "When you are always trying to displace perfect balls like Eric did for the majority of the game you just don't have enough balls left to score many points. We will have to find ways for Eric to generate more power and take less balls to open up the jack."
Alison Levine's quarter finals match takes place tomorrow at 10:30 (EST) against Thailand's Pornchok Larpyen.
Media Contact:
Kaymin Roorda, Marketing and Communications Coordinator
Cell: 613-806-5669
Email: kroorda@bocciacanada.ca
LEVINE QUALIFIES FOR PARALYMPIC QUARTER FINALS