For Immediate Release
Sept 28, 2017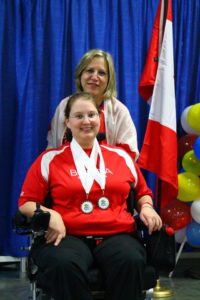 (Kansas City, USA) Alison Levine (Montreal, QC) heads home from Kansas City with two bronze medals around her neck. Levine faced newcomer Davor Komar from Croatia in the bronze medal match and won the game 3-2.
Levine played a disciplined game from the start, stealing a point on Komar's jack in the first end and blocking access to the jack throughout the game.
"It was a really close game, but I was in control. I know that is such a stereotypical thing to say, but I really was."
It was great result for Levine, who lost a tough semi-final to world number five Stephen McGuire of Great Britain just two hours earlier.  An unlucky ball in the second end left the court open for McGuire to take a 5-0 lead. Levine worked her way back, but couldn't completely close the gap and lost 5-3.
"Losing a semi-final is always hard, but she came back stronger, ready to fight for the bronze medal," said a proud BC4 coach Cesar Nicolai. "With this being National Coaches Week and with my new Canadian citizenship I am really happy, for Ali and all my BC4 athletes."
Eric Bussiére (Vercheres, QC) met Jamie McCowan, another British athlete in the quarterfinals. McCowan capitalized on every small miscalculation by Bussiére, who played a strong defensive game, but had trouble generating offense. "It was a bit surprising," said Coach Kristin Dorrance. "He's usually a much more aggressive player, but this time he played a bit differently, and I think that was the difference maker".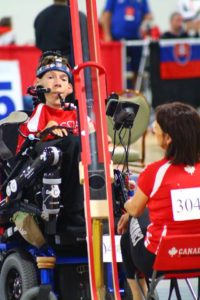 "It's really hard to accept this," said a disappointed but determined Bussiére, "but I know that it's part of the game. I know I need to work harder to be one of the top athletes over the next four years and I will do that!"
Iulian Ciobanu (Montreal, QC) was also eliminated in the quarterfinals by the eventual silver medallist, Euclides Grisales of Colombia. Ciobanu took an early lead, but was unable to keep control of the jack for the rest of the game, giving up six points in the last three ends.
Overall, Head Coach Mario Delisle is happy to be coming home with three medals, but also noted the emergence of countries like Colombia and Australia as strong competitors. "We've seen some new athletes to watch over the next few years. It's all about learning. Those who didn't perform well here are hopefully coming back home with the desire to get to that point. Hard work at home is the only thing that will get them there."
While the rest of the team returns home, Marco Dispaltro (St. Jerome, QC) and Ciobanu leave directly from Kansas for the next World Open in Bangkok, Thailand.
Daily scores:
BC3 Quarter Finals:
Eric Bussiere  1  6   Jamie McGowan (GBR)
BC4 Quarter Finals:
Iulian Ciobanu  1  6  Euclides Grisales (COL)
Alison Levine    3  1  Melisa Osmanovic (CRO)
BC 4 Semi finals:
Alison Levine    3  5  Stephen McGuire (GBR)
Bronze medal:
Alison Levine    3  2  Davor Komar (CRO)
Levine Wins Bronze at Kansas City World Open