Immediate Release
September 11, 2016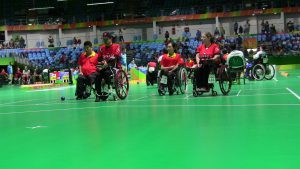 (RIO DE JANEIRO, Brazil) It was a disappointing day for Team Canada with no pairs moving forward to the medal rounds, but heads are still lifted high and focus is still on the court as the athletes look to individual play on Tuesday.
Again playing in a packed house Canada's BC4 pairs consisting of Marco Dispaltro (Montreal, QC), Alison Levine (Montreal, QC) and Iulian Ciobanu (Montreal, QC) were not able to capitalize and turn the game around in their final pool match against Thailand. With these teams being just one international ranking apart it was bound to be a close game. Thailand had a very good first end which they used as a catalyst to build momentum for the entirety of the game. Canada tried to come back in the second end when Ciobanu threw a perfect ball in front of the jack to score three points but unfortunately this was not enough to control the game. In the final end, Thailand slid the jack out from Canada's balls and hid the jack with their next shot. Ciobanu was able to successfully open up the jack once more, but Dispaltro missed the jack by a hair allowing Thailand to score two final points. The final score of the game was 7-3 for Thailand.
"Thailand was very good competition" comments BC4 coach Cesar Nicolai, "They played very well in all of their games. It is always little details at the international level that can change the game. From here we now focus on individual play and get ready to dominate the court."
Reflecting on his first experience at a Paralympic event, Ciobanu said "It was my first experience and there was a lot of pressure. All the players are really good. I will still progress in the years to come and look forward to Tokyo Paralympics in 2020."
On the next court, Canada's BC3 pairs faced London bronze medallists Belgium in their final match of pool play. The Canadian team consisted of veteran Bruno Garneau (Montreal, QC), Eric Bussiere (Vercheres, QC) and Marylou Martineau (Quebec, QC).  Knowing that they would not be able to qualify for the medal round, the focus for this game was on gaining experience and playing for pride.
In the first end Canada had to play defense early as Belgium threw a perfect jack. Canada was not able to displace the jack to earn points, but defended well to limit Belgium to two points. A hard fought battle ensued for the rest of the game to hide the jack and displace Belgium's balls, but Pieter Clissen, team captain for Belgium, was on his game and was able to slide through the openings to hit the jack. Belgium took the game with a 7-0 win over Canada.
Fifteen year old Martineau, who entered the Games as a rookie, Rio was an opportunity to test her skills on the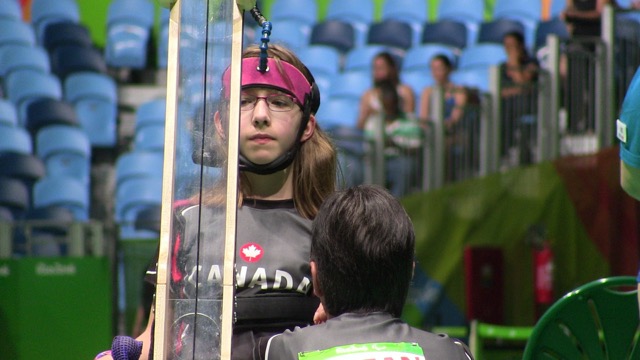 world's biggest stage and build experience for the future. She reflected that, "I did the best I could and I enjoyed the experience of being here despite the losses. I have learned many things here and I am sure that this will help me in the future. I understand that it is difficult to perform at this level and that I will have to train more over the next few years to be on the same level as many of these athletes."
Head coach Mario Delisle commented that "The athletes did their best in the circumstances. Yes, they could have performed better, but bottom line is, we did not have enough experience on the court and consistency was our biggest issue."
Dispaltro, Levine, Bussiere and Garneau will be moving forward to individual play which begins Tuesday. It will be Canada vs Canada in the first round of BC4 play as Levine and Dispaltro go head to head in their first match at 4pm EST. Bussiere will be looking for retribution against his first opponent Kenneth Verwimp of Belgium T 4pm EST and Garneau will be in tough against World number six Jose Macedo of Portugal AT 9am EST.
Media Contact:
Kaymin Roorda, Marketing and Communications Coordinator
Cell: 613-806-5669
Email: kroorda@bocciacanada.ca
MOVING FORWARD TO INDIVIDUAL PLAY FOR TEAM CANADA