OTTAWA (June 14, 2016) – AthletesCAN and Investors Group are pleased to announce that boccia national team member Adam Dukovich has been awarded a $5,000 Team Investors Group Amateur Athletes Fund bursary.
In keeping with t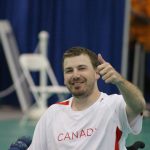 heir commitment to amateur sport in Canada, Investors Group established a bursary fund for Canada's top high performance athletes. A national leader in delivering personalized financial solutions to Canadians, Investors Group annually awards twenty $5,000 bursaries to assist Canada's elite amateur athletes with the costs of training and competition. Selection criteria includes: athletic achievement, financial need and community involvement.
Since its inception in 2000, the Team Investors Group Amateur Athletes Fund has provided more than $1.6 million to Canadian athletes. AthletesCAN administers the bursary on behalf of Investors Group.
"Investors Group considers it an honour to help support our nation's elite athletes with these bursaries," says Trevor Krahn, Manager, Community Affairs for Investors Group. "Athletes at this level are constantly juggling the demands of work and school with training and competition. For 16 years now, we have been pleased to provided Canada's athletes with bursaries totalling $1.6 million to make those demands easier to manage so they can get more out of life."
"AthletesCAN applauds Investors Group's contributions as a leader in corporate support of Canada's national team athletes", says AthletesCAN Executive Director Ashley LaBrie.  "This bursary recognizes the dedication and leadership Adam exhibits both on the field of play and in the community.  We look forward to seeing the impa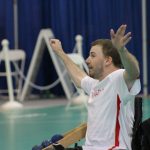 ct of this bursary throughout his quest for excellence as an athlete and a role model."
Adam's recent sport accomplishments include earning a silver medal at the Toronto 2015 Parapan American Games.
"It is a huge honour to be selected amongst some of the best amateur athletes in Canada for this bursary," says Adam. "The Team Investors Group Amateur Athletes Fund will allow me to dedicate even more of my time to my sport so that I can continue to strive to be on the podium at the 2020 Summer Paralympic Games in Tokyo," he adds. "I am truly honoured that Investors Group has recognized my efforts and contributions to my sport and community"
2016 Team Investors Group Amateur Athletes Fund Bursary Recipients:
Joshua Binstock (Richmond Hill, ON) – Beach Volleyball
Kieran Block (Edmonton, AB) – Sledge Hockey
Andrea Burk (North Vancouver, BC) – Rugby
Adam Dukovich (Ottawa, ON) – Boccia
Ariane Fortin (Saint-Nicolas, Lévis, QC) – Boxing
Raphaël Gagné (Lac Beauport, QC) – Mountain Bike
Taryn Grant (Winnipeg, MB) – Water Ski
Byron Green (Courtenay, BC) – Wheelchair Rugby
Rachel Hannah (Guelph, ON) – Athletics
Cassie Hawrysh (Brandon, MB) – Skeleton
Rachel Homan (Ottawa, ON) – Curling
Danielle Lappage (Olds, AB) – Wrestling
Ness Murby (Salt Spring Island, BC) – Para Athletics
Victoria Nolan (Toronto, ON) – Para Rowing
Mathieu Roy (St-Gervais, QC) – Softball
Ben Russell (Dartmouth, NS) – Sprint Canoe
Kelleigh Ryan (Ottawa, ON) – Fencing
Kirsten Sweetland (Whistler, BC) – Triathlon
Charley Thomas (Didsbury, AB) – Mixed Doubles Curling
Noemie Thomas (Richmond, BC) – Swimming
For more information, please contact:
Ashley LaBrie
Executive Director
AthletesCAN
(613) 526-4025
alabrie@athletescan.com
www.athletescan.com
About Investors Group
Investors Group, founded in 1926, is a national leader in delivering personalized financial solutions to Canadians through a network of approximately 5,300 Consultants located throughout Canada. In addition to an exclusive family of mutual funds and other investment vehicles, Investors Group offers a wide range of insurance, securities, mortgage and other financial services.
About AthletesCAN
As the voice of Canadian national team athletes, AthletesCAN ensures an athlete centered sport system by developing athlete leaders who influence sport policy and, as role models, inspire a strong sport culture.
Ottawa, ON athlete Adam Dukovich awarded 2016 Team Investors Group Amateur Athletes Fund Bursary