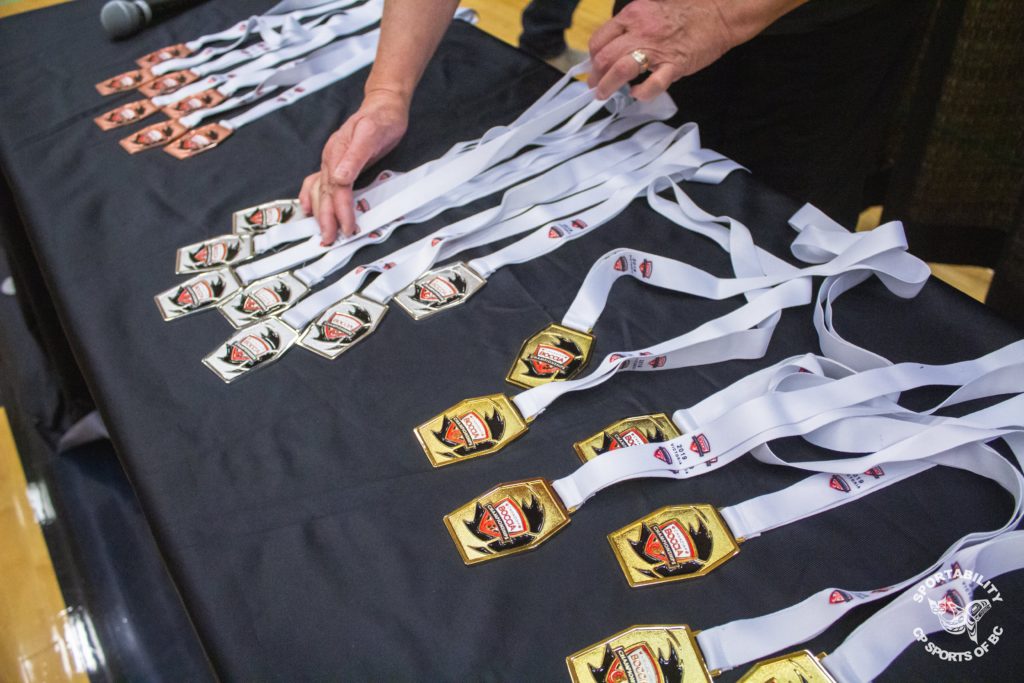 Victoria, BC (December 1) – As Individual play wrapped-up at the 2019 Canadian Boccia Championships, the medal podium was undeniably crowded with past champions who demonstrated their experience and skill to create scoring opportunities and gain control of their matches.
The packed BC3 category featured tough competition where four National Team members, Éric Bussière (Verchères, QC), Philippe Lord (Blainville, QC), Joëlle Guérette (Montréal, QC), and Marylou Martineau (Québec City, QC) secured their spots in the semi-finals. Top ranked Bussière took gold with a score of 6-2.
"My objective at the 2019 Canadian Championships was to win gold and it was achieved," said Bussière. "This is the third consecutive time that I received the gold medal and this will give me confidence going forward. Sometimes there are victories, sometimes there are losses but this weekend it was all wins."
It is the second year that the BC5 category is included at the Canadian Boccia Championships. Gio De Sero (Guelph, ON) defended his place on the podium, winning his second consecutive gold in both years by beating Guy Simard (Montréal, QC).
"Being Canada's first BC5 champion last year was amazing and going back to back is even better. I'd like to see the sport evolve and grow. It would be huge to see young kids with a similar disability play and be classified. The BC5 category would give them the opportunity to play the sport."
Fresh off a gold medal performance in Pairs at a BISFed World Open event in Portugal three weeks ago, teammates Alison Levine (Montréal, QC) and Marco Dispaltro (Saint-Jérôme, QC) squared off in a must-watch game.  Unfortunately Levine, the current BISFed World number one in the BC4 class, had to forfeit the match to Dispaltro due to a neck injury. Marco took gold after four wins in his pool.
Dispaltro expressed concerns for his teammate post game. "I'll take the national championship but it'll be a little bittersweet because Alison was not 100%. She's world number one and a vital part of our team. She's the hammer. We need Alison to get healthy for the Tokyo Paralympics."
The third member of the winning team in Portugal, Iulian Ciobanu (Montréal, QC), took home silver in the BC4 class.
In the BC2 class, Mike Mercer (St. John's, NL) won gold over Paul Jalbert (Prince George, BC) after going undefeated over the two days of Individual competition.
"This is pretty special," noted Mercer. "I'm on the upswing. Last year I won silver, so to be crowned champion today is fantastic. All day I've been playing for a good friend that just passed away a couple weeks ago. This one's for Calvin."
In the BC2 bronze medal match, Danik Allard (Bois-des-Filion, QC) picked up five points in the first end on his way to victory over Hayley Redmond (St. John's, NL) 11-1.
"It was a big year for me including making the National Team," said Allard, who has quickly ascended in the BISFed world rankings to number 14 in the BC2 class.  "Without my coaches, I wouldn't be where I am today."
Playing with a heavy heart after the passing of his former teammate Sylvain Dupuis on the day of the Opening Ceremonies of this competition, BC1 athlete Éric Lefebvre (Montréal, QC), took home the bronze medal and emotionally declared, "Tomorrow I will play for [Sylvain]. We played together in Team for Québec." Lefebvre's Québec teammates supported him from the sidelines during the emotional performance and win.
In the BC1 Gold medal match, every inch around the jack ball was contested and overtime was needed for Hanif Mawji (Burnaby, BC) to seal the victory over Lance Cryderman (Val Caron, ON)
The 2019 Canadian Boccia Championships wraps-up on Sunday with Team, Pairs, and Open play. For results visit https://www.facebook.com/BocciaCanada/.
To view the live webcast visit https://sportscanada.tv/2019-boccia-canada-national-championships?occurrence=2019-11-29.
Final Results
BC1
BC2
BC3
BC4
BC5
GOLD 
Hanif Mawji
Mike Mercer
Éric Bussière
Marco Dispaltro
Giovanni De Sero
SILVER 
Lance Cryderman
Paul Jalbert
Philippe Lord
Iulian Ciobanu
Guy Simard
BRONZE 
Éric Lefebvre
Danik Allard
Marylou Martineau
Alison Levine
About Boccia Canada
Boccia Canada is the boccia delivery arm of the Canadian Cerebral Palsy Sports Association (CCPSA), the National Sport Organization for the Paralympic sport of boccia. Boccia Canada is focused on providing athletes and individuals of all ages and skill with the chance to play a unique Paralympic sport. CCPSA collaborates with partners to increase the participation of Canadians with cerebral palsy and related disabilities in sport and physical activity, while leading, developing and growing boccia from grassroots, to producing World and Paralympic Champions.
About boccia
Boccia is a Paralympic sport of precision and strategy similar to lawn bowling or curling, played by athletes with Cerebral Palsy, Muscular Dystrophy and related disabilities. It is one of only two Paralympic sports that do not have an Olympic counterpart. Athletes compete in one of six sport classes based on their level and type of disability: BC1, BC2, BC3 BC4, BC5, and Open. For more information on boccia, visit http://bocciacanada.ca.
---
Media Contact
Holly Janna
Email: hjanna@bocciacanada.ca
Phone number: (613) 748-1430
Past Champions Dominate the Podium at the 2019 Canadian Boccia Championships