For immediate release
Medicine Hat, June 5, 2018 – Alberta Cerebral Palsy Sports Association hosted their second Boccia Provincial Championships May 25-27th at the Medicine Hat Curling Club with athletes of all ages, abilities and experience participating.
In the final game in the Throwers division, Pauline Mann (Medicine Hat, AB) was leading 3-1 going into the last end against Aidan White (Medicine Hat, AB). On his last three shots of the fourth end, White pulled ahead to win the championship 4-3, while Mann took silver and Ted Schmauder (Medicine Hat, AB) won bronze.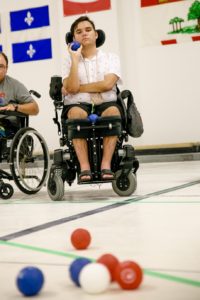 "The fact that the tournament was local allowed there to be many more competitors which made the tournament much more enjoyable," expressed White. "Even though they are mostly people that I play every week, I never get to play them in a competitive setting which provides a much different matchup than it normally does."
The BC3 competition finished with a tight match between Cyla Schoneck (Edmonton, AB) and Ryan Rondeau (Edmonton, AB). A tiebreak end was needed to determine a winner in the gold medal matchup. Schoneck was ultimately victorious for gold, with Rondeau taking silver and Chandra Round (Edmonton, AB) picking up bronze.
Schoneck also participated in the first ACPSA boccia competition in 2016 and is excited about progress she has seen. "I remember it as an open and fun competition focused on getting people involved. For myself, it was my first look at this sport. I had some practice and talent, but I was unsure about how far I wanted to go until I was given that opportunity to compete. This tournament was much more formal and everything ran smoother. The technology for scoring was definitely an added asset. I personally enjoyed the training camp on the first day because it is a great way to go over your skills with a professional and get any questions answered that could benefit my game play. I see a great potential for growth more each year for Alberta."
The ACPSA and the Boccia Canada are looking forward to the continual growth of boccia in the province and is already looking ahead to the 2019 Provincial Championships.
Tournament Summary
Thrower Division
Pauline Mann 5, Vennie Sunwalk 2
Ted Schmauder 8, Mackenzie Kehler 1
Aiden White 6, Scott Pagenkopf 0
Myles Chandler 5, Leroy Mann 1
Semi Finals
Aiden White 7, Myles Chandler 1
Pauline Mann 7, Ted Schmauder 6
Medal Games
Gold: Aiden White 4, Pauline Mann 3
Bronze: Ted Schmauder 7, Myles Chandler 0
Ramp Division
Semi Finals
Cyla Schoneck – BYE to final
Ryan Rondeau 7, Chandra Round 3
Final
Cyla Schoneck 3, Ryan Rondeau 3
-30-
For media inquiries:
Natalie Antoine
613-608-4347
nantoine@bocciacanada.ca
Provincial Boccia Champions Crowned in Alberta