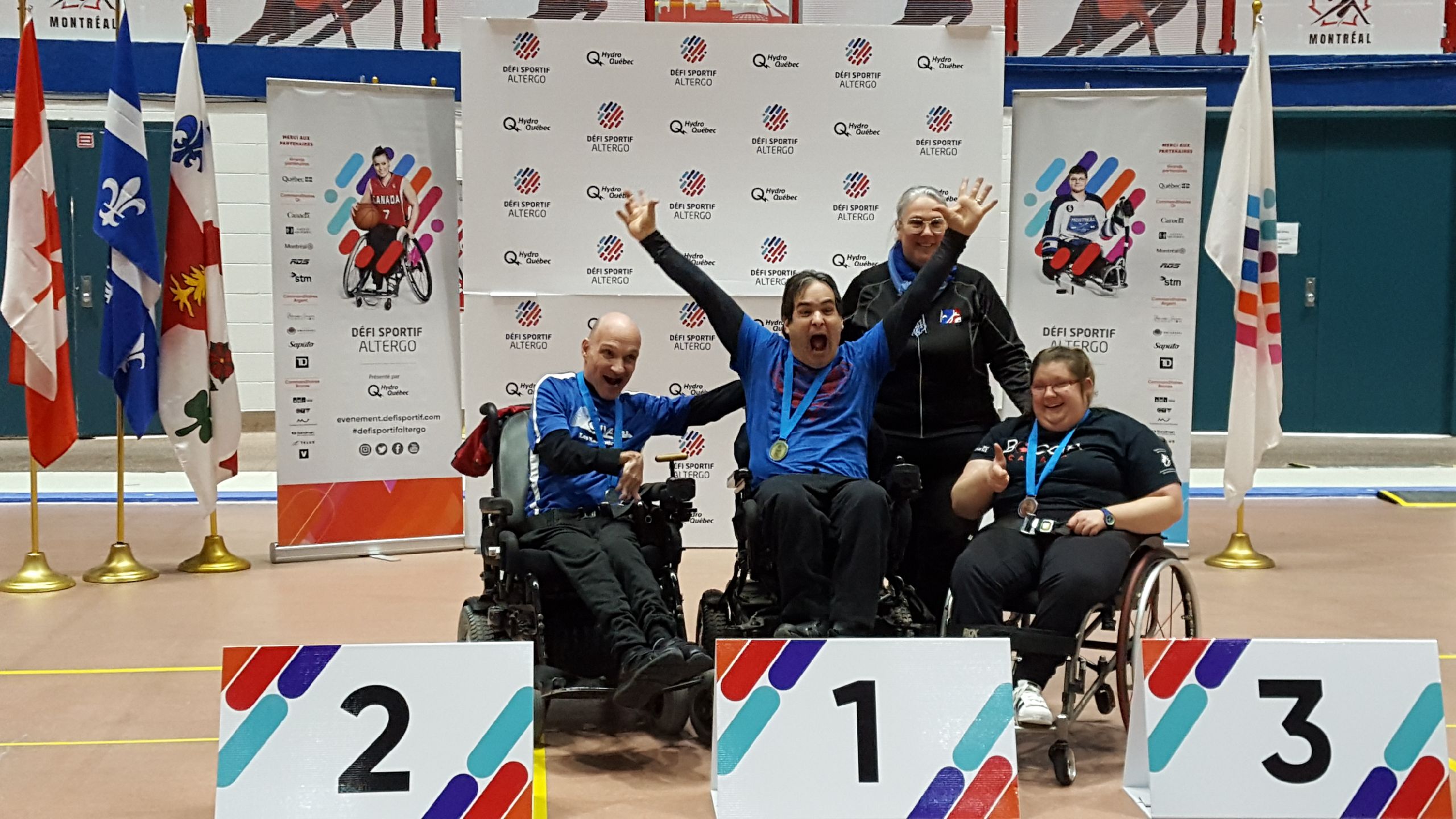 Montréal, April 28 – Six gold medals were awarded on the final day of the 2019 Défi Sportif AlterGo National Boccia Open at the Maurice Richard Arena today.
"The 2019 Défi Sportif AlterGo National Boccia Open is a great level of competition" said Mario Delisle, Boccia Canada Head Coach.
National training squad member Hanif Mawji (Surrey, BC) advanced to the finals against Chris Halpen (Pointe-Claire, QC) in the BC1 category. Mawji played to his strengths in the finals by throwing the jack ball short. He lead throughout the match, ultimately winning 12-0.
In the BC2 category, Dave Richer (St. Jérôme, QC) and Benoit Ostiguy (Montréal, QC) were neck and neck in the gold medal match, tied 2-2 after regulation time. Richer won the gold after strategically placing his first ball just in front of the jack, blocking Ostiguy's attempts to get past.
"I'm really happy. It's very weird but it's my first gold medal win at Défi Sportif AlterGo. I'm very happy with the result."
In the BC3 category, Giancarlo Bizarro (Laval, QC) faced a tough challenge in the quarter finals from Jennica Gagne (Halifax, NS), but was ultimately able to advance and win the gold against Esraa Sbeit (Montréal, QC).
"I am hoping that this will be a good message for other boccia athletes. It was challenging but I made it through. It feels great that I have accomplished something today."
Alexandre Lemaire (Kingsey Falls, QC), topped the podium in the BC4 category with wins over Alek St. Pierre (Blainville, QC) and Josh Gautier (St. Catherines, ON).
Lemaire was "really happy" with his performance. "It feels great. It doesn't happen often that you win a gold medal, especially at a tournament of this importance."
American Rafael De Jesus claimed first place in the BC5 category, followed by Giovanni De Sero (Guelph, ON) and Guy Simard (Montréal, QC).
Two Québec athletes rose to the occasion in the Open category. Ariane Dubuc (Montréal, QC) and Richard Brochu (Montréal, QC) claimed first and second place. Australian athlete James Morrison, competing in Canada for the first time, finished on the podium with a bronze medal. For Dubuc, the international flavour was a welcome addition to the event.
"It's fun because there was an Australian in our category and he played very well. I'm also very happy to have beaten Richard because he's a great competitor."
In wrapping up the event, Delisle was pleased to note that five of the twelve athletes in the semi-finals were members of Canada's high-performance program.
"Athletes from Québec, British Columbia, and Newfoundland and Labrador continue to lead the way nationally, which was exhibited this week in their performance. Some are getting closer to the international level and that is great to see!"
Boccia competition in Montréal continues with the 2019 Défi Sportif AlterGo School Competitions and the BISFed 2019 Montréal Boccia World Open.
For more information, please visit: https://evenement.defisportif.com/en/
About Boccia Canada
Boccia Canada is the boccia delivery arm of the Canadian Cerebral Palsy Sports Association (CCPSA), the National Sport Organization for the Paralympic sport of boccia. Boccia Canada is focused on providing athletes and individuals of all ages and skill with the chance to play a unique Paralympic sport. CCPSA collaborates with partners to increase the participation of Canadians with cerebral palsy and related disabilities in sport and physical activity, while leading, developing and growing boccia from grassroots, to producing World and Paralympic Champions.
About boccia
Boccia is a Paralympic sport of precision and strategy similar to lawn bowling or curling, played by athletes with Cerebral Palsy, Muscular Dystrophy and related disabilities. It is one of only two Paralympic sports that do not have an Olympic counterpart. Athletes compete in one of six sport classes based on their level and type of disability: BC1, BC2, BC3 BC4, BC5, and Open. For more information on boccia, visit http://bocciacanada.ca.
---
Media Contact
Holly Janna
Email: hjanna@bocciacanada.ca
Phone number: (613) 748-1430
Six champions crowned at 2019 Défi Sportif AlterGo National Boccia Open