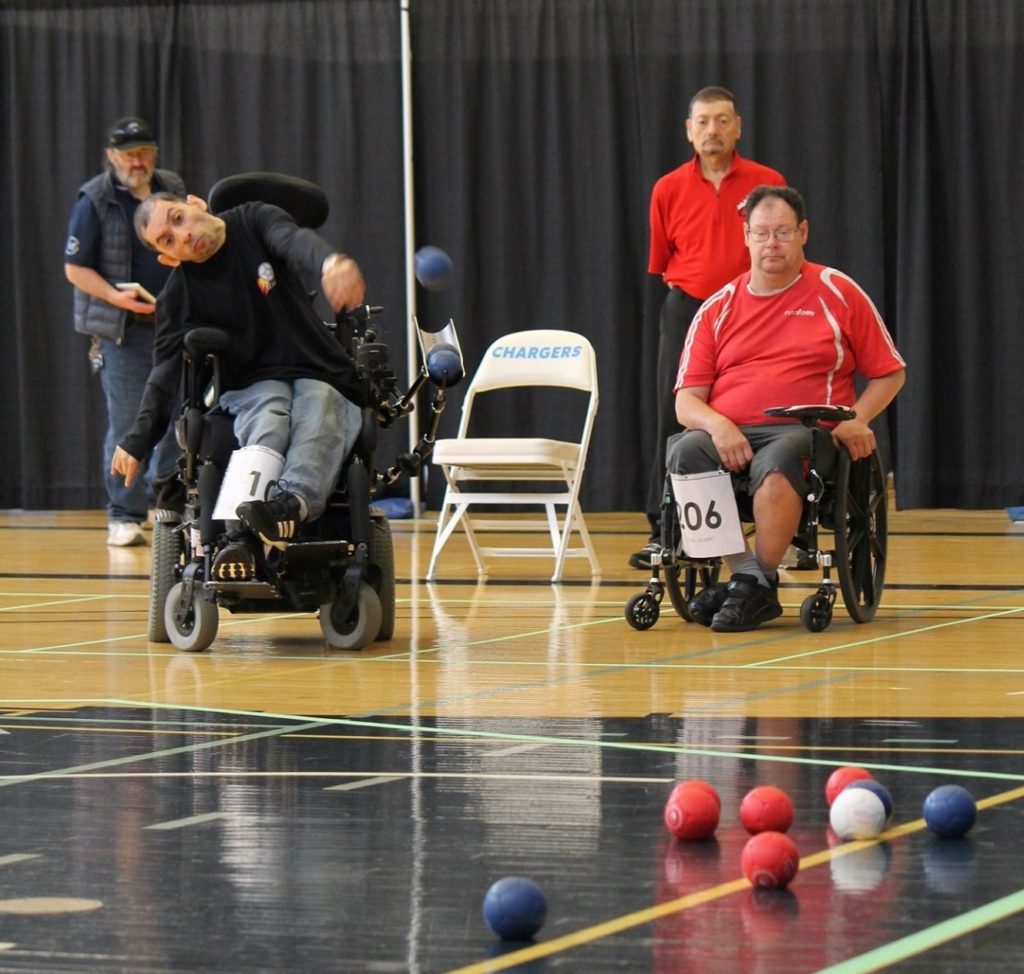 Victoria, British Columbia (July 31, 2019) – The 2019 British Columbia Boccia Provincial Championships took place July 13-14 at Victoria's Pacific Institute for Sport Excellence (PISE). PISE will also be the host venue for the 2019 Canadian Boccia Championships this November.
Fifteen athletes from across the province competed in both individual and mixed team competitions. There was an Individual Mixed Division for the BC1, BC2, and BC3 classes, with a separate division for the Open class.
INDIVIDUAL MIXED DIVISION
Paralympians Hanif Mawji (Burnaby) and Paul Jalbert (Prince George), swept their pools with three wins each to finish as first place seeds.
In the semi-finals, Mawji took a late lead in the third end, ultimately winning 3-1 over Chuck Reid (Victoria). In the other semi-final, Jalbert's experience shone through against rookie Lisa Ferenc (North Vancouver) as he defeated Ferenc 8-0 to advance to the gold medal match.
The gold medal eventually went to Mawji after a hard fought battle by Jalbert. Mawji took points early and while Jalbert fought back in the third end to narrow Mawji's lead to one point, it wasn't enough. Mawji added to his lead in the fourth end to win 5-3. It was Mawji's third straight gold after winning the Boccia Western Challenge and Défi Sportif AlterGo National Open.
"My disappointing performance at last year's Boccia Blast and Canadian Championships was an eye-opener for me because I've been a gold medallist for the past 10 years. I've practiced hard since then and it's paid off. I hope to continue this momentum with the upcoming ParaPan Am Games in Lima," said Mawji.
Reid took the bronze with a convincing 15-0 win over Ferenc.
OPEN DIVISION
Amber Rainshadow (Victoria), Ron Blaus (Victoria), Mildred Thomas (Langley), and Daniel Hutchison (Victoria) advanced to the semi-finals after placing at the top of their pools.
Although Rainshadow swept her competition in round robin play, her streak came to an end with an 8-1 semi-final loss to Hutchison. Thomas pulled out a 4-1 win over Blaus to advance to the finals.
Thomas and Hutchison were familiar with each other, having met in the semi-finals of 2019 Western Boccia Challenge, where Thomas was victorious. Thomas prevailed again in Victoria making her a back-to-back champion.
In the bronze medal game, Blaus scored a point in the first end but couldn't capitalize, eventually losing 3-1 to Rainshadow.
MIXED TEAM COMPETITION
The mixed team competition included athletes from all classifications in a round robin tournament. The undefeated Team 3 [Daniel Hutchison, Kylie Waters (Victoria), and Hanif Mawji], earned gold. Capturing silver was Team 2 [Amber Rainshadow, Tracy Boyd (Langley), Lisa Ferenc, and Gabe Wadham (Victoria)]. Team 4 [Ron Blaus, Jeremy McMillen (Victoria), Chuck Reid, and Luke Cambridge (Victoria)] took home bronze.
LOOKING AHEAD
SportAbility has had a busy month preparing for the Provincial Championships while also keeping their sights fixed on hosting the 2019 Canadian Boccia Championships.
"We are very pleased with how the provincial tournament went. We've seen an increase in participation at our competitions over the past couple of years from new and veteran athletes.  It was great to work with the PISE staff at this event. We look forward to working with them in November when hosting the Canadian Boccia Championships," says SportAbility Executive Director Ross MacDonald.
For more information about the PISE's many accessible features visit www.pise.ca.
For stories on the 2019 Canadian Boccia Championships visit: www.bocciacanada.ca/news-events/.
About Boccia Canada
Boccia Canada is the boccia delivery arm of the Canadian Cerebral Palsy Sports Association (CCPSA), the National Sport Organization for the Paralympic sport of boccia. Boccia Canada is focused on providing athletes and individuals of all ages and skill with the chance to play a unique Paralympic sport. CCPSA collaborates with partners to increase the participation of Canadians with cerebral palsy and related disabilities in sport and physical activity, while leading, developing and growing boccia from grassroots, to producing World and Paralympic Champions.
About boccia
Boccia is a Paralympic sport of precision and strategy similar to lawn bowling or curling, played by athletes with Cerebral Palsy, Muscular Dystrophy and related disabilities. It is one of only two Paralympic sports that do not have an Olympic counterpart. Athletes compete in one of six sport classes based on their level and type of disability: BC1, BC2, BC3 BC4, BC5, and Open. For more information on boccia, visit http://bocciacanada.ca.
---
Media Contact
Holly Janna
Email: hjanna@bocciacanada.ca
Phone number: (613) 748-1430
Three Champions Crowned at British Columbia Boccia Provincials