For Immediate Release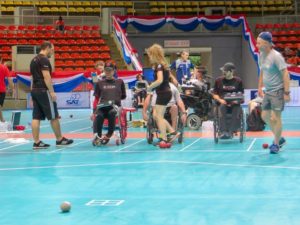 (Bangkok, TH) October 7, 2017- With three losses, it was a tough start for Team Canada on the first day of individual competition at the 2017 BISFed Bangkok World Open, but both Iulian Ciobanu (Montreal (QC) and Marco Dispaltro (St. Jerome, QC) could still qualify for the playoffs.
Iulian Ciobanu (Montreal, QC) started with a close first game against up and comer Shun Esaki of Japan. He took an early lead but could not keep Esaki contained, ultimately losing 3-1. He also lost his second game against Nuanchan Phonbila of Thailand.
Ciobanu plays his final two games of pool play tomorrow and still has a chance to advance if he wins both games.
Marco Dispaltro (St. Jerome, QC) played only one game today against Kwan Hang Wong of Hong Kong. The score doesn't reflect the high level of play from Dispaltro against a really good athlete. Dispaltro tried to make a comeback in the third end, scoring three points, but in the fourth end Wong took control of the jack early and slipped ahead to win 6-3.
Dispaltro is also not out of the running for the podium.
"It's a hard start for him, but it isn't over. He has three games tomorrow so we are looking for three wins!" comments BC4 coach Cesar Nicolai.
Individual pool play continues tomorrow, with qualification rounds on October 9.  For a full list of results and schedule, visit www.BISFed.com. Follow live on Boccia Canada's Facebook page.
Daily Results:
Iulian Ciobanu      1  3  Shun Esaki (JPN)
Iulian Ciobanu      2  7  Nuahchan Phonbila (THA)
Marco Dispaltro  3  6  Kwan Hang Wong (HKG)
Tough First Day of Individual Competition at the Bangkok World Open