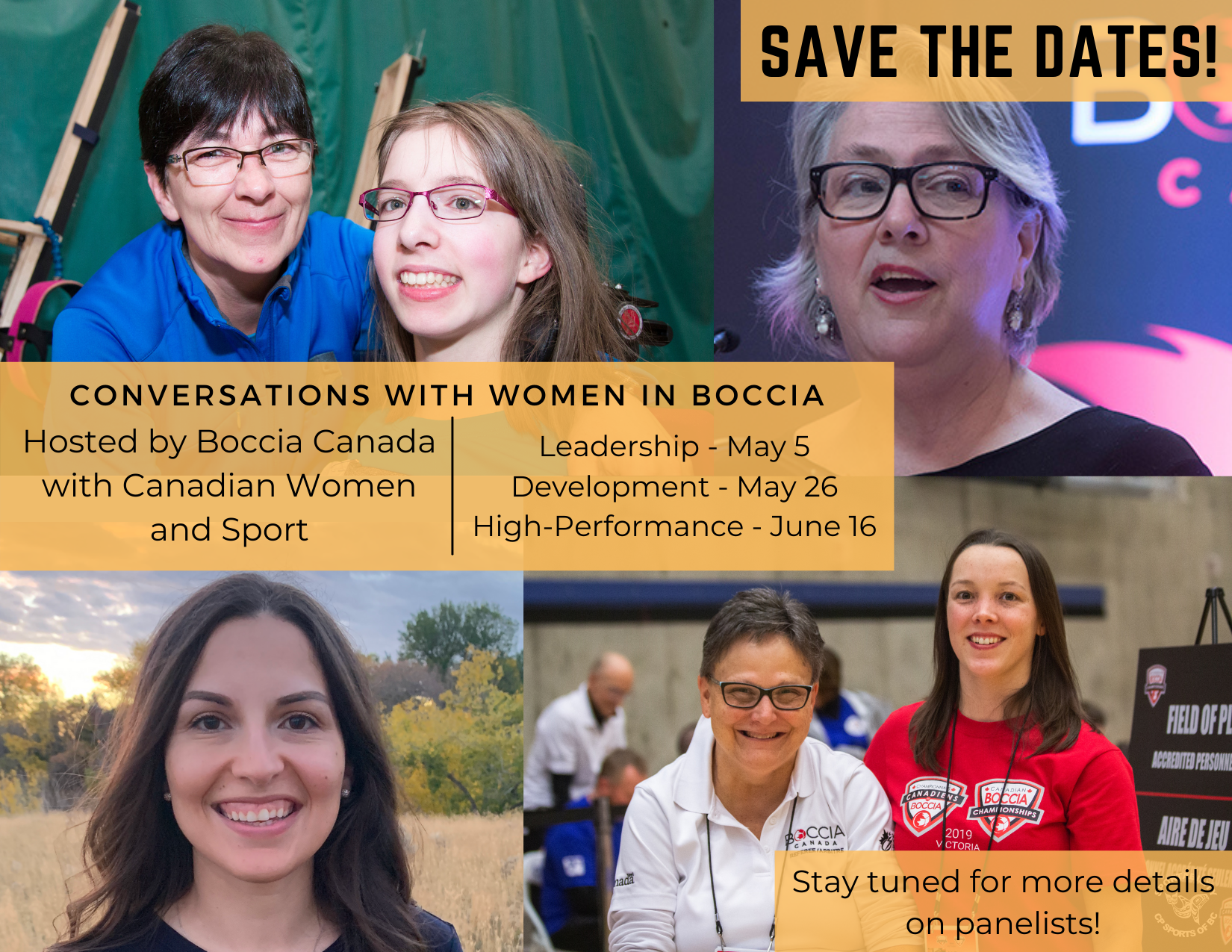 Conversations with Women in Boccia begins May 5 at 4pm EST starting with women in leadership positions
Ottawa, ON (April 22, 2021) – Boccia Canada is excited to announce the hosting of a mini conference in May and June as part of the 'Profiling Women in Boccia' campaign. The conference is called Conversations with Women in Boccia series which will feature women who have made their mark in boccia and parasport over the years. Candid conversations will take place with women in Leadership, Development, and High-Performance positions on May 5, 26, and June 16 respectively. A moderator from the Canadian Women and Sport will facilitate the conversations and all allies of advancing gender equity in boccia are encouraged to attend.
Three women will participate as panelists on each topic and their message is pre-recorded. They speak candidly about their experience in sport, providing insight into how and why they got involved with hopes to encourage other young women and girls to do the same. The panelists will participate in a Q&A session on their topics, with questions coming from a live audience on Zoom.
This series connects two of Boccia Canada's recent initiatives, the 'Conversations with' series and the 'Profiling Women in Boccia' series that was launched to coincide with International Women's Day in March.
"Building from our recent gender equity initiatives, the intention of the Conversations with Women in Boccia series is to share the tremendous stories and experiences of women who have been involved with parasport and boccia," stated Peter Leyser, Executive Director, Boccia Canada. "We want to provide a space for open dialogue where both struggles and successes can be shared, and ideally this will encourage other girls and women to get involved, whether that be as an athlete, official, coach, volunteer, or administrator."
Women will be highlighted in Leadership (Sandy Hermiston, José Malo, Jade Werger), Development (Mila Wong, Tara Chisholm, Sylvie Sauvé), and High-Performance positions (Amélie Soulard, Lindsey Redmond, Marylou Martineau).
Mila Wong, performance partner and mother of athlete Angi Wong, shares a glimpse into her daughter's life in the Development panel: "I have guided Angi with how to handle challenges along the way: the biases she will experience being a woman, her geographic location, male friends bonding, isolated training due to distance, and conflicts of interest amongst participants and athletes… I experienced with her the thrill of victories and the grace one must muster in defeats."
In the High-Performance panel, BC3 athlete Marylou Martineau shares her encouraging message for other women in the sport: "As a female boccia athlete, I feel that I bring a positive and determined perspective and that I am capable of performing as well as a male athlete… It shows that it is important to believe in our abilities and trust ourselves."
A live question and answer period will take place via Zoom. Subscribe to our email distribution list to get notifications about registering for each panel and to receive the Zoom link for the live Q&A.
Check out some of the fantastic women that were highlighted in the 'Profiling Women in Boccia' campaign thus far here.
PANELISTS
The series will highlight women from a wide array of roles within the boccia landscape, including:
Leadership Panel
Sandy Hermiston (Past President, CCPSA Board of Directors)
José Malo (General Manager, Association québécoise de sports pour paralytiques cérébraux)
Jade Werger (Sport Development Coordinator, SportAbility BC)
Development Panel
Mila Wong (Performance Partner)
Tara Chisholm (Coach, Medicine Hat Adaptive Sports Association)
Sylvie Sauvé (Coach)
High-Performance Panel
Dr. Amélie Soulard (Mental Performance Coach, National Boccia Training Squad)
Lindsey Redmond (Performance Partner)
Marylou Martineau (Paralympian)
Conversations with Women in Boccia series takes place on the following days:
Wednesday, May 5 – 16:00 EST – Leadership Panel
Wednesday, May 26 – 16:00 EST – Development Panel
Wednesday, June 16 – 16:00 EST – High Performance Panel
About Boccia Canada
Boccia Canada is the boccia delivery arm of the Canadian Cerebral Palsy Sports Association (CCPSA), the National Sport Organization for the Paralympic sport of boccia. Boccia Canada is focused on providing athletes and individuals of all ages and skill with the chance to play a unique Paralympic sport. CCPSA collaborates with partners to increase the participation of Canadians with cerebral palsy and related disabilities in sport and physical activity, while leading, developing and growing boccia from grassroots, to producing World and Paralympic Champions.
About boccia
Boccia is a Paralympic sport of precision and strategy similar to lawn bowling or curling, played by athletes with Cerebral Palsy, Muscular Dystrophy and related disabilities. It is one of only two Paralympic sports that do not have an Olympic counterpart. Athletes compete in one of six sport classes based on their level and type of disability: BC1, BC2, BC3 BC4, BC5, and Open. For more information on boccia, visit http://bocciacanada.ca.
---
Media Contact
Holly Janna
Email: hjanna@bocciacanada.ca
Phone number: (613) 748-1430
Women in Boccia Connect through 'Conversations With' Series