Boccia is a beautiful game with everyone working together to achieve great things. Together we are stronger. Together we accomplish more – much more. The athlete takes the shot but it is guided by the countless hours, days, months, and years of dedication and support by coaches, parents and family, volunteers, officials and referees, classifiers, fans, and teammates. Each play a part, and together they play an integral role in preparing and guiding the athlete to be the best. As the ball impacts to score the point, we impact each other to score the win.
Would you like to play, coach, officiate or volunteer with boccia? Follow the links below to connect with the pathway that's right for you. Each pathway includes information about the training and programs available to support you on your boccia journey.
Long-Term Athlete Development Model
All the pathways are inter-related and were developed based on the philosophy of Long-Term Athlete Development. This is an athlete centred model focused on ensuring athletes develop their skills in programs that are appropriate for their age and stage of development. The detailed Long Term Athlete Development Model for boccia can be found here.
Athlete Pathway

Coaching Pathway
At all levels, coaches have a critical role to play in helping athletes to uncover their potential. They create the environment in which athletes develop their boccia skills. Whether you are a parent, club coach, provincial coach or national team coach, you have the opportunity to have great influence on a player's sporting experience.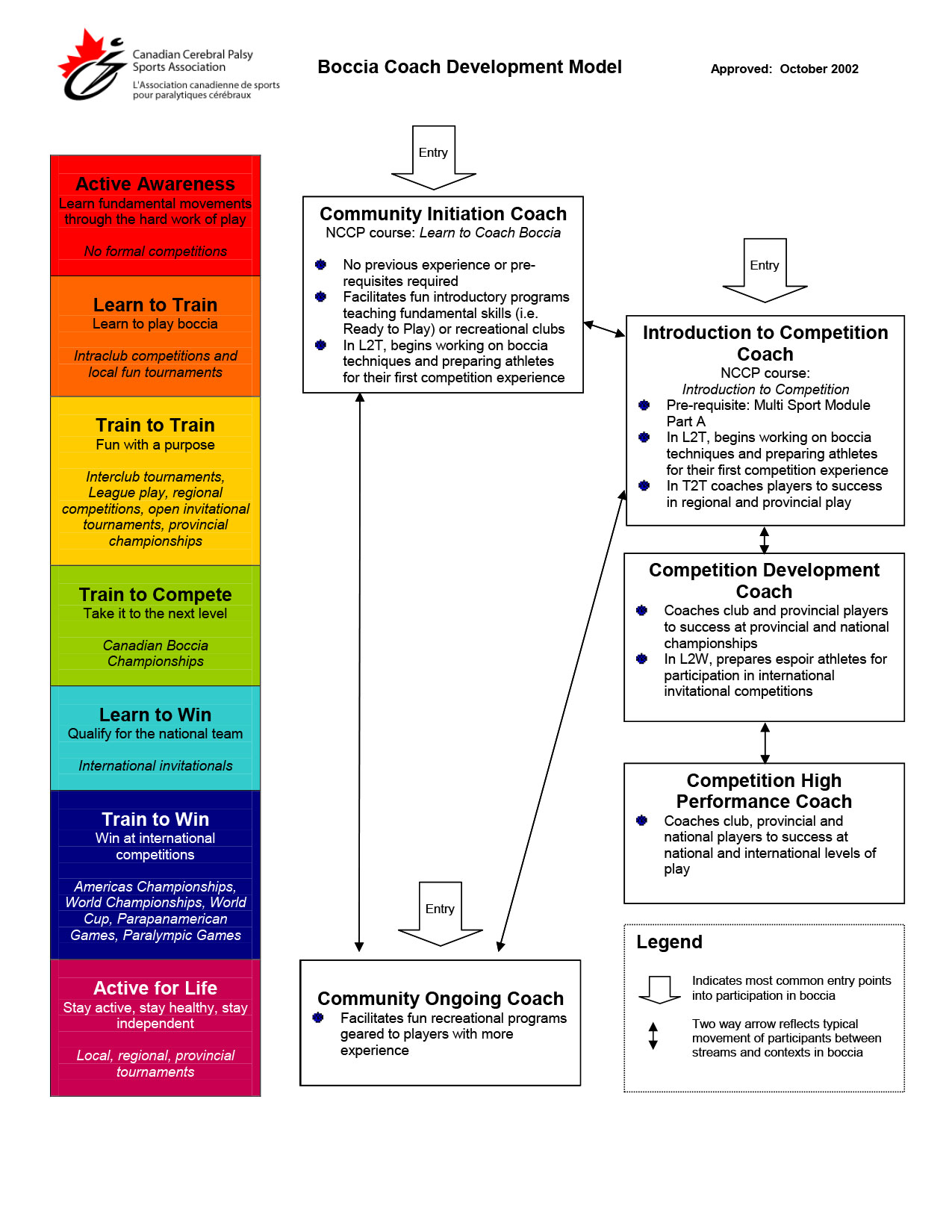 Find out more about becoming a boccia coach and how to access resources to become the best coach you can be.
Community Coach: Community Coaches have a basic understanding of boccia and can lead recreational boccia sessions. Community Coaches can be parents, recreation leaders, staff of residential homes, or teachers.
Training: Community Initiation (8 hours)
Competition Coach: Coaches are responsible for preparing athletes for competitions from the community to international level. Competition coaches prepare training programmes, focus on analysing player performances and identifying performance gaps while encouraging and motivating athletes to reach their full potential. Within this stream, coaches may choose to focus on a particular level of competition, or could work with athletes at a variety of levels.
Training: Introduction to Competition (16 hours) and Competition Development (multi-day)
Officials Pathway
There are five different game officials in boccia – linesperson, timekeeper, referee, head referee, and technical delegate. All play a key role in providing boccia athletes with a chance to test their skills in competition.
LINESPERSON
Assists the referee on court during the game, particularly with calling violations.
TIME-KEEPER
Operates the timing and scoring system during the game.
REFEREE
Manages the game during a competition and makes decisions according to the rules.
HEAD REFEREE
Oversees all referees during a competition. Prepares the referee schedule and deals with any rule issues. Works with the Technical Delegate to ensure all aspects of the competition run smoothly.
TECHNICAL DELEGATE
Oversees the competition structure, including setting up athlete pools and game schedule. Works with the Head Referee to ensure all aspects of the competition run smoothly.
To learn more about how to get involved as a referee click here.
Classifier Pathway
Classifiers are responsible for reviewing athletes prior to their first competition experience. Classifiers determine which classification group the athlete is eligible to compete in. There are two types of classifier roles, each requiring a different background, although all classifiers complete the same training.
Medical Classifier

Medical Doctor who has experience in dealing with people with cerebral palsy, traumatic brain injury, stroke or physical impairments as defined in the Athlete profiles (ideally a physician with a specialty in Rehabilitation or Neurology).
Physiotherapists or related disciplines trained to work with individuals with the clinical manifestations of cerebral palsy, traumatic brain injury and stroke and other physical impairments.

Technical Classifier
Individuals with an extensive coaching background in Boccia, or those with degrees in physical education, biomechanics or kinesiology, or individuals who have a strong working knowledge of Boccia and individuals with physical impairments.
To learn more about classification click here.
Levels of Classifiers
Entry Level Classifier
An individual who is classifying in his or her province and attending National Boccia competitions in the process of training as a National Boccia Classifier. An entry level National Boccia trainee Classifier, attending a national competition as an observer/trainee, shall have no other responsibilities  Having no such official duties allows entry level classifiers to participate fully in their classification training.
National Classifier
An individual who has completed and has met all the requirements of the BISFed Accredited Basic Classifier's Course or the Boccia Canada equivalent. This individual may allocate a national sport class and sport class status as part of a classification panel to Canadian athletes.
Lead Classifier
An individual who is an experienced National Classifier, appointed for a specific competition, by the Boccia Canada Head of Classification and/or staff responsible for Classification.
Classifier Pathway
To learn more about becoming an official and to learn about what resources and training are available, contact info@bocciacanada.ca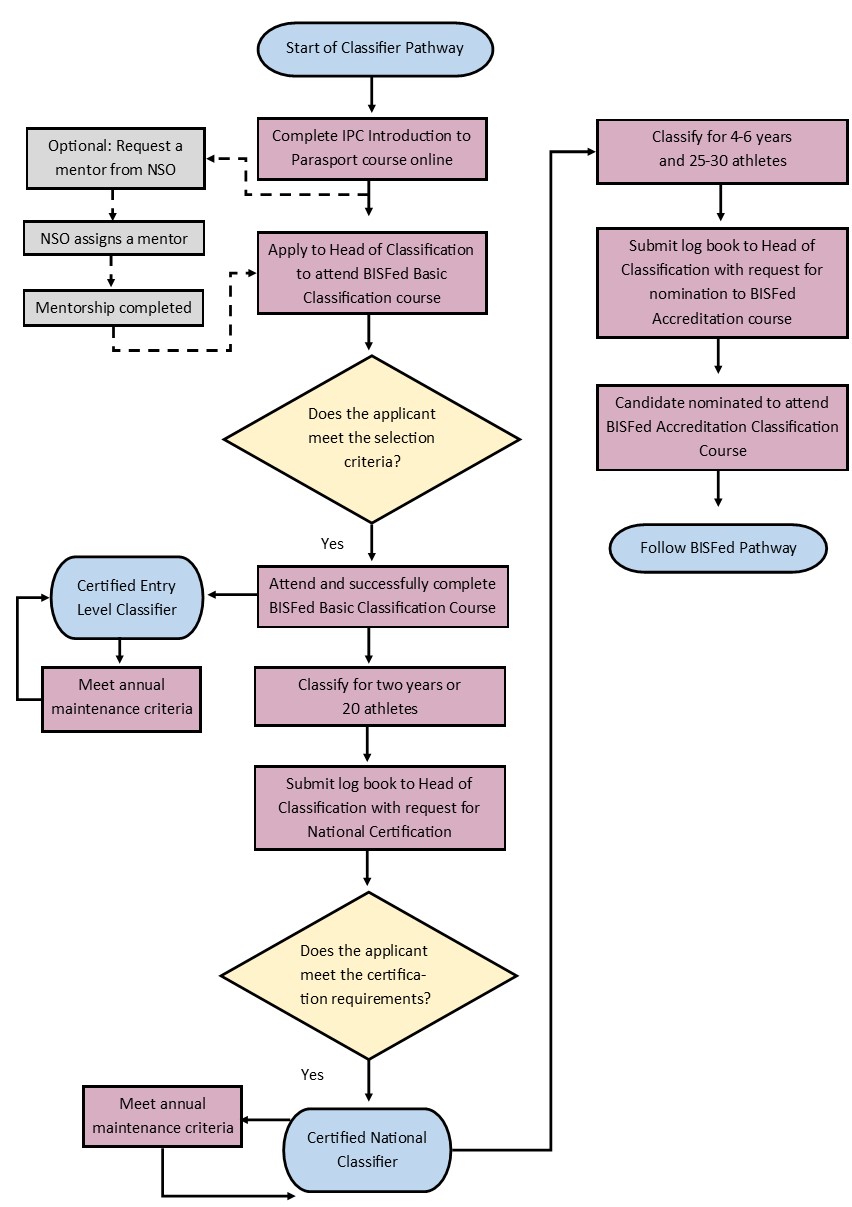 For more information about courses, including schedules, contact info@bocciacanada.ca.