2023 Canadian Boccia Championships Coming to Richmond Olympic Oval
Published on: June 6, 2023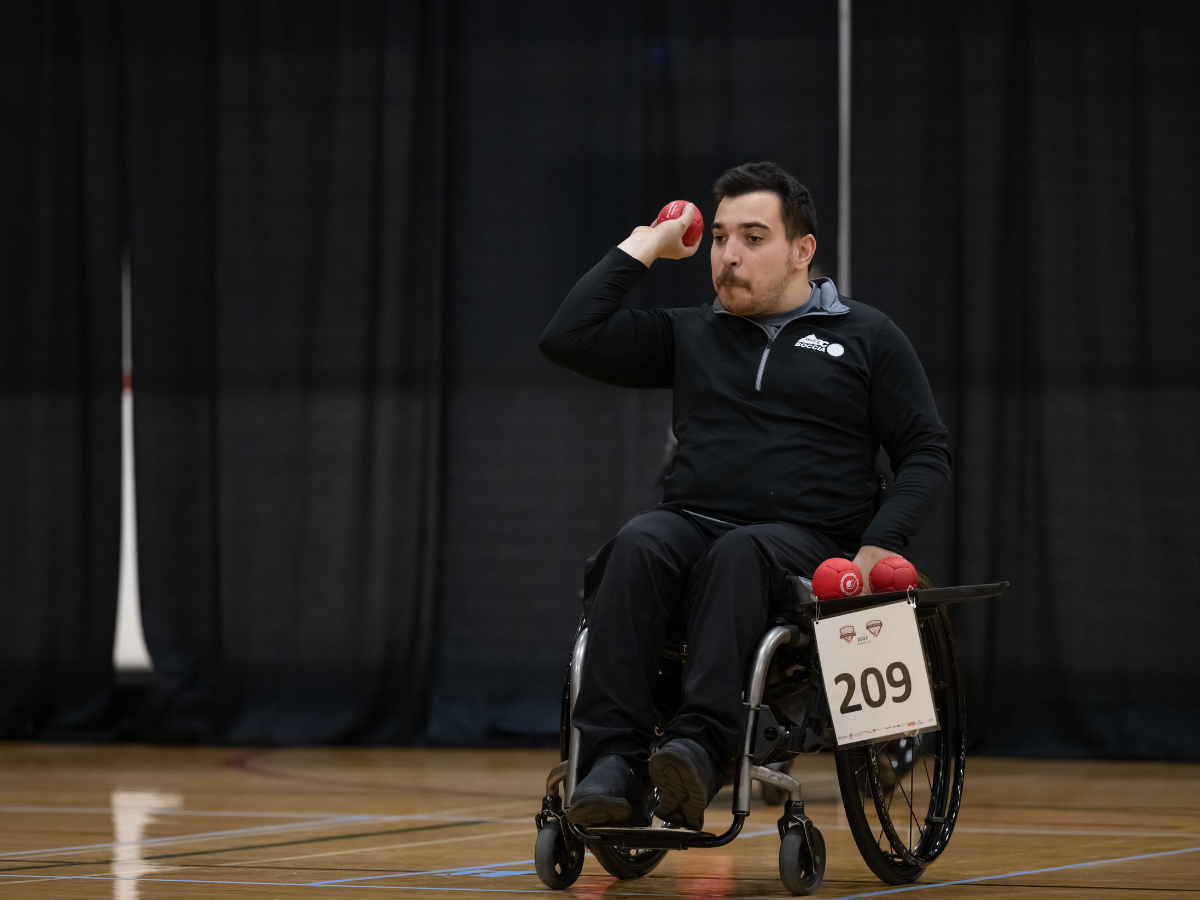 BC2 athlete, Nathan Bragg, at the 2022 Canadian Boccia Championships, where he won silver in the individual event for British Columbia
Ottawa, ON (June 6, 2023) – Boccia Canada is excited to announce the 2023 Canadian Boccia Championships host city is Richmond, British Columbia. The Championships will be hosted by SportAbility from October 24-29th at the Richmond Olympic Oval and include individual, team, and pairs events.    SportAbility is the provincial partner for boccia in British Columbia and has a long history of hosting these Championships, most recently in 2019 in Victoria.     The Richmond Oval was the long track speed skating venue for the 2010 Vancouver Olympic Games and is a current training venue for SportAbility, Wheelchair Rugby Canada, Wheelchair Basketball Canada, and BC Wheelchair Sports.    The event is open to athletes from across Canada in all six boccia classifications, including BC1-5 and Open classes.    Program Manager, Jennifer Larson, is looking forward to another successful Nationals, "We're very excited to be coming back to British Columbia and hosting the championships at the Oval for the first time. Being in a place that was the scene of so much Olympic excitement in 2010  and such a strong parasport venue since then will be a thrill, and we look forward to adding our own boccia memories to the Oval's story."    SportAbility, Executive Director, Ross MacDonald echoes Jennifer's sentiments: "We look forward to hosting teams from across the country and providing our BC athletes the opportunity to compete in front of friends and family. The Richmond Olympic Oval is the perfect setting for this National Championship with the strong sport hosting pedigree and dedication to supporting para sport growth and competition."   Fans at home and attendees can follow all the action in Richmond live via Boccia Canada's Facebook page.   The 2023 Canadian Boccia Championships are supported by the Government of Canada, Province of British Columbia, Richmond Sport Hosting and the viaSport Hosting BC grant.   Vancouver athlete, native to the area, Nathan Bragg, says that he's "really looking forward to playing at home. It's always great to have an opportunity to compete in front of family and friends. I look forward to sharing and introducing boccia to more people in my community through Nationals. The Richmond Olympic Oval has become a real hub for parasport in recent years and I'm excited to showcase boccia there."   Find all the information regarding the 29th edition of the Canadian Championships here. The webpage will continue to be updated leading up to the event.
---
About Boccia Canada
Boccia Canada is the boccia delivery arm of the Canadian Cerebral Palsy Sports Association (CCPSA), the National Sport Organization for the Paralympic sport of boccia. Boccia Canada is focused on providing athletes and individuals of all ages and skill with the chance to play a unique Paralympic sport. We lead, develop and grow boccia from grassroots to producing World Champions, and we collaborate with partners to increase participation of Canadians with physical disabilities in sport.
---
About boccia
Boccia is a Paralympic sport of precision and strategy similar to lawn bowling or curling, played by athletes with Cerebral Palsy, Muscular Dystrophy and related disabilities. It is one of only two Paralympic sports that do not have an Olympic counterpart. Athletes compete in one of six sport classes based on their level and type of disability: BC1, BC2, BC3 BC4, BC5, and Open.
---
Media Contact
Holly Janna
Communications Lead and National Team Coordinator, Boccia Canada
Email: [email protected]
Phone Number: 613-748-1430 x3 | Cell: 514-944-5193