Back-to-Back Champions Emerge as 2023 Canadian Boccia Championships End with Team and Pairs
Published on: November 2, 2023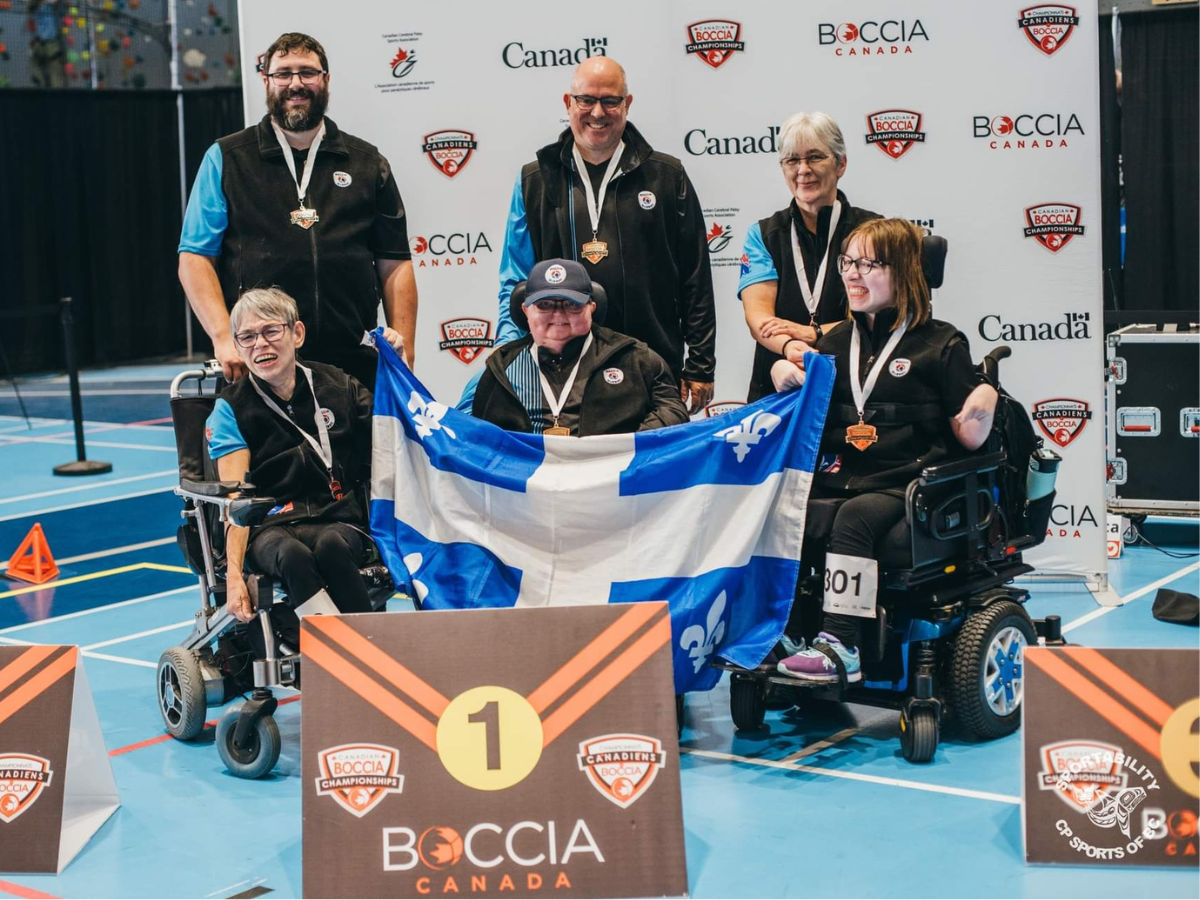 Québec BC3 Pair Joëlle Guérette, performance partner Jonathan Manseau (left), Alexandre Lemaire, performance partner Francis Lemaire (middle), Marylou Martineau, and performance partner Josée Duquette (right) celebrate winning gold at the 2023 Canadian Boccia Championships
Ottawa, ON (November 2, 2023) – Ontario and Québec both repeated as Canadian champions in Team and Pairs to close the 2023 Canadian Boccia Championships at the Richmond Olympic Oval. Athletes from across Canada competed in BC1/BC2 Team, BC3 Pairs, and Mixed BC4/BC5/Open Pairs with many notable achievements rewarded at the medals ceremony.
The Ontario BC1 and BC2 team had an exciting run in the Team division. Lance Cryderman (Sudbury, ON) came off a gold medal performance in individuals to play a pivotal role in helping Ontario secure Team gold.
"This was a great tournament for me because I was unflappable. There were many unforeseen challenges, but I managed to focus on the task at hand, achieving back-to-back gold medal performances at a second consecutive Canadian Boccia Championships," said Cryderman.
Team British Columbia, made up of Chris Halpen (Victoria, BC), Hanif Mawji (Burnaby, BC), Lisa Ferenc (North Vancouver, BC), and Nathan Bragg (Richmond, BC) took silver.
In BC3 pairs, Québec went undefeated over three games to win gold. Alexandre Lemaire (Kingsey Falls, QC), his performance partner Francis Lemaire, Joëlle Guérette (Sainte-Sophie, QC) and her performance partner Jonathan Manseau had convincing wins, including 9-1 and 7-1 wins over two other pairs in their division.
In the Mixed Pairs event, Wendy Wilkins (Victoria, BC) and Daniel Hutchison (Victoria, BC) were crowned champions as wild cards. Both are open class athletes, which means they do not fall under any classification from BC1-BC5 and do not need any assistance to play. Silver was awarded to Team BC.
It was Wilkins' first Nationals and it was a memorable one. "I was shocked and elated about the Gold Pairs win. It was an amazing, surreal moment that I will never forget. One of the best days in my life, ever. The whole experience of Nationals was such a positive, emotional, fun, warm experience that I didn't want to end. I can't wait to see everyone again!"
Wilkins was also crowned winner of the Gilles Henry Spirit of the Games Award, which is chosen by the referees for the athlete who exhibits the best sportsmanship against their opponents and a positive spirit throughout the tournament.
"It was an emotional moment that, to me, was equal to winning the gold medal as it was more personal and voted on by the many wonderful referees," said Wilkins.
"There's plenty of things to be proud of here in Richmond," said Ross MacDonald, Executive Director, SportAbility, who also hosted the event in 2016 and 2019. "These athletes put on a show and their passion, dedication, and commitment to the sport is palpable. We'd also like to thank the performance partners, coaches, officials, team managers, staff, volunteers, friends, and family who came out. It wouldn't have been such a success without you."
MacDonald is stepping down as Executive Director of SportAbility after the Championships, but is not leaving boccia just yet: "I'll stay involved in parasport in some capacity. I was involved for 20 years and, as they say, you never really leave."
Volunteer Karli Lee, who was introduced to boccia at the event, echoed similar sentiments. "It was a pleasure to work alongside the host committee and experience the incredible friendship and support within the community. The athletes' unwavering focus and perseverance are truly admirable and I'm glad to have witnessed some tough matches."
Several participants will be back in competition mode again very soon at the Parapan American Games in Santiago, Chile. Danik Allard (Bois-des-Filion, QC), Guérette, Kristyn Collins (St. John's, NL), Cryderman, Lois Martin (St. John's, NL), and Ryan Rondeau (Edmonton, AB) will all be in Chile, where Paralympic qualification slots will be on the line in all events.
To find all the results from the competition, click here.
---
About Boccia Canada
Boccia Canada is the boccia delivery arm of the Canadian Cerebral Palsy Sports Association (CCPSA), the National Sport Organization for the Paralympic sport of boccia. Boccia Canada is focused on providing athletes and individuals of all ages and skill with the chance to play a unique Paralympic sport. We lead, develop and grow boccia from grassroots to producing World Champions, and we collaborate with partners to increase participation of Canadians with physical disabilities in sport.
---
About boccia
Boccia is a Paralympic sport of precision and strategy similar to lawn bowling or curling, played by athletes with Cerebral Palsy, Muscular Dystrophy and related disabilities. It is one of only two Paralympic sports that do not have an Olympic counterpart. Athletes compete in one of six sport classes based on their level and type of disability: BC1, BC2, BC3 BC4, BC5, and Open.
---
Media Contact
Holly Janna
Communications Lead and National Team Coordinator, Boccia Canada
Email: [email protected]
Phone Number: 613-748-1430 x3 | Cell: 514-944-5193