Boccia Canada's, César Nicolai, Recipient of the 2023 Petro-Canada Coaching Excellence Award
Published on: November 3, 2023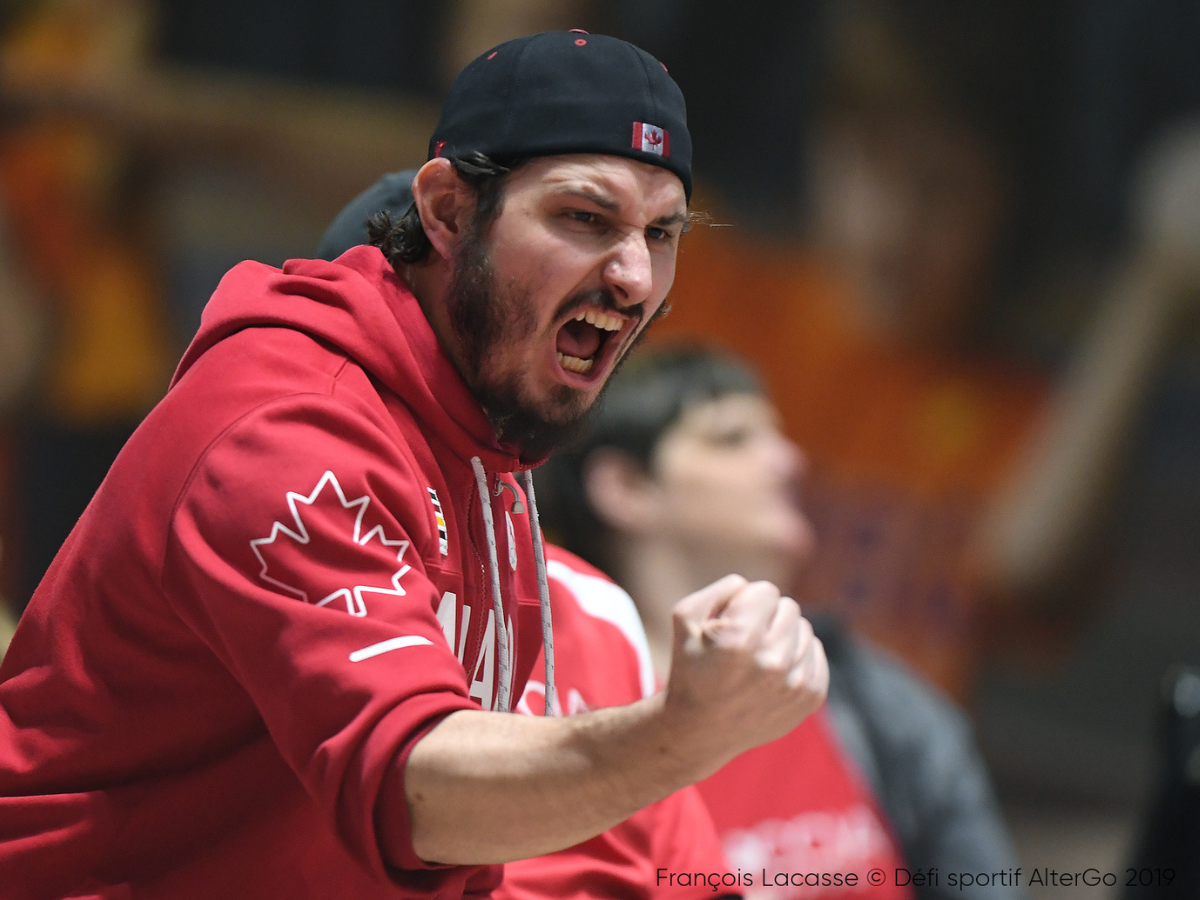 César Nicolai pictured cheering on his athletes at the 2019 Montreal World Open 
Ottawa, ON (November 3, 2023) – Boccia Canada Head Coach, César Nicolai (Montréal, QC) has been recognized as a recipient of the prestigious Petro-Canada Coaching Excellence Award. This award is a testament to Nicolai's outstanding work and exceptional achievements within the sport of boccia.
Nicolai has consistently demonstrated exceptional talent and dedication in his coaching career.  His most notable recent achievement was a bronze medal at the 2022 World Boccia Championships with the BC4 Pair of Iulian Ciobanu and Alison Levine, which marks the first medal for Boccia Canada for this new pair.
His achievements in coaching boccia stretch back more than ten years and include helping the BC4 Pair of Josh Vander Vies and Marco Dispaltro to a bronze at the 2012 London Paralympics. He has been heavily involved in the selection of the Canadian Boccia Team every year, where his athletes have gone on to win a colourful mix of medals at international World Boccia events. Under his coaching, the BC4s of Levine, Dispaltro, and Ciobanu have won a multitude of medals together and currently sit at number two in the world ranking. He has dedicated thousands of hours at the National Boccia Training Centre, the Institut national du sport du Québec in Montréal, leading training sessions, camps, athlete information sessions, reviewing video to improve strategic decision-making, and much more.
The Petro-Canada Coaching Excellence Award is a verification of Nicolai's hard work and passion for the sport of boccia. This award not only acknowledges his achievements but also offers recognition for his coach development and perseverance to excel at the international level.
"Each year the Coaching Association of Canada (CAC) recognizes outstanding coaches across Canada with the Petro-Canada Coaching Excellence Award. Recipients of the Petro-Canada Coaching Excellence Award are some of Canada's most outstanding national team coaches. These coaches have dedicated their time and efforts to ensuring that athletes reach their potential on the international stage," says Yolande Usher, Director, Marketing and Communications at the Coaching Association of Canada. "César's commitment and dedication as a coach has supported athletes Iulian Ciobanu and Alison Levine to excel in the 2022 World Boccia Championships resulting in a bronze medal. We are thrilled to honour him for his positive impact on sport in Canada."
"I'm very happy that César was awarded the Petro-Canada Coaching Excellence Award and I will be there to support him at the Petro-Canada Sport Leadership Awards Gala where he will be presented the distinction. César has been with us for many years, and he's given a lot to everyone, but his primary contributions and focus until 2022 was our BC4 athletes. Receiving the award in 2023 is certainly well deserved and a great accomplishment after years of coaching Alison, Iulian, and Marco," says Mario Delisle, High-Performance Director and mentor, Boccia Canada.
Delisle won this same award in 2007 and 2011.
Nicolai expressed gratitude for the honour saying, "I'd like to thank all the people who I've been surrounded by over the years, especially, my parents Jean-Marie and Colette and my sister Léna, who are largely responsible for the person and coach I am today. My friend Stéphanie… Thanks to her I came to Canada! Mario Delisle, my mentor, who believed in me from the start. My athletes Alison, Iulian, and Marco as well as all the other Canadian athletes who still listen to me after all these years. Finally, my wife, Nathalie who supports me every day in this crazy life of a high-performance coach. I'm thrilled to receive this honor. As a coach, we experience a lot of emotions behind the athletes' performances, but there are only three places on a podium, especially as we only have one major event every two years… So, to finally be on the podium at a world championship event is a magnificent reward that represents all the work we've accomplished over the last decade. It's a real boost of confidence and recognition of the efforts we put in daily. It feels great, and it's an excellent way of motivating us for this year, as the athletes head towards the 2024 Paris Paralympic Games!"
For more information about the Petro-Canada Sport Excellence Award, please visit CAC's webpage here.
---
About the Petro-Canada Coaching Excellence Award
The Petro-Canada Coaching Excellence Award is presented by the Coaching Association of Canada in collaboration with Petro-Canada. It aims to recognize and support exceptional coaches who have shown time and effort, ensuring that their athletes reach their full potential on the international stage.
---
About Boccia Canada
Boccia Canada is the boccia delivery arm of the Canadian Cerebral Palsy Sports Association (CCPSA), the National Sport Organization for the Paralympic sport of boccia. Boccia Canada is focused on providing athletes and individuals of all ages and skill with the chance to play a unique Paralympic sport. We lead, develop and grow boccia from grassroots to producing World Champions, and we collaborate with partners to increase participation of Canadians with physical disabilities in sport.
---
About boccia
Boccia is a Paralympic sport of precision and strategy similar to lawn bowling or curling, played by athletes with Cerebral Palsy, Muscular Dystrophy and related disabilities. It is one of only two Paralympic sports that do not have an Olympic counterpart. Athletes compete in one of six sport classes based on their level and type of disability: BC1, BC2, BC3 BC4, BC5, and Open.
---
Media Contact
Holly Janna
Communications Lead and National Team Coordinator, Boccia Canada
Email: [email protected]
Phone Number: 613-748-1430 x3 | Cell: 514-944-5193