Canada Leaves the Fortaleza 2023 World Boccia Cup with Two Medals in Individual Play
Published on: September 8, 2023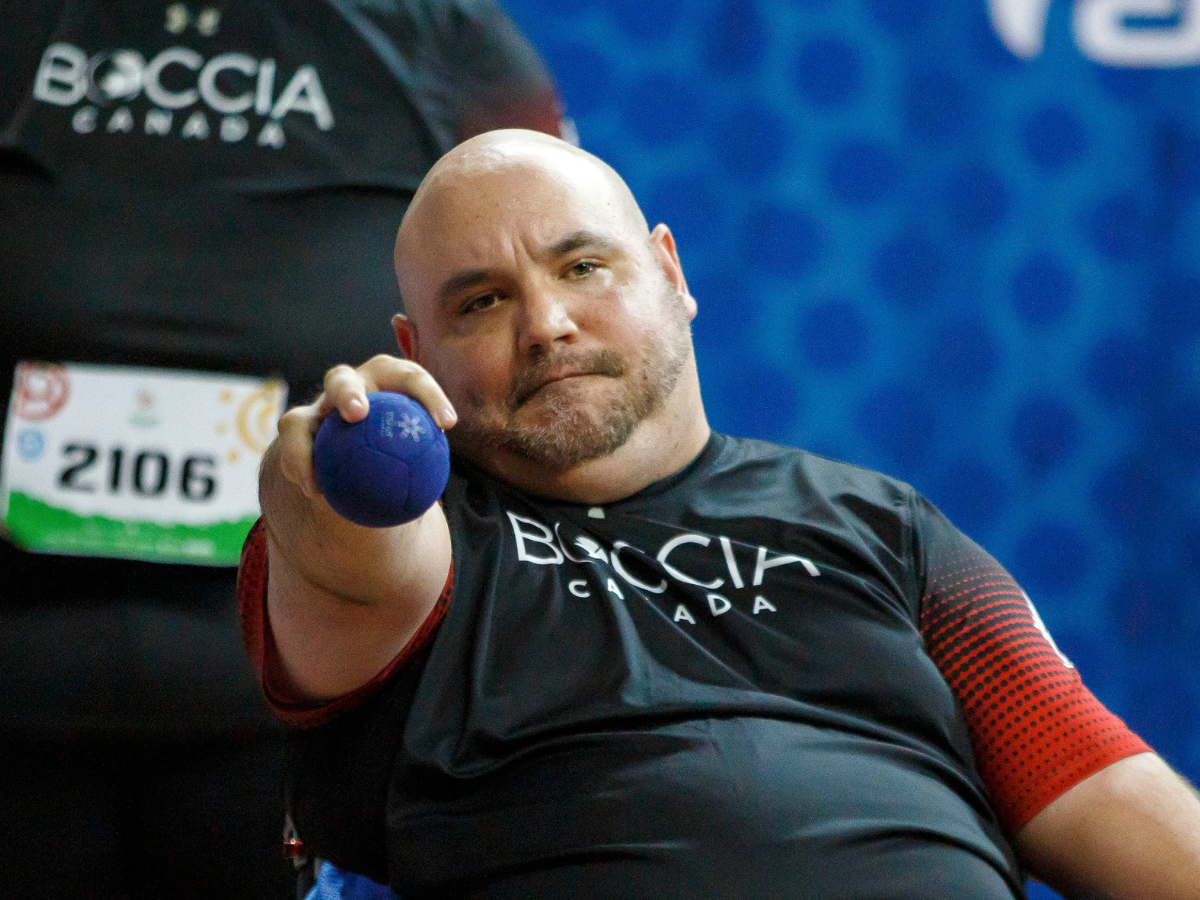 Team BC1/2 Athlete, Lance Cryderman, in action at the Fortaleza World Boccia Cup this Past Week
Ottawa, ON (September 8, 2023) – The Team BC1/2 made up of Danik Allard (Bois-des-Filions, QC), Kristyn Collins (St. John's, NL), and Lance Cryderman (Sudbury, ON) lost their two matches at the Fortaleza (Brazil) World Boccia Cup, but their efforts are paying off. As well, the Pair BC4 of Alison Levine (Montréal, QC) and Iulian Ciobanu (Montréal, QC) did not advance into the playoffs but do return home to Canada with a gold and silver medal respectively, in individual play earlier in the tournament.
Team BC1/2 grabbed a 4-0 lead after three ends against Mexico in their first game. However, Mexico tied the match in the fourth end and carried that momentum to go on and win.  Despite the loss, this team has progressed a lot since they began working together as a boccia trio. Allard, Collins, and Cryderman all live in different provinces but have been able to compete and win together on the international stage – including a noteworthy silver medal at the Santiago (Chile) World Boccia Challenger this summer.
As Head Coach, César Nicolai remarks, "it's disappointing to lose but everyone sees that they're getting better. We're on the right track and we're going to continue to progress with this group. It's satisfying to know that they are becoming more in sync, and their efforts will bode well for them in Santiago [at the Parapan American Games] where they will compete."
As for the BC4 Pair, the energy level was difficult with the heat and little rest time between matches among other factors. Nicolai explains, "In individual play, they went right to the end and made it to the finals which took a lot of energy."
The first game that the BC4 Pair played was very early in the morning against the home pair from Brazil. Despite that, they almost forced the match to an extra end by scoring three in the final end. Their fourth ball was just marginally off which could have forced the tiebreaker. The world number two Pair then lost their second game in the pool against Thailand, ranked number five.
Levine got injured at the beginning of the competition, but despite all odds, won in BC4 Female individual with a sprained ankle and torn ligament. "The word for this competition is resilience. I wish I didn't have to go through what I did but as always, I come out stronger from it," said Levine.
All athletes that attended the Fortaleza World Boccia Cup will be going to the Parapan American Games this November in Santiago, Chile. The full team participating in boccia was announced yesterday by the Canadian Paralympic Committee here.
Check out Boccia Canada's scores from this past week here and rewatch the webcast here.
---
About Boccia Canada
Boccia Canada is the boccia delivery arm of the Canadian Cerebral Palsy Sports Association (CCPSA), the National Sport Organization for the Paralympic sport of boccia. Boccia Canada is focused on providing athletes and individuals of all ages and skill with the chance to play a unique Paralympic sport. We lead, develop and grow boccia from grassroots to producing World Champions, and we collaborate with partners to increase participation of Canadians with physical disabilities in sport.
---
About boccia
Boccia is a Paralympic sport of precision and strategy similar to lawn bowling or curling, played by athletes with Cerebral Palsy, Muscular Dystrophy and related disabilities. It is one of only two Paralympic sports that do not have an Olympic counterpart. Athletes compete in one of six sport classes based on their level and type of disability: BC1, BC2, BC3 BC4, BC5, and Open.
---
Media Contact
Holly Janna
Communications Lead and National Team Coordinator, Boccia Canada
Email: [email protected]
Phone Number: 613-748-1430 x3 | Cell: 514-944-5193