Golden Moment for Canada's BC4 Pair at Home
Published on: April 30, 2023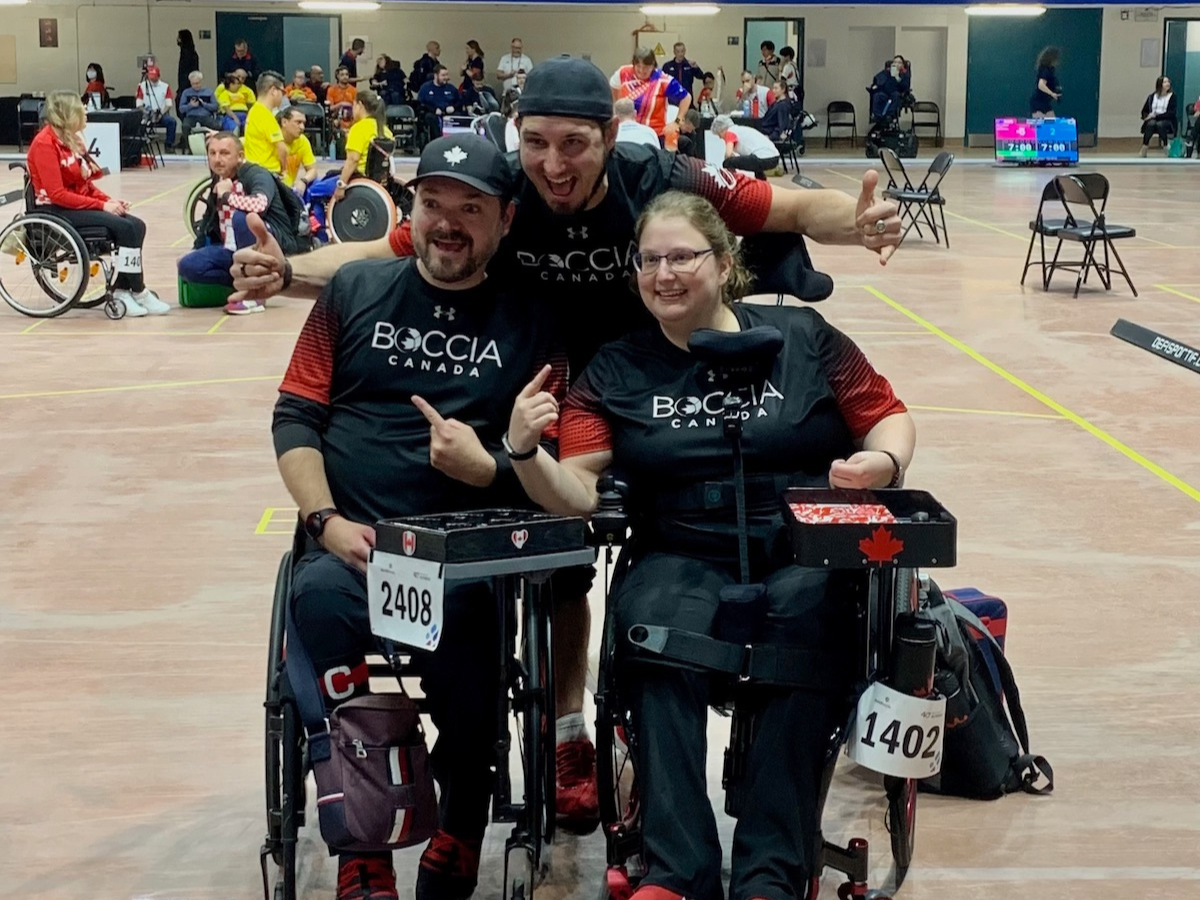 The Canadian BC4s beat Croatian Pair in the finals in Montréal (Photo Credit: François Mellet)
Ottawa, ON (April 30, 2023) – Canada's BC4 Pair, Alison Levine (Montréal, QC) and Iulian Ciobanu (Montréal, QC), went undefeated to win pairs gold at the Montréal World Boccia Cup, which wrapped up today at the Maurice Richard Arena.    The pair defeated the United States 13 to 1 and then won in overtime against Croatia in their pool.    After finishing top of their pool, the pair got a bye to the semifinals, where they faced strong competition from Great Britain. The two Montrealers earned a place in the finals, winning 3 to 2, with two balls not played at the end.     Canada faced Croatia in the finals, where they used a combination of strategies, placements, lobs, pushes, and power shots to win the gold. The turning point was the third end. After starting the end down 2-1, Canada took a 4-2 lead when Ciobanu delivered a slice and push to score three points. With Canada's shots hugging the jack in the fourth, Croatia couldn't recoup, especially after Levine's threw a power shot that landed right on the jack, knocking Croatia's ball out of the way. The Canadians kept the pressure on in the final end, forcing the Croatians to give up another two points to win gold 6 to 2.    "Being in Montréal gave them a lot of energy. It was cool to have the support of all these people who came to the event. After four years without an international competition in Montréal, it's been special to feel everyone's support behind us," said Head Coach, César Nicolai.    "I'm so proud of us both. We won all our games in pairs and at a world cup. That's huge. To be able to even make it to this competition and be able to train means so much to me… There were some nerves after the first end, but if there's one thing about us is we do not give up, we did not give up, and we always continue to fight. And that's what we did here today… I'm very proud of Iulian too. It was a team effort," said Levine.      The Canadians also put on a show for the home crowd in the individual event earlier in the week, with Ciobanu claiming gold in the men's division and Levine taking bronze in the women's.   Ciobanu was riding high after going undefeated in both individuals and pairs play. "It was a big accomplishment for us to have won the gold medal today. I'm very happy. After many years of training and a lot of hard work… I can't ask for more at a competition of this calibre. I'm very satisfied."   The BC1 and BC2 Team of Danik Allard (Bois-des-Filion, QC), Kristyn Collins (St. John's, NL), and Lance Cryderman (Sudbury, ON) came last in their pool, so they did not qualify for playoffs.     Find all results from the competition here.   Follow Boccia Canada's Facebook page for all news, highlights, and photos from the competition here.
---
About Boccia Canada
Boccia Canada is the boccia delivery arm of the Canadian Cerebral Palsy Sports Association (CCPSA), the National Sport Organization for the Paralympic sport of boccia. Boccia Canada is focused on providing athletes and individuals of all ages and skill with the chance to play a unique Paralympic sport. We lead, develop and grow boccia from grassroots to producing World Champions, and we collaborate with partners to increase participation of Canadians with physical disabilities in sport.
---
About boccia
Boccia is a Paralympic sport of precision and strategy similar to lawn bowling or curling, played by athletes with Cerebral Palsy, Muscular Dystrophy and related disabilities. It is one of only two Paralympic sports that do not have an Olympic counterpart. Athletes compete in one of six sport classes based on their level and type of disability: BC1, BC2, BC3 BC4, BC5, and Open.
---
Media Contact
Holly Janna
Communications Lead and National Team Coordinator, Boccia Canada
Email: [email protected]
Phone Number: 613-748-1430 x3 | Cell: 514-944-5193