No Stopping Alison Levine and Iulian Ciobanu as they Both Take Individual Medals at a Second World Cup in a Row
Published on: September 6, 2023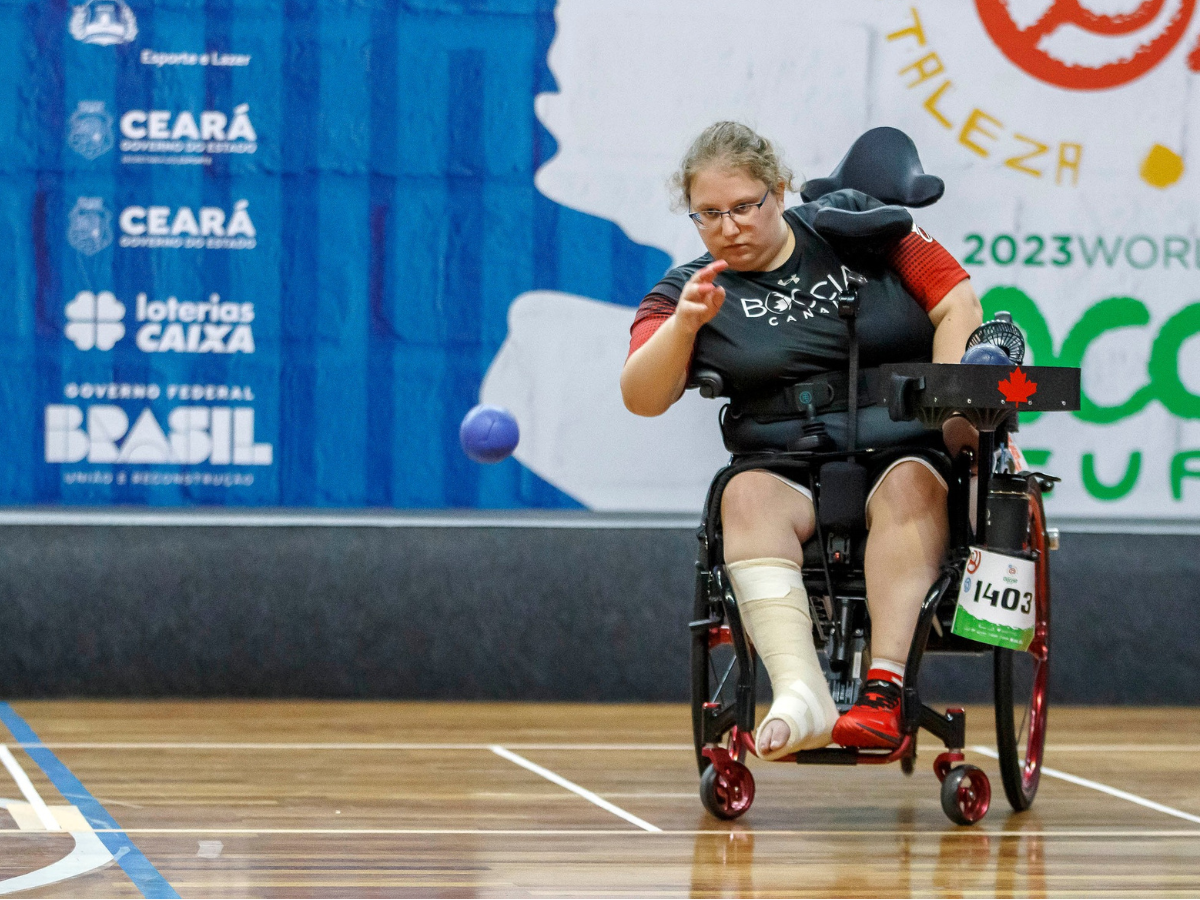 Alison played on a sprained ankle and torn ligament to win a gold in BC4 female individuals, with intention to play alongside Iulian Ciobanu in pairs next
Ottawa, ON (September 6, 2023) – Boccia Canada athletes Alison Levine (Montréal, QC) and Iulian Ciobanu (Montréal, QC) took the boccia world by storm, ending today off with two medals – gold for Levine and a silver for Ciobanu in individual play at the Fortaleza (Brazil) 2023 World Boccia Cup.
"I'm ecstatic! World Cup gold, again. It's incredible and I'm so proud of myself. I'm proud of how I handled this whole competition, with everything thrown against me it seems. I'm resilient. That's it."
Levine, who competed in Fortaleza through injury that took place at the venue, battled through pain to bring herself a gold in BC4 female individual. She has now won five medals this year. Three in female individual play (a bronze and two gold) and two in BC4 Pairs play (a gold and a silver).
BC4 boccia athlete, Marco Dispaltro, was very proud of his long-time teammate: "With Alison and everything that she had to endure this week with her fall… To come back strong, to even be able to play at this tournament, is a testament to who she is. Pretty impressive."
Head Coach, César Nicolai, was proud of both BC4s performance, including Ciobanu who beat number one men's world ranked Euclides Grisales of Columbia in the quarters in a tiebreak fashion with two balls left to throw and beat number two world ranked Yuk Wing Leung from Hong Kong in pool play 6-5. "The level of competition here is elite. To have a gold and silver medal at this competition is exceptional and I'm happy with the work we've done here today with the BC4s," said Nicolai.
Ciobanu went on to win in the semifinals versus another player from the Americas (Brazil), Eliseu Dos Santos, who he's crossed paths with before and won 5-3 to advance to the finals. This is Ciobanu's second, break out individual performance, at a world event this year. At the Montréal World Cup he took home gold and, today, silver in individual play. He plays beside Levine in Pairs where they have been in the finals at every BC4 Pairs event this year.
It's a beautiful tapestry of throws and strategy when Colombia and Canada meet internationally. Colombia's Leidy Chica Chica and Levine have found themselves in individual and pairs playoffs often. Canada is currently ranked second while Colombia is ranked first in BC4 pairs, but that could change after Fortaleza. Canada's pair will play their first game tomorrow at 8:30 AM EST versus Brazil on the livestream here.
In other action, Lance Cryderman (Sudbury, ON) advanced to the knockout round after beating Kam Chau Chan of Hong Kong, China. Joëlle Guérette (Ste-Sophie, QC) won a game versus Malgorzata Perlinska of Poland and Marco Dispaltro won a game against Ritthikrai Somsanuk of Thailand, but did not move out of their pool. Danik Allard (Bois-des-Filions, QC), Kristyn Collins (St. John's, NL), and Ryan Rondeau (Edmonton, AB) round out the group that competed individually at the 2023 Fortaleza World Cup in their respective pools but did not move on after losses.
The BC1/2 Team of Allard, Cryderman, and Collins will need to win a game tomorrow after finishing their first game with a loss versus Brazil 7-3. The BC3 Pair of Guérette and Rondeau have yet to compete together as a duo in BC3 Pairs and will end their tournament in Fortaleza with individual play only for the time being.
The results and schedule can be found here.
The webcast can be found here on court four.
To follow all the Boccia Canada action and real-time updates, follow us on our Facebook Page here.
---
About Boccia Canada
Boccia Canada is the boccia delivery arm of the Canadian Cerebral Palsy Sports Association (CCPSA), the National Sport Organization for the Paralympic sport of boccia. Boccia Canada is focused on providing athletes and individuals of all ages and skill with the chance to play a unique Paralympic sport. We lead, develop and grow boccia from grassroots to producing World Champions, and we collaborate with partners to increase participation of Canadians with physical disabilities in sport.
---
About boccia
Boccia is a Paralympic sport of precision and strategy similar to lawn bowling or curling, played by athletes with Cerebral Palsy, Muscular Dystrophy and related disabilities. It is one of only two Paralympic sports that do not have an Olympic counterpart. Athletes compete in one of six sport classes based on their level and type of disability: BC1, BC2, BC3 BC4, BC5, and Open.
---
Media Contact
Holly Janna
Communications Lead and National Team Coordinator, Boccia Canada
Email: [email protected]
Phone Number: 613-748-1430 x3 | Cell: 514-944-5193