School Children from Across London Attend Day One of the 2022 Canadian Boccia Championships
Published on: November 17, 2022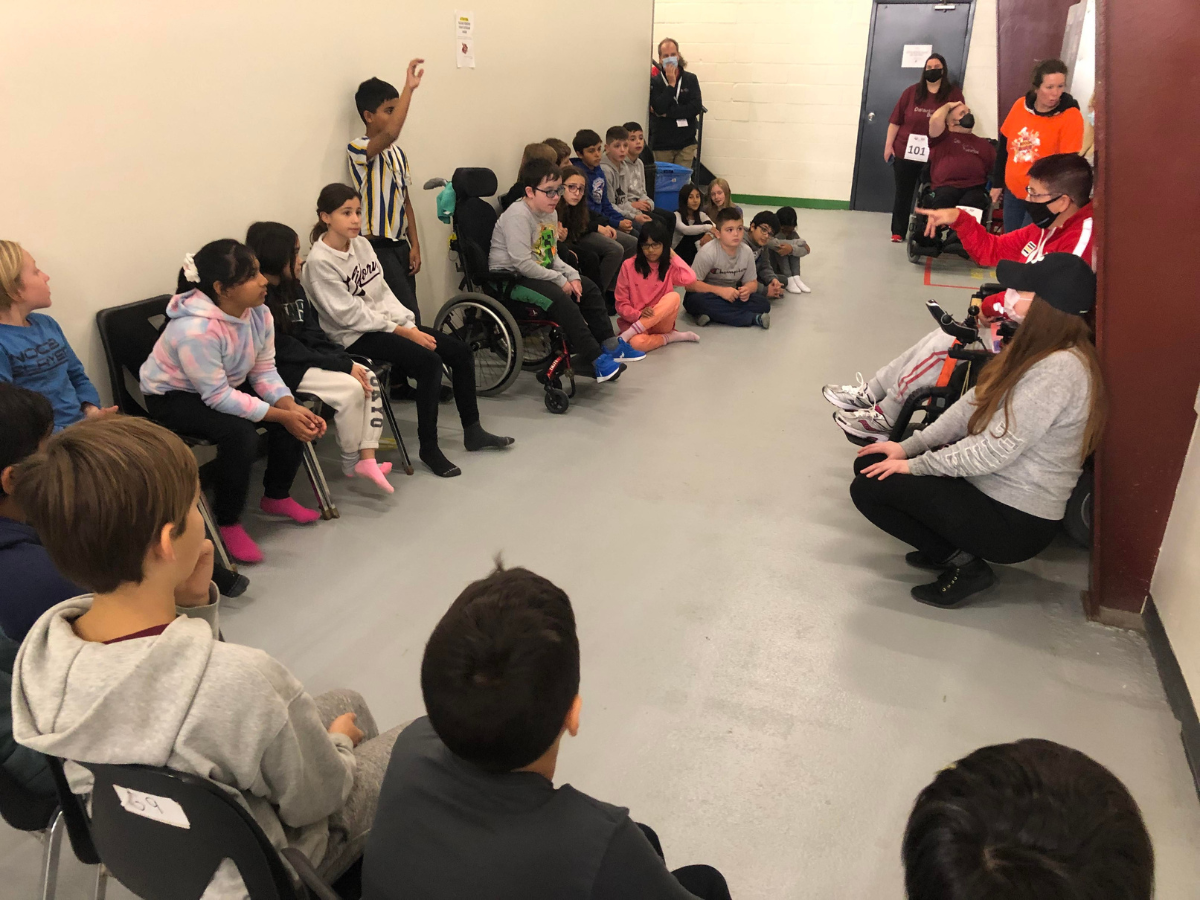 Children from St. Kateri Elementary School asked four-time Paralympian Tammy McLeod questions in a Q&A session at the North London Optimist Community Centre today
London, ON (November 17, 2022) – Five schools and approximately 400 children from grades one through twelve attended day one of the 2022 Canadian Boccia Championships at the North London Optimist Community Centre today.
The five schools include St. Kateri Elementary School, Blessed Sacrament Elementary School, John Paul II Secondary School, St. Mark Elementary School, and Académie de la Tamise while one outreach took place with St. Mary's High School.
Grades one and two teacher at Académie de la Tamise and former performance partner to Canadian Paralympic medalist Josh Vander Vies, Karyn Bélanger Sherman, was especially touched that she got to share her passion of boccia with her students.
She got emotional thinking about what the experience would and could mean for her students: "It means a lot to me to be able to share this passion that I have for boccia with all of my students… I love the sport. I love the opportunity it gives to these athletes. I love their perseverance… watching their hard work pay off. I really love being able to share that with my students. The students have totally 'got it' and what I wanted them to get is seeing someone in a wheelchair, who has different abilities than them, and I wanted them to understand that they have talents and aspirations too."
The best athletes in the country are competing until Sunday in London, Ontario for the chance at being crowned champion in their class. Team, Pairs, and Individual events are all taking place in an action-packed week with athletes travelling from British Columbia, Alberta, Ontario, Québec, and Newfoundland and Labrador for the competition.
The students had the chance to participate in a poster making activity and a question and answer period with four-time Paralympian Tammy McLeod (London, ON) and Sydney 2000 Paralympian, Lance Cryderman (Sudbury, ON).
"I would like to thank Jules and Amanda from [Ontario Cerebral Palsy Sports Association] OCPSA for making this amazing school day possible, and all the volunteers for helping!" said McLeod. "I was honored to meet with all the awesome students to do a Q&A. It was a lot of fun and the students asked some great questions. Some were very inquisitive and they asked in a very respectful manner. I do feel there was a meaningful connection made between the students and myself. I am happy they enjoyed the insight into boccia that they got today. It felt good to share my boccia journey and show them my 2015 Parapan Am Games bronze medal."
Bélanger Sherman noted, "One of my students said 'I love boccia, I love watching the game, watching them play, and I don't care that they have a disability. What matters is that they're awesome and they're also so good at the game!'"
That student is elementary school girl, Sofia: "I felt really good about watching the athletes play today. I really love watching them. They're great at their sport. One athlete that I stood out was Tammy. She had a lot of medals!"
The individual competition has begun today with medals being awarded on Saturday, while Team and Pairs start and end on Sunday.
Find out more about the competition, results, and schedule here.
---
About Boccia Canada
Boccia Canada is the boccia delivery arm of the Canadian Cerebral Palsy Sports Association (CCPSA), the National Sport Organization for the Paralympic sport of boccia. Boccia Canada is focused on providing athletes and individuals of all ages and skill with the chance to play a unique Paralympic sport. CCPSA collaborates with partners to increase the participation of Canadians with cerebral palsy and related disabilities in sport and physical activity, while leading, developing and growing boccia from grassroots, to producing World and Paralympic Champions.
---
About boccia
Boccia is a Paralympic sport of precision and strategy similar to lawn bowling or curling, played by athletes with Cerebral Palsy, Muscular Dystrophy and related disabilities. It is one of only two Paralympic sports that do not have an Olympic counterpart. Athletes compete in one of six sport classes based on their level and type of disability: BC1, BC2, BC3 BC4, BC5, and Open.
---
Media Contact
Holly Janna
Communications Lead and National Team Coordinator, Boccia Canada
Email: [email protected]
Phone Number: 613-748-1430 x3 | Cell: 514-944-5193