For immediate release
Sao Paulo, May 22, 2018 – Canada hit the courts hard this morning at the BISFed Regional Open taking place at the Brazil Paralympic Training Centre in Sao Paulo. The individual competition began with two early-morning victories from Hanif Mawji (Burnaby, BC), who won his matches Igor Barcelos (BRA) and Eduardo Ventura (MEX), 5-
2 and 4-1 respectively. Mawji finished pool play in a great position to advance to the semi-finals tomorrow.
The day continued with strong performances from Eric Bussière (Verchères, QC) and Philippe Lord (Blainville, QC).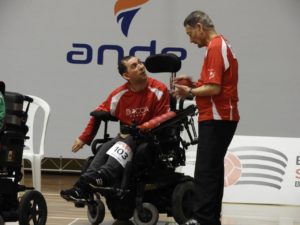 With two victories and no losses, Lord positioned himself well for tomorrow's competition.
"I woke up early this morning, went to the training centre in shape and confident." commented Lord.
Bussière faced a stronger test against Julia Cancino (CHI), but was able to squeeze out a 7-6 win. "It was a tight victory. I played some perfect sets on my side, but I noticed a few mistakes on my part here and there. I know how to fix them and I'll l be ready for tomorrow's action."
Hayley Redmond (St. Johns, NF) made her international debut with a 7-0 victory in her first international competition.
Unfortunately, for Redmond, after her first win, she was re-classified from the BC2 division to BC5 and will not be able to compete further in Sao Paulo.
Marylou Martineau (Québec, QC) began her match with a great first end, leading 3-1 against Maria Panca from Peru. Martineau didn't stop there, adding more points every end for a final score of 9-1. Martineau plays one more game tomorrow to finish pool play.
Benoit Ostiguy (Montreal, QC) and Josée Lamothe (Trois-Rivières, QC) did not fair as well against tough opponents today. Lamothe faced Guilherme Moraes (BRA) and German Calderon (CHI), losing 0-8 and 1-8 respectively. After losing his first match 6-1, Ostiguy had most of the afternoon to recoup and analyze what went wrong before the continuation of pool play tomorrow.
Looking ahead to tomorrow, Philippe Lord and Hanif Mawji placed themselves to advance to the semi-finals. Their teammates will need to win their remaining games to have a chance at advancing to the next round. Most of the athletes have at least one more game left in the pool play. Individual pool play continues tomorrow. For a full list of results and schedule, visit www.BISFed.com. Follow live at https://www.spbocciaopen.com/copia-video.
Results Summary
BC1
Josée Lamothe (CAN) 0, Guilherme Moraes (BRA) 8
Josée Lamothe (CAN) 1, German Calderon (CHI) 8
Hanif Mawji (CAN) 5, Igor Barcelos (BRA) 2
Hanif Mawji (CAN) 4, Eduardo Ventura (MEX) 1
BC2
Hayley Redmond (CAN) 7, Jorge Armando Delgado Guerrero (ECU) 0
Benoit Ostiguy (CAN) 1, Roberto Silva (CHI) 6
BC3
Eric Bussière (CAN) 7, Julia Marcelino (BRA) 6
Philippe Lord (CAN) 8, Jesus Cancino (CHI) 1
Philippe Lord (CAN) 10, Dean Acosta (PER) 0
Marylou Martineau (CAN) 9, Maria Panca (PER) 1
-30-
For media inquiries:
Natalie Antoine
613-608-4347
A successful first day for Team Canada