FOR IMMEDIATE RELEASE
Residents of Ottawa take part in national physical activity challenge to honour Canada's 150th
Ottawa (ON) Sept 8, 2017) – Today, Boccia Canada hosted Boccia Day to celebrate the ParticipACTION 150 Play List – the ultimate list of physical activities that define us as Canadian. ParticipACTION created the ParticipACTION 150 Play List in honour of Canada's 150th birthday, and Canadians are challenged to try as many of the activities on the list as they can to get moving more, sitting less, and for chances to win great prizes. As boccia is one of the activities that made the ParticipACTION 150 Play List, we got residents, athletes and Paralympians out on the streets of Ottawa to check boccia off their list!
Boccia Day took place outdoors on the iconic Sparks Street Mall, just one block from Parliament Hill.  During the customary bustle of public and private sector employees enjoying lunchtime, hundreds gathered to "take the shot" and give boccia a try, while leaving with prizes for their efforts.  2016 Paralympian Alison Levine,  and former National Team members Kevin Shaw and Keven Smith-Worthylake were on hand to lead boccia demonstrations and took on Ottawa/Gatineau residents challenging them to a game on the full-size boccia court.
"The ParticipACTION 150 Play List and Boccia Day are great initiatives to celebrate our country's sesquicentennial," noted Peter Leyser, Executive Director, Boccia Canada. "We're pleased to partner with ParticipACTION while showcasing our sport to a broader audience, introducing our world class athletes and their tremendous athleticism, and teaching the finer aspects of the game."
With a mandate on growing the sport from grassroots to developing world & Paralympic Champions, the focus of Boccia Day was to showcase boccia in partnership with ParticipACTION's 150 Play List.   Throughout the sesquicentennial year, over 70 boccia try-it events are taking place throughout the country.  For more information on these events, please visit https://bocciacanada.ca/150-play-list/
"The ParticipACTION 150 Play List is a physical-activity movement, inspiring and motivating Canadians everywhere to move more and sit less, and we are thrilled to have Boccia Canada support us," said Elio Antunes, President and CEO of ParticipACTION. "Modern life, with busy schedules, sedentary jobs, hours spent in front of screens and a love affair with convenience, has left little room for physical activity in everyday life. The ParticipACTION 150 Play List is helping Canadians sit less and move more by reminding us that being active is part of who we are."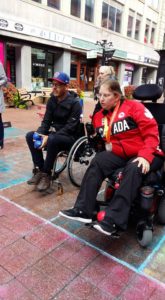 The ParticipACTION 150 Play List challenge doesn't  end on Boccia Day. Sign up at www.participaction.com/150 and check off as many of the 150 activities as you can for the chance to win a fitness tracker, Canadian vacation adventure, or even a new car! Challenge friends and family to see who can complete more activities, and share photos of all your adventures on Twitter, Instagram and Facebook with the hashtag #150playlist.
About the ParticipACTION 150 Play List
To celebrate Canada's 150th birthday, ParticipACTION is creating the ParticipACTION 150 Play List – the ultimate list of all the physical activities that make us Canadian. Throughout 2017 every Canadian, in all communities, schools and workplaces from coast to coast to coast, will be challenged to complete as many physical activities on the list as possible, track their efforts online and earn rewards along the way. The ParticipACTION 150 Play List is a collaborative effort supported by the Government of Canada, premier corporate partners Manulife, Chevrolet and Shaw, the Government of B.C. and national media partner Corus. To register or find out more, including details on more than 100 local ParticipACTION Play List events throughout 2017, please visit www.participACTION.com/150.
About Boccia Canada
Boccia Canada is the boccia delivery arm of the Canadian Cerebral Palsy Sports Association (CCPSA), the National Sport Organization for the Paralympic sport of boccia. Boccia Canada is focused on providing athletes and individuals of all ages and skill with the chance to play a unique Paralympic sport. CCPSA and its provincial partners cooperate as a proactive force to facilitate the development of equitable and fair sporting opportunities for athletes with cerebral palsy and related disabilities.
About boccia
Boccia is a Paralympic sport of precision and strategy similar to lawn bowling or curling, played by athletes with Cerebral Palsy, Muscular Dystrophy and related disabilities. It is one of only two Paralympic sports that do not have an Olympic counterpart. Athletes compete in one of four sport classes based on their level and type of disability: BC1, BC2, BC3 and BC4. For more information on boccia, visit www.bocciacanada.ca.
‐30‐
For more information or to speak to a spokesperson, please contact:
Media Contact
Kaymin Roorda
Marketing and Communications Coordinator
Cell: 613-806-5669
Email: kroorda@bocciacanada.ca
Boccia Canada celebrates the ParticipACTION 150 Play List