For Immediate Release
April 25, 2017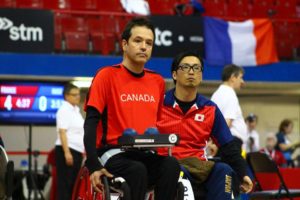 (Ottawa, ON) Boccia Canada is pleased to announce the eleven athletes who will represent Team Canada at the Montreal Regional Open from April 27-30 in Montreal, QC. This tournament will see four countries and thirty athletes competing in the first international event of the quadrennial.
The team includes a mix of veterans and rookies, all looking for solid performances as they aim towards qualification for the 2020 Paralympic Games in Tokyo. Athletes to watch include hometown favourites Alison Levine, Marco Dispaltro and Iulian Ciobanu , strong individual players who are also currently ranked sixth in the world in the BC4 Pair division. Lois Martin (St. John's, NF) will be making her international debut in the BC1 division, while Eric Lefebvre will be returning to international competition after winning his first national championships in twenty years at the Canadian Championships in Longueuil. Competing in his hometown nearly 15 years after his last international competition, Lefebvre seeks to carry his momentum from national Championships to land on the podium.
In the BC3 Pair division, 2016 Paralympic duo Eric Bussiére and Marylou Martineau along with teammate Philippe Lord, will seek to stand their ground on home turf. The up-and-coming BC2 athletes will be the ones to watch as they seek to build momentum as the next generation of Paralympians.
"The Montreal Regional Open is a good occasion to build confidence and take the lead in the America zone." Comments Head Coach Mario Delisle, "We are working on building more depth in the program this year, those who play to their fullest potential in Montreal will certainly have a chance to go far at this event and will probably have other chances to compete later this summer."
The competition will be held in Montreal, Quebec at the Centre Pierre-Charbonneau. Pair competition will commence Friday, April 28 with individual competition following on Saturday and Sunday.
List of Athletes Competing:
BC1
Éric Lefebvre (Montreal, QC)
Lois Martin (Rising star) (St. John's, NL)
BC2
Benoit Ostiguy (Montreal, QC)
Tammy McLeod (London, ON)
Mike Mercer (St. John's, NL)
BC3
Eric Bussiére (Montreal, QC)
Philippe Lord (Montreal, QC)
Marylou Martineau (Quebec, QC)
BC4
Marco Dispaltro (Montreal, QC)
Alison Levine (Montreal, QC)
Iulian Ciobanu (Montreal, QC)
BOCCIA TEAM ANNOUNCED FOR BISFED MONTREAL REGIONAL OPEN CHAMPIONSHIPS