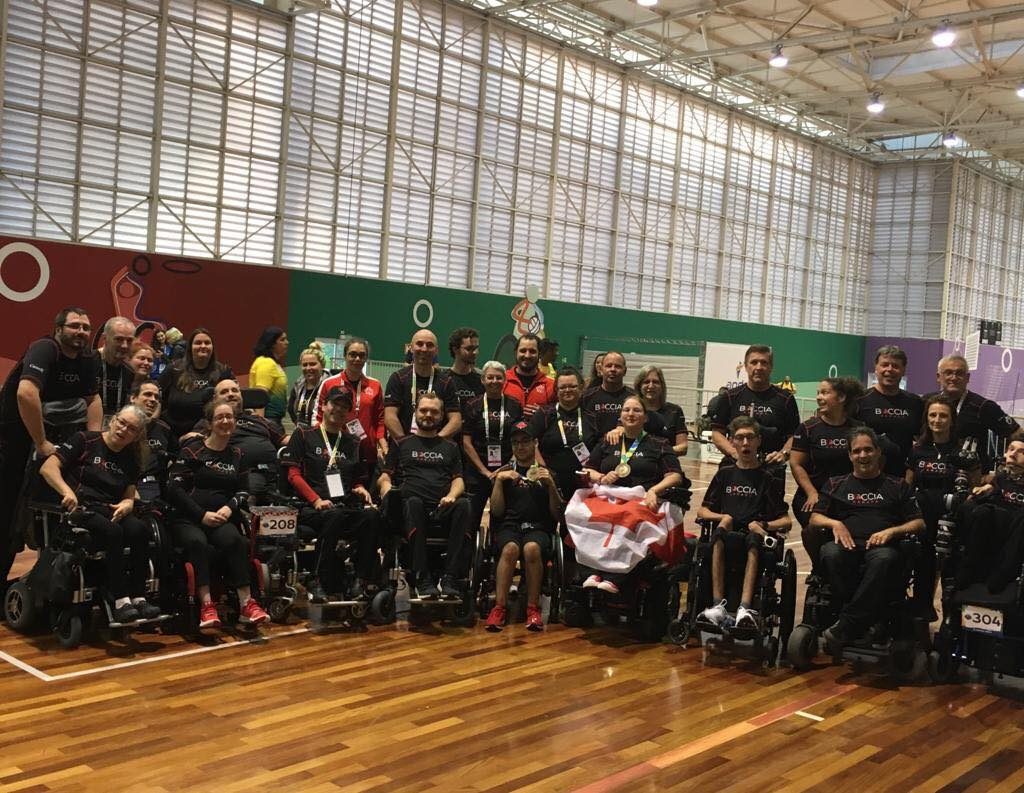 Canada's Full Team Attending the 2019 America Regional Championships in Sao Paulo
Sao Paulo, Brazil (October 5) – The bronze medal haul continued today at the BISFed Sao Paulo Boccia America Regional Championships with both the BC3 and BC4 pairs on the podium.
The BC4 pairs faced Colombia in the semifinal, and while they consistently displaced the jack balls to create scoring opportunities, they weren't able to capitalize on the openings and lost 5-1. The pair then met Mexico in the bronze medal game.
"We had to quickly motivate ourselves for the game against Mexico, knowing that we wouldn't play for gold and have a direct qualification to Tokyo," said BC4 Coach César Nicolai.
Their motivation tactics worked. In the bronze medal match, Canada had the game well in hand by the third end. BC4 captain Alison Levine (Montréal, QC) called the game with several balls left to throw, taking home the bronze 7-2.
It wasn't the result they were hoping for, but according to Nicolai, Tokyo qualification may still be possible if the team performs well at the next event in Portugal later this month. "It was important to secure the bronze medal for our world ranking and keeping our qualification chances alive. It's always hard to play in the bronze medal match after losing in the semifinals but they played well. Povoa is going to be a big competition. It's not going to be easy. We're going to have to play well," says Nicolai.
The BC3 pairs started off strong, winning their first two pool games but met tough opposition in their third game against Argentina, losing 5-2. There was no playoff round for the BC3 pairs. Canada's 2-1 record earned them the bronze.
"It wasn't the medal that we wanted," said pairs captain, Eric Bussière (Verchères, QC). "Despite everything, Philippe, Joëlle and I battled right until the end. We're not giving up, and we're going to continue to improve."
The BC1/BC2 Team did not advance to the qualifying round.
"The scores don't depict how they played," said coach Ed Richardson (Toronto, ON). "Our performance has given us good things to work on moving forward in our preparation process for the next quadrennial."
Nineteen-year old Danik Allard (Bois-des-Filion, QC), individual bronze medallist, is optimistic about the team's future. "We persevered, we played well and we picked up ranking points. In a couple of years we'll be even stronger."
This is the end of the competition season for the BC1/2 team and BC3 pairs. The BC4s will see action next at the BISFed 2019 Boccia World Open in Povoa de Varzim, Portugal from October 28 to November 3.
For full results visit: http://bisfed2019-saopaulo-ind.sport80.com/app/main/#/matches.
About Boccia Canada
Boccia Canada is the boccia delivery arm of the Canadian Cerebral Palsy Sports Association (CCPSA), the National Sport Organization for the Paralympic sport of boccia. Boccia Canada is focused on providing athletes and individuals of all ages and skill with the chance to play a unique Paralympic sport. CCPSA collaborates with partners to increase the participation of Canadians with cerebral palsy and related disabilities in sport and physical activity, while leading, developing and growing boccia from grassroots, to producing World and Paralympic Champions.
About boccia
Boccia is a Paralympic sport of precision and strategy similar to lawn bowling or curling, played by athletes with Cerebral Palsy, Muscular Dystrophy and related disabilities. It is one of only two Paralympic sports that do not have an Olympic counterpart. Athletes compete in one of six sport classes based on their level and type of disability: BC1, BC2, BC3 BC4, BC5, and Open. For more information on boccia, visit http://bocciacanada.ca.
---
Media Contact
Holly Janna
Email: hjanna@bocciacanada.ca
Phone number: (613) 748-1430
Canada Adds to Bronze Medal Tally in Sao Paulo