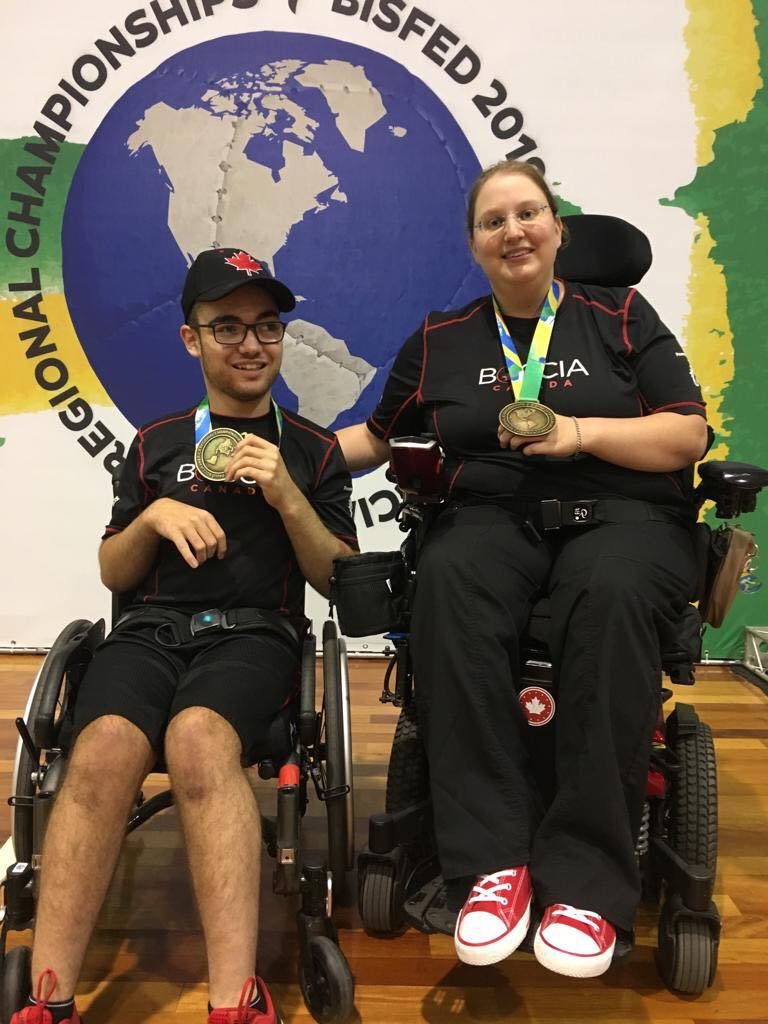 Allard and Levine don their individual bronze medals in Sao Paulo
Sao Paulo, Brazil (October 3) – Individual competition wrapped up at the 2019 Sao Paulo Boccia America Regional Championships with Alison Levine and Danik Allard each winning bronze, falling just short of earning a coveted direct qualification slot at the 2020 Tokyo Paralympic Games. More Tokyo qualification slots will be up for grabs in the pairs and team events, which start tomorrow.
Playing in just his second international event, Allard advanced to the medal round by winning the quarterfinal match against teammate Dave Richer. The game finished with Allard stealing the win 9-1, allowing him to advance to the semifinal. After losing the semifinal, Allard stayed composed against Brazilian opponent Lucas De Araújo to take home the bronze medal.
"I cried from joy and pride," said Allard. "I am very proud of myself because my hard work has paid off. I'm going to continue in this direction and we'll see what will happen in the years to come."
Allard had already made his presence known, cracking the top-40 in the world rankings after making his international debut at the 2019 BISFed Montreal World Open in April, but will certainly be climbing spots after this event.
Along with Allard and Richer, Kristyn Collins also advanced to the quarterfinals in the BC2 class.
Collins' philosophy of "the best offense is a good defense," and her delivery of several perfect first balls, sealed her spot in the quarterfinals.
Head Coach Mario Delisle was pleased with how she played: "Kristyn was very good at placing her first balls next to the jack. It was a good performance and she's now ended the competition in fifth place [in the BC2 class] at this event."
Alison Levine continued Canada's winning streak against Euclides Grisales of Colombia. After Marco Dispaltro won Parapan gold against Grisales a few weeks ago in Lima, it was Levine's turn to take bronze from him in Sao Paulo. But first, she needed to refocus after a tough 3-2 semifinal loss to rival Eliseu dos Santos of Brazil. It was a match that could have gone either way but Santos threw a great last ball that sealed the win.
Levine then went on to beat Grisales 7-3, a win that came with a bonus. "I won my bronze medal game convincingly, leaving him no chance whatsoever. I'm extremely happy to announce that with this win I will become the number one BC4 in the world."
The top ranking gives Levine a strong chance of qualifying for Tokyo's individual BC4 event because she will "likely stay number one" until the end of 2019, according to Delisle.
Levine has already refocused her attention on what's next in Sao Paulo. "There's not a lot of time to celebrate because we're on to pairs tomorrow. I'm excited to do that with Marco and Iulian. We're going to crush it!"
Marco Dispaltro and Iulian Ciobanu also secured playoff spots after top finishes in their pools. Dispaltro needed to win his last game by an eleven-point margin to get the optimal playoff matchup. It was a formidable challenge that he met head on, scoring 14 unanswered points.
"I needed to win by a big margin so that I wouldn't play Alison. I took care of business against Ruiz from Mexico to make it into the quarterfinals."
Unfortunately, neither were able to advance to the semifinals.
Canada is currently ranked 11th in BC4 pairs and is the first seed in Sao Paulo.
After losing in the individual quarterfinals, BC3 athletes Philippe Lord and Éric Bussière will now focus their attention on BC3 pairs, while the BC1/2 athletes prepare for the team competition.
Captain Éric Bussière remains optimistic: "We're going to stay positive and visualize the best course of action after our experience these last few days in Sao Paulo."
PREVIEW OF TOMORROW:
BC1/BC2
CAN vs. BRA @ 9:30 am EST
CAN vs. ARG @ 1 pm EST
BC3
CAN vs. COL @ 9:30 am EST
CAN vs. PER @ 3:30 pm EST
BC4
CAN vs MEX @ 8:30 am EST
CAN vs. ARG @ 2:30 pm EST
About Boccia Canada
Boccia Canada is the boccia delivery arm of the Canadian Cerebral Palsy Sports Association (CCPSA), the National Sport Organization for the Paralympic sport of boccia. Boccia Canada is focused on providing athletes and individuals of all ages and skill with the chance to play a unique Paralympic sport. CCPSA collaborates with partners to increase the participation of Canadians with cerebral palsy and related disabilities in sport and physical activity, while leading, developing and growing boccia from grassroots, to producing World and Paralympic Champions.
About boccia
Boccia is a Paralympic sport of precision and strategy similar to lawn bowling or curling, played by athletes with Cerebral Palsy, Muscular Dystrophy and related disabilities. It is one of only two Paralympic sports that do not have an Olympic counterpart. Athletes compete in one of six sport classes based on their level and type of disability: BC1, BC2, BC3 BC4, BC5, and Open. For more information on boccia, visit http://bocciacanada.ca.
---
Media Contact
Holly Janna
Email: hjanna@bocciacanada.ca
Phone number: (613) 748-1430
Canada Wins Double Bronze at Tokyo Qualifier