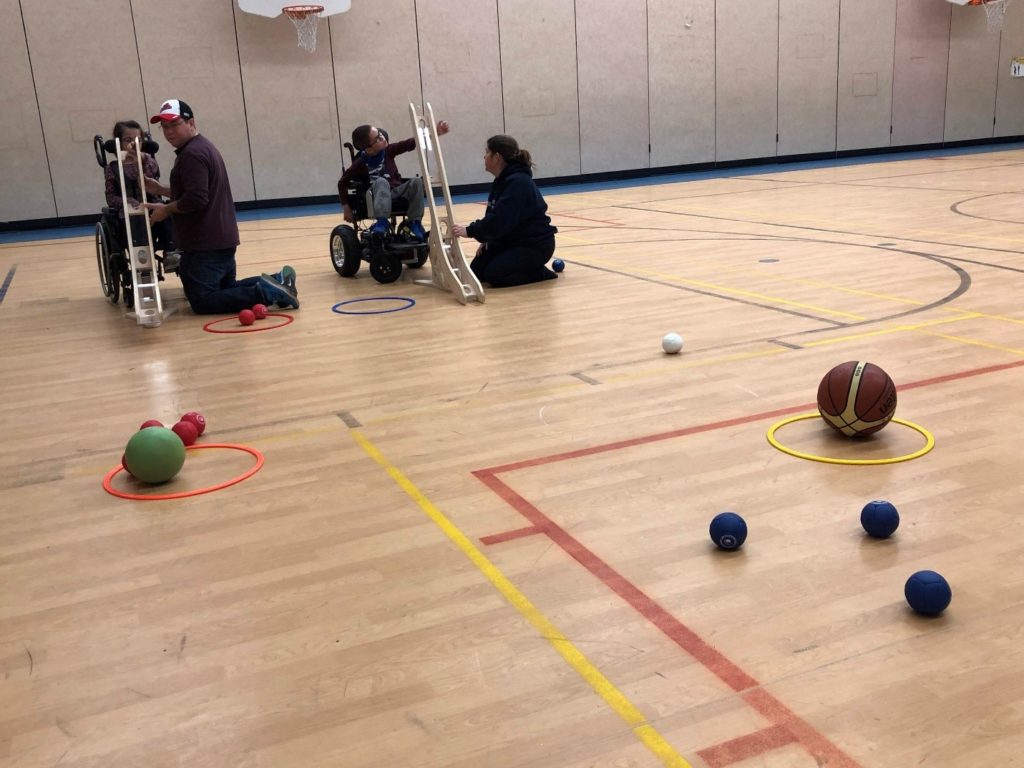 Cruisers Sport for the Physically Disabled currently has two members in their boccia program
September 25, 2019 (Ottawa, ON) – Twelve organizations across Canada will receive a total of $28,000 in grants from the Canadian Cerebral Palsy Sports Association through the 2019-20 Provincial Development grant program.
The purpose of the grant program is to support the development of boccia across Canada. Applicants could apply for funding to support athlete recruitment/development, training, coaching, officials, hosting a competition or travel for competition.
This marks the first year that clubs and competitions have been eligible for the program. "We expanded the grant program to include grants for clubs and hosting competitions this year because we recognize that, along with the integral support provided by provincial sport organizations, vibrant clubs, and quality competitions are critical for developing new athletes," said Jennifer Larson.
Tiffany Gaudette, Director of Boccia and Multi-Sports at Cruisers Sport for the Physically Disabled is excited about the future of the club's boccia program.
"It affects us greatly at Cruisers because our boccia program was fading out due to a lack of education and recruitment of the sport in our community. We will now be going into schools in the Halton and Peel Region to introduce and recruit kids to play boccia as well as focus on coaching development with our Bodacious Boccia Blast Program. I know that this help will expand the number of boccia members we have in our program, which is exciting."
Alysha Canning, Multi-Program Coordinator, Easter Seals Nova Scotia is using the club grant to ensure their boccia program expands even more.
"We are so grateful for the grant from Boccia Canada, as it allows us to bring the game of boccia to seniors and those living with disabilities who have never experienced the game.  We love that we can train more folks to coach and we will continue to buy equipment in order to be fully accessible."
Provincial Sport Organizations remain a key part of the program. SportAbility was among the provincial partners receiving support this year.
"SportAbility is grateful to receive development funds from CCPSA to continue the growth of boccia across BC. The funds will be used to strengthen our coaching program, increase our level of engagement and provide quality competitive opportunities," says SportAbility Executive Director Ross MacDonald.
2019 Provincial Development Grant Recipients
Provincial Boccia Organizations
SportAbility
Manitoba Cerebral Palsy Sports Association
Ontario Cerebral Palsy Sports Association
Association québécoise de sports pour paralytiques cérébraux
Easter Seals Newfoundland and Labrador
Alberta Cerebral Palsy Sports Association
Clubs
Society for Manitobans with a Disability
Ottawa Odyssey
Niagara Penguins
Cruisers
Centre d'intégration à la vie active
Easter Seals Nova Scotia
Canadian Cerebral Palsy Sports Association Awards $28,000 in Grants to Support Boccia Development