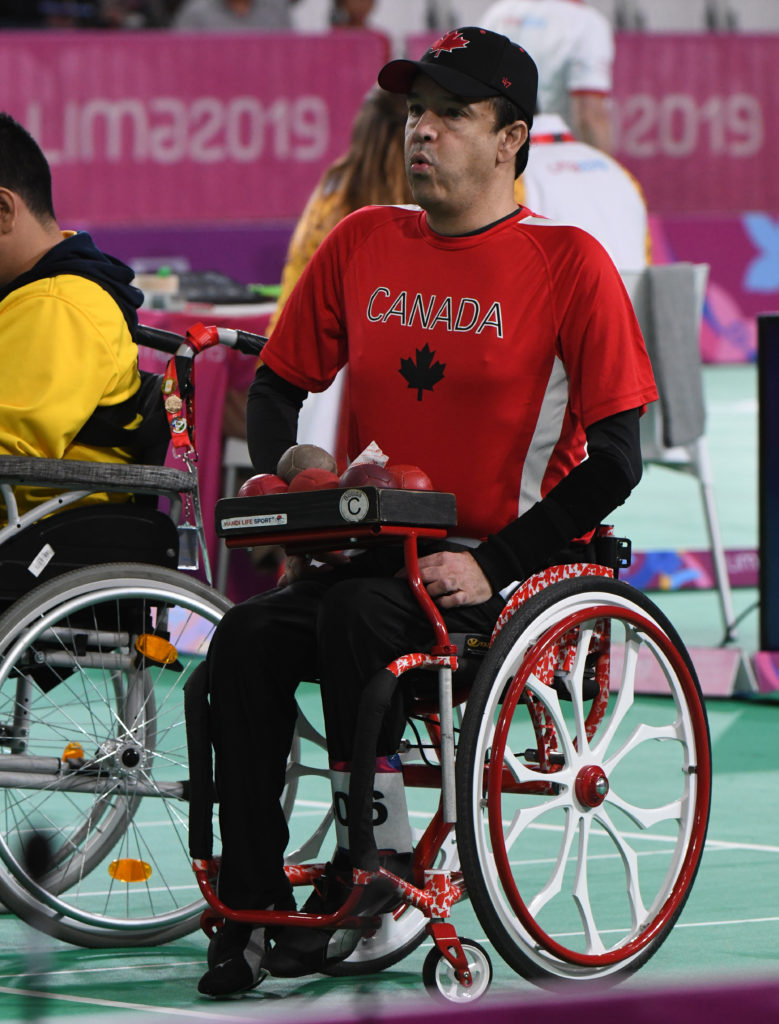 Photo: Scott Grant, Canadian Paralympic Committee 
Lima, Peru (August 31, 2019) – Marco Dispaltro (Saint-Jérôme, QC) and Iulian Ciobanu (Montréal, QC) both played Colombians in the gold and bronze medal games on day three of the boccia action at the 2019 Lima Parapan Games.
The Pairs competition also kicked off with four countries playing in the BC3 and BC4 Pairs divisions.
Dispaltro was unstoppable against Euclides Grisales from Colombia in the BC4 Finals to claim a well-earned gold medal. The Canadian played to Grisales' weak point in the back court. In the first end, Dispaltro caught Grisales off guard with a perfect distance shot and this depleted all of Grisales' balls. Dispaltro capitalized on his ball advantage to finish the first end 5-0. From that point forward Dispaltro delivered "perfect balls" according to coach Cesar Nicolai, scoring points in all four ends of the final game. Teammate Ciobanu just missed the podium in a tight game against Colombian Duban Cely.
BC3 Pair Marylou Martineau (Québec City, QC), Éric Bussière (Verchères, QC), and Philippe Lord (Blainville, QC) started with a tiebreak win over Argentina. In their second game, Canada played another tiebreak, this time against Colombia, losing 4-3 after the Colombian Pairs capitalized on an open jack from Canada. The BC4 Pairs of Dispaltro, Ciobanu, and Alison Levine (Montréal, QC) started the competition with a loss and a win. Both the BC3s and BC4s are still in the running for medals, with the final round of games still to come tomorrow.
Marco Dispaltro (BC4 Athlete) – "It feels pretty wonderful [to win gold]. I've been waiting for this for a long time. The last time I was on the top of the podium was in 2014. I've said in the past that I'm like the Gordie Howe of wheelchair sports but Gordie's not set to retire just yet… I haven't had this feeling since late 2014. When you have your share of success sometimes the hunger goes away, but I think the hunger's back."
Iulian Ciobanu (BC4 Athlete) – "It was a tough game but a good game… I'm close and it's a work in progress. I know that I'm not far from the podium… We have the regional championships in Sao Paulo in one month and so this was good opportunity to prepare for the next competition which is the most important one of the year. If we win the gold medal we will qualify for Tokyo 2020."
César Nicolai (BC4 Coach) – "The way Marco played the game is awesome. His execution was by the book… I have rarely seen that same Marco. The one that was number one in the world in 2014… He beat [Euclides Grisales] who beat him in Toronto, last Parapan Ams… I'm really happy and we have strong confidence with a really good fourth place from Iulian to start the Pairs off. Marco dropped two balls at the second end. It's crazy that he could do that. Nobody does that after the second end… Five points in one end in the Finals, it's crazy."
Simon Larouche (BC3 Coach) – "We played well in Pairs round robin today but the last game came down to tiny details and an open jack that was not in our favour… Colombia had an advantage of balls crowding the jack so we went for the smash to open the playing field, creating an opening for Colombia to capitalize in the tiebreak."
About Boccia Canada
Boccia Canada is the boccia delivery arm of the Canadian Cerebral Palsy Sports Association (CCPSA), the National Sport Organization for the Paralympic sport of boccia. Boccia Canada is focused on providing athletes and individuals of all ages and skill with the chance to play a unique Paralympic sport. CCPSA collaborates with partners to increase the participation of Canadians with cerebral palsy and related disabilities in sport and physical activity, while leading, developing and growing boccia from grassroots, to producing World and Paralympic Champions.
About boccia
Boccia is a Paralympic sport of precision and strategy similar to lawn bowling or curling, played by athletes with Cerebral Palsy, Muscular Dystrophy and related disabilities. It is one of only two Paralympic sports that do not have an Olympic counterpart. Athletes compete in one of six sport classes based on their level and type of disability: BC1, BC2, BC3 BC4, BC5, and Open. For more information on boccia, visit http://bocciacanada.ca.
---
Media Contact
Holly Janna
Email: hjanna@bocciacanada.ca
Phone number: (613) 748-1430
Dispaltro Wins Parapan Gold – "the Gordie Howe of Wheelchair Sports"