For immediate release
January 23, 2017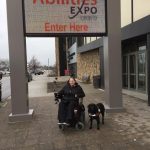 (Toronto, ON) Abilities Expo came north of the border for the first time and Canadian boccia Paralympian, Alison Levine, was honored to be the first ambassador in Toronto, ON for the event held this past weekend. This event focuses on new and upcoming technologies and opportunities for ability enhancing equipment and services.
Abilities Expos have been held in the United States for over 30 years. As soon as Levine heard Abilities Expo was expanding to Canada she jumped at the chance to participate. "I have always wanted to go, but every time there was an event close to home, it was during competition so I was unable to attend. When I heard they were coming to Toronto in January I quickly contacted them to see how I could get involved," comments Levine. As ambassador of the event, Levine's main responsibility was to reach out and create awareness. During the event, Levine could be seen mingling about, trying new products and activities and providing feedback for possible future events within Canada. She also had the opportunity to help the Mississauga Cruisers demonstrate boccia.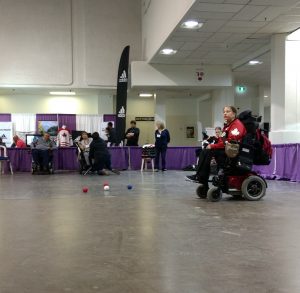 "My experience in one word would be awesome," commented Levine. "I was able to witness new technologies and innovations around adapted mobility and see others join in on the excitement with me. The best part of the event for me was seeing the faces of children and parents light up when trying new technology and activities. It was exciting because I knew parents were able to see what is becoming possible and imaging the endless possibilities for their children."
The expo attracted approximately 2000 attendees from the Greater Toronto area. For Levine it was an amazing experience for her to show people that an active lifestyle is possible even with a severe disability. Levine aspires to show others that they too can be active with any ability and this weekend the Abilities Expo provided her with the opportunity to continue sharing that message.
LEVINE IMPRESSED BY FIRST ABILITIES EXPO IN CANADA