For Immediate Release
March 19, 2017
(Longueuil, QC) It was a thrilling final day on the boccia courts wrapping up the 2017 Canadian Boccia Championships.  Each athlete was pushed to their limits with a total of 117 games being played over the last three days.
Veteran BC1 athlete Eric Lefebvre (Quebec) quickly drew the attention of the crowd as he snuck his way past current national team athletes to the top of the podium for the first time. Lefebvre has played boccia for more than twenty years and has reached new milestones in the past few years by focusing his training and working tirelessly on mental preparation.  Overjoyed is an understatement for the smile that lit up his face when he realized the gold medal was his. "I am so happy! I have prepared hard for this all year by making mental preparation a key to my training," explained Lefebvre. "This is my first gold and I could not be more excited!". Hanif Mawji (British Columbia) and Keven Smith-Worthylake (Ontario) won silver and bronze to round out the podium.
In another first, BC3 athlete Eric Bussiere (Quebec), capped off a phenomenal tournament with an undefeated record and won his first Canadian Boccia Championships gold medal. Bussiere faced teammate Bruno Garneau (Quebec) in the final. With both athletes sporting undefeated records, the game was a barn-burner, with both athletes trading points through the entire game. It wasn't until he scored four points in the third end that the game clearly took a turn for Bussiere. Bussiere stood his ground in the final end, playing solid defense to hold off Garneau and secure his first national title.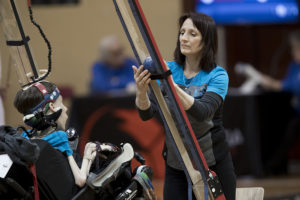 "I feel great!" said a confident Bussiere, "I felt strong in all my games. I dominated all weekend and didn't give over a lot of points.  I am feeling confident heading to Defi (Montreal international tournament in April) that I will bring home a medal!".
With Giancarlo Bizzarro winning bronze, it was a podium sweep for Quebec in the BC3 classification.
In BC2 play, Ontario placed two athletes on the podium with Paralympians Tammy McLeod and Adam Dukovich taking home gold and bronze. It was a strong showing by the veteran athletes and both head home feeling confident about their performance. Benoit Ostiguy (Quebec) took silver.
In the BC4 category, medals were awarded based on the results of the round robin tournament. Quebec stole the show once again as the Rio Paralympic trio swept the podium. Marco Dispaltro wrapped up an undefeated tournament by winning gold, while Iulian Ciobanu took silver and Alison Levine finished with bronze. The increasing depth of the competition field and pressure from up and coming athletes made for an exciting first Championships in the Tokyo quadrennial.
The next competition on the horizon is the BISFed Regional Open at the end of April.
Final Results:
BC1
Gold: Eric Lefebvre (QC)
Silver: Hanif Mawji (BC)
Bronze: Kevin Smith-Worthylake
BC2
Gold: Tammy McLeod
Silver: Benoit Ostiguy
Bronze: Adam Dukovich
BC3
Gold: Eric Bussiere
Silver: Bruno Garneau
Bronze: Giancarlo Bizzarro
BC4
Gold: Marco Dispaltro
Silver: Iulian Ciobanu
Bronze: Alison Levine
NATIONAL CHAMPIONS CROWNED ON FINAL DAY OF CANADIAN BOCCIA CHAMPIONSHIPS