For Immediate Release
May 1, 2017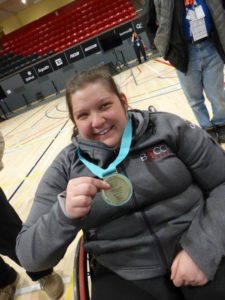 (Montreal, QC) 38 athletes gathered this weekend at the Institute National du Sport du Quebec in Montreal, QC for the Defi Sportif Altergo boccia competition. This exciting event allowed upcoming boccia players to test their skills against seasoned athletes while just around the corner, international athletes were competing at the international Montreal Regional Open, also presented by Defi Sportif Altergo. A school competition for younger athletes was also included.
This unique combination of school, developmental and elite competitions sets the Defi Sportif Altergo apart and makes the event a key milestone in the development path of many athletes. This year was no exception.
In the BC1 category, up and comer Dorya Belal (Brossard, QC), played a strong tournament, holding her own against athletes with over thirty combined years of experience. Eighteen-year-old Belal finished just off the podium behind National squad members Hanif Mawji (Burnaby, BC), Josee Lamothe (Trois-Rivières, QC) and fellow Quebec athlete Alexandre Ziegler (Montreal, QC).
"I feel very good. It was a great experience," said Belal, who has only been training for two years as a BC1, "I am learning a lot through my mistakes and learning through the veterans I play against."
Competing at her first Canadian Boccia Championships this past March was a huge feat for Belal. Though she didn't have the finish she would have liked, she took it as a learning experience. "I train every day at home. I would like to train in a gym to improve my skills, but that just isn't reality right now. My father, also my sport assistant, works full-time as a physical education teacher and we work around this."  Belal is now looking ahead to the Quebec Boccia Championships in May.
In the BC2 category, Haley Redmond (St. John's, NL) won her first gold medal at a national competition. "I am pretty excited. Pretty happy," commented a smiling Redmond upon receiving her medal. "This is my first national gold. I had a rocky start to the tournament, but I got my footing and started to play my game."
Redmond has played boccia for five years and began making waves in 2016 with a gold medal at the Newfoundland Boccia Championships and a silver at the Boccia Blast. Her eyes are squarely set on making the National Training Squad and she continues to strive to improve in order to achieve that goal.
Another first came in the BC4 category from Josh Gautier (Niagara, ON). Competing at his first Defi Sportif Altergo, Gautier went undefeated to take home the gold medal. Gautier's mentor and inspiration, Paralympic medalist Marco Dispaltro noted, "I always have to remember he is only fourteen. He's so analytical, he studies the game and understands difficult strategical tactics. He just gets it, which always amazes me!"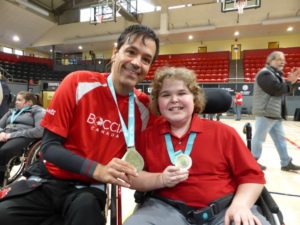 Despite his age, Gautier carries himself with the poise and confidence of a veteran. He shows both humility and kindness while still having the competitive drive to succeed. Dispaltro predicts this won't be the last time Gautier sees the podium. "I predict big things from him in the short term and can't wait to face him in competition. I can assure everyone that reads this that I will prepare to play against Joshua like he's one of the top players in the world, because I know he'll bring it and if I don't, I'll lose."
In addition to highlighting upcoming talent from young athletes, the 2016 Defi Sportif Altergo competition also marked the debut of a new competition category. The BC5 classification includes athletes with mobility impairments of either cerebral or non-cerebral origin who use manual or power chairs for everyday mobility, although some may be able to walk short distances with assistance or the use of a walking aid.
According to co-Lead Classifier Jane Blaine, the new classification will give individuals who were once ineligible the chance to compete. "It includes athletes who have an impairment in all four limbs," says Blaine. "They are impacted in their ability to propel the ball, but less than athletes in the other classes.  Impairments included in this class can be of either cerebral or non-cerebral origin and result in issues with strength, range of motion, limb shortening, and/or coordination."
The new classification will not be part of the Paralympic Games, but will eventually be included in some international competitions.
Standings:
BC1
Gold: Hanif Mawji
Silver: Josee Lamothe
Bronze: Amexandre Ziegler
Dorya Belal
Justine Bureau
BC2
Gold: Hayley Redmond
Silver: Olivier Roy
Bronze: Dave Richer
Pierre-Yves Levesque
Krystin Collins
Sylvain Dupuis
Christopher Labelle
Guillaume Cote
BC3
Gold: Bruno Garneau
Silver: Charlie Fleisch
Bronze: Giancarlo Bizzarro
Gilles Dufour
Marianne Paquet
Samuel Lafleur
Jennica Gagne
Sylvie Maheu
Alexandre Raymond
Joelle Guerette
Daniel Dalton
BC4
Gold: Joshua Gautier
Silver: Alexandre Lemaire
Bronze: Rick Watters
BC5
Gold: Rafael De Jesus
Silver: Charles Barnes
Bronze: Danik Allard
William Norris
Alek St-Pierre
Marc-Antoine Goupil
Emrick Trudeau
Open:
Gold: Richard Brochu
Silver: Nancie Caldwell
Bronze: Michel Dumesnil
Francois-Xavier Leclerc
NEW TALENT EMERGES AT DEFI SPORTIF ALTERGO BOCCIA COMPETITION