For Immediate Release
March 17, 2017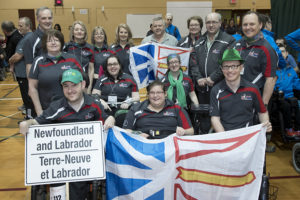 (Longueuil, QC) A high calibre team and pair competition kicked off the 2017 Canadian Boccia Championships today. With 5 provinces represented this weekend, competition is fierce and rivalries are fueled.
It was a historic day for Newfoundland, going undefeated in the team division to win their first ever gold medal. The team of relative newcomers to the game have been gradually building their skills and served notice today that they are not to be underestimated. Their hard work over the past several years has definitely paid off. Benefitting from two training camps over the past few months, the team looked self-assured and ready to take on all comers.
The Rock's run to the podium began with a tight first match against perennial favourites Ontario. Top play by the Newfoundland squad resulted in an overtime win and a big confidence boost. This fueled their momentum into the next match against British Columbia. This game was also too close for comfort.
Although Newfoundland took an early lead in the first half of the game, things quickly turned around when captain Mike Mercer (St. John, NL) tossed their jack out of bounds giving British Columbia the advantage.  Determined to bring the game back around, Mercer quickly gathered his team, tightened up communication and delivered strong shots to finish the game with a solid 7-4 win.
"We kept a positive attitude," Mercer commented. "Heading into the final end we were tied so we had to play like it was 0-0 and stay focused. We played strong and had good communication which allowed us to push ahead and take the game!"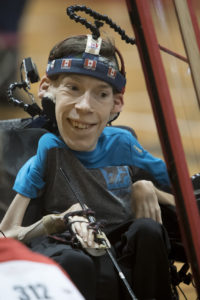 With two wins under their belts, Newfoundland headed into their final game against tournament host Quebec. They took the lead in the first end and never looked back, completing their undefeated round and securing the gold with a 7-2 win.
Team Quebec also dominated the day across the board finishing on the podium in all events. Fifteen year old Alexandre Lemaire made his national debut in the BC4 pair event. Lemaire has been playing boccia for close to six years and upon turning fifteen and becoming eligible to compete nationally, he jumped at the opportunity to finally play at the National Championships alongside his Paralympic role models. "My biggest challenge was to put my shots closest to the jack with accuracy and I was able to achieve that." commented Lemaire after his first game of the tournament.
Lemaire, along with the rest of the athletes head into individual competition tomorrow. Tomorrow's schedule can be found at www.canadianbocciachampionships.ca along with the final results and standings from the team and pairs competition.
Results:
Team BC 1/2:
| | | | | |
| --- | --- | --- | --- | --- |
| 10:00 | Ontario | 5 | 5* | Newfoundland/Labrador |
| | British Columbia | 2 | 8 | Quebec |
| 12:30 | Quebec | 3 | 6 | Ontario |
| | Newfoundland/Labrador | 7 | 4 | British Columbia |
| 15:00 | Ontario | 5 | 2 | British Columbia |
| | Quebec | 2 | 7 | Newfoundland/Labrador |
Pair BC3
| | | | | |
| --- | --- | --- | --- | --- |
| 10:00 | Quebec | 8 | 0 | Mixed |
| | Ontario | 6 | 0 | Nova Scotia |
| 12:30 | Nova Scotia | 0 | 11 | Quebec |
| | Mixed | 8 | 0 | Ontario |
| 15:00 | Quebec | 7 | 2 | Ontario |
| | Nova Scotia | 2 | 5 | Mixed |
Pair BC4
| | | | | |
| --- | --- | --- | --- | --- |
| 10:00 | Mixed | 2 | 7 | Quebec |
| 12:30 | Ontario | 2 | 5 | Mixed |
| 15:00 | Quebec | 7 | 2 | Ontario |
Final Standings
Team BC1/2
Gold: Newfoundland and Labrador
Silver: Ontario
Bronze: Quebec
Pair BC3:
Gold: Quebec
Silver: Mixed Pairs
Bronze: Ontario
Pair BC4:
Gold: Quebec
Silver: Mixed Pairs
NEWFOUNDLAND GOLDEN AT CANADIAN BOCCIA CHAMPIONSHIPS