For Immediate Release
March 13, 2017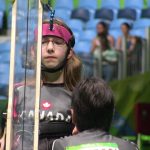 (Longueuil, QC) Boccia Canada is pleased to announce the 24 boccia athletes attending the selection camp for the 2017/18 Canadian Boccia Training Squad at Cégep Édouard-Montpetit in Longueuil, QC from March 14-15, 2017.
Athletes will be competing to earn a spot to represent Team Canada on home soil at the Americas Regional Open in Montreal April 27-30th, 2017 and other international events throughout the year.
"2017-18 is the beginning of a new Paralympic cycle and one of the goals in this first year is to identify athletes that have the capacity to perform at the world level for the next four years." comments National Head Coach Mario Delisle. "The selection camp and the 2017 Canadian Championship that follow will give national coaches a good indication of athletes able to perform 'on demand', one of the many qualities we are looking for. Twenty four athletes come from across Canada from St-John's, NF to Victoria, BC , including 8 female athletes."
The selection camp roster includes many experienced international athletes and returning squad members, including 2016 Paralympians Marco Dispaltro (Saint-Jérôme, QC), Alison Levine (Côte Saint-Luc, QC), Iulian Ciobanu (Montreal, QC), Eric Bussiere (Montreal, QC), Bruno Garneau (Montreal, QC) and Marylou Martineau (Quebec, QC).
Following the camp, the athletes will head directly to the 2017 Canadian Boccia Championships, also being held at the Cégep Édouard-Montpetit from March 17-19.
Athletes attending the Selection Camp include: (athletes with Paralympic Games experience denoted with a *)
| | |
| --- | --- |
| Hanif Mawji* (Burnaby, BC) | BC1 |
| Chris Halpen (Victoria, BC) | BC1 |
| Brock Richardson* (Brampton, ON) | BC1 |
| Lois Martin (St. John's, NL) | BC1 |
| Josée Lamothe (Trois- Rivières, QC) | BC1 |
| Eric Lefebvre (Montreal, QC) | BC1 |
| Paul Jalbert (Prince George, BC) | BC2 |
| Mike Mercer (St. John's, NL) | BC2 |
| Hayley Redmond (St. John's, NL) | BC2 |
| Kristyn Collins (St. John's, NL) | BC2 |
| Tammy McLeod* (London, ON) | BC2 |
| Adam Dukovich* (London, ON) | BC2 |
| Benoit Ostiguy (Montreal, QC) | BC2 |
| Dave Richer* (Montreal, QC) | BC2 |
| Eric Bussière* (Montreal, QC) | BC3 |
| Bruno Garneau* (Montreal, QC) | BC3 |
| Philippe Lord (Montreal, QC) | BC3 |
| Marylou Martineau* (Quebec, QC) | BC3 |
| Giancarlo Bizarro (Laval, QC) | BC3 |
| Marianne Paquet (Quebec, QC) | BC3 |
| Marco Dispaltro* (St. Jérôme, QC) | BC4 |
| Alison Levine* (Côte Saint-Luc, QC) | BC4 |
| Iuilan Ciobanu* (Montreal, QC) | BC4 |
| Alexandre Lemaire (Kingsey Falls, QC) | BC4 |
| Paul Gauthier *(Injury exemption) | BC3 |
ROSTER ANNOUNCED FOR 2017 CANADIAN BOCCIA TRAINING SQUAD SELECTION CAMP