For Immediate Release
Sept 27, 2017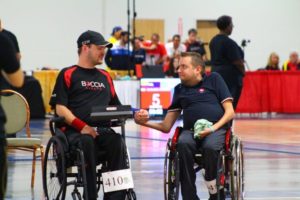 (Kansas City, USA) Eric Bussiere (Vercheres, QC), Alison Levine (Montreal, QC) and Iulian Ciobanu (Montreal, QC) all went undefeated in pool play to qualify for the quarterfinals at the Kansas City World Open.
"These athletes can win. They are three very good athletes," says Head Coach Mario Delisle.
Bussiere will be playing Jamie McCowan of Great Britain. It's a chance at retribution for Bussiere, who lost to McCowan at their previous quarterfinal meeting in 2016.
"It's going to be a serious match up this time around. I won't make the same mistakes as I did then. I'm going to stay focused and try to build one point at a time."
Ciobanu cemented his quarterfinal berth with a win against world number fifteen Robert Durkovic. It was a tightly fought game, with just millimetres between the balls, until Ciobanu made a move that "changed everything" in the second end. "I climbed the jack, took the point and control of the game. He tried with four balls to take back control, but he couldn't."
Ciobanu now faces Euclides Grisales of Colombia. It's Ciobanu's first time playing an athlete who has caused grief for other Canadian athletes since the 2015 Parapan Games and he's looking forward to the challenge.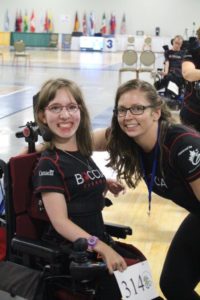 Teammate Levine advanced with a win over Japan's Kintaro Fujii in her last game. She took control of the game early and never lost it.  Levine will meet unknown quantity Melisa Osmanovic of Croatia. "It should be interesting! Female power!"
For the rest of the team, "it was a tough day" said Delisle. "In some games we were close but we just weren't able to finish the games."
Marylou Martineau (Quebec, QC) put in a solid effort in a 6-3 loss against top 25 ranked Austin Hanson of the USA, limiting his scoring chances and winning her ends. Teammate Bruno Garneau (Montreal, QC) lost to Rio Paralympic silver medalist Grigorios Polychronidis of Greece.  Josée Lamothe (Trois-Riveres, QC) and Eric Lefebvre (Montreal, QC) also finished pool play with losses and did not advance.
It was also a rough day for Marco Dispaltro (St. Jerome, QC), Adam Dukovich (London, ON) and Mike Mercer (St. John's, NL), who played their best games of the tournament but didn't see the results reflected on the score board.
The medal round takes place tomorrow. For a full schedule and results visit www.BISFed.com.
Daily Results:
BC1
| | | | |
| --- | --- | --- | --- |
| Josée Lamothe | 0 | 13 | David Smith (GBR) |
| Eric Lefebvre | 0 | 12 | Eduardo Sanchez Reyes (MEX) |
| Eric Lefebvre | 3 | 6 | Guilherme Moraes (BRA) |
| Josée Lamothe | 0 | 13 | Eduardo Sanchez Reyes (MEX) |
BC2
| | | | |
| --- | --- | --- | --- |
| Adam Dukovich | 2 | 3 | Luis Cristaldo (ARG) |
| Mike Mercer | 1 | 6 | Luis Cristaldo (ARG) |
| Adam Dukovich | 0 | 4 | Bernd Meints (NED) |
BC3
| | | | |
| --- | --- | --- | --- |
| Eric Bussiere | 10 | 1 | Howard Cohen (USA) |
| Marylou Martineau | 3 | 6 | Austin Hanson (USA) |
| Bruno Garneau | 2 | 5 | Angel Anzalas (ARG) |
| Bruno Garneau | 0 | 12 | Grigorios Polychronidis (GRE) |
| Marylou Martineau | 1 | 6 | Howard Cohen (USA) |
| Eric Bussiere | 5 | 2 | Austin Hanson (USA) |
BC4
| | | | |
| --- | --- | --- | --- |
| Alison Levine | 5 | 1 | Kintaro Fujii (JPN) |
| Iulian Ciobanu | 4 | 2 | Robert Durkovic (SVK) |
| Marco Dispaltro | 3 | 5 | Euclides Grisales (COL) |
Three Canadians in the medal hunt at Kansas City World Open