For immediate release
Povoa de Varzim, PORTUGAL, July 5, 2018 – Team Canada's record on the second day of individual competition at the BISFed 2018 World Open Povoa de Varzim in Portugal was an even .500, with three wins and three losses. However those losses proved crucial as they eliminated two Canadians, Alison Levine (Côte Saint-Luc, QC) and Philippe Lord (Blainville, QC) from tomorrow's quarterfinals competition.
It was a tough day of competition for the BC3 athletes, playing in their final game of the round robin. Philippe Lord lost his match against Edyta Owczarz (POL) 6-0, eliminating him from the individual competition.  Lord will see action again in Portugal as he prepares to play in BC3 Pairs with teammate Eric Bussière (Verchères, QC) on Saturday. Bussière fell against the ninth ranked BC3 player in the world, Patrick Wilson (GBR) by a small margin of 4-3. Bussière controlled the first two ends to stake a 3-0 lead, but ultimately could not hang on, giving up 4 points in the last two ends. With a 2-1 overall record, Bussière moves on to compete in the quarterfinals tomorrow against a very skilled opponent in Jamie McCowan (GBR), the second ranked BC3 player in the world.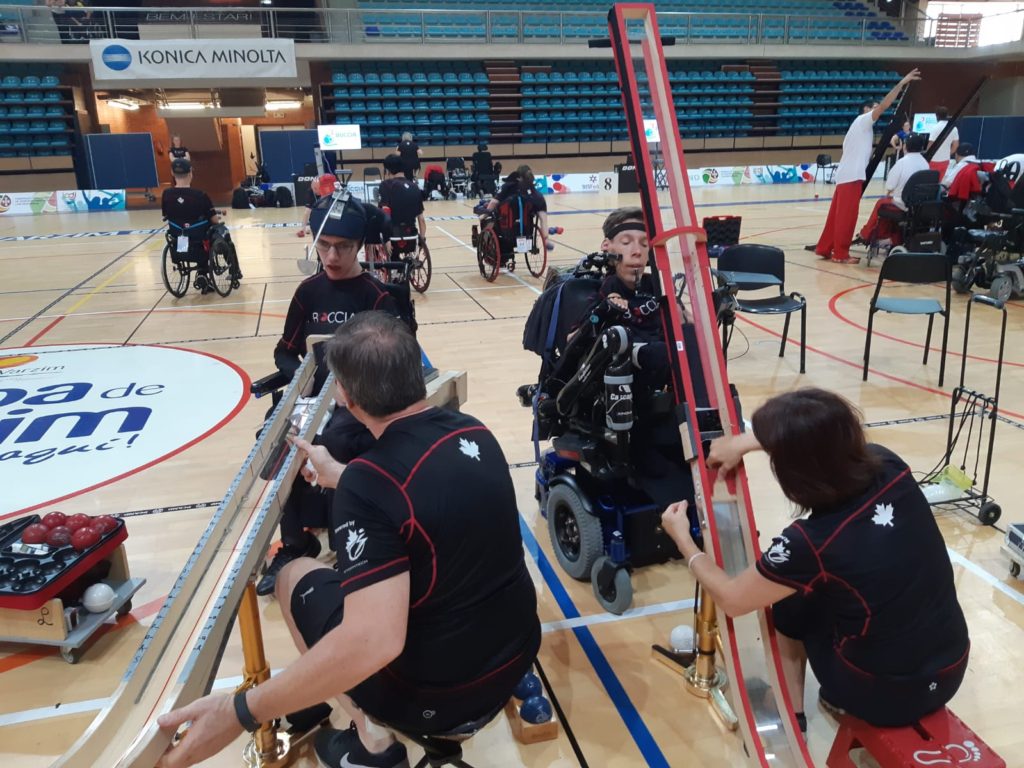 Levine lost her first match of the day against Domingo Vieira (POR) by a score of 5-2. However, she rebounded with a dominating victory against Ivan Frolov (RUS) to finish her individual competition.  "Alison resumed her tactical play against the Russian Frolov, where she won hands down 8-0. Unfortunately, that score does not allow her to finish second in her group, leaving her just outside the quarter finals, with a ninth place finish," highlighted BC4 Coach César Nicolai.
Marco Dispaltro (St-Jerome, QC) went undefeated in his first three matches of the tournament, placing him first overall in his pool. "For Marco it was a great day of competition, two games and two wins," expressed Coach Nicolai. "Both matches played today were tight but Marco showed that he's playing his best and ready to take on the challenge of the quarterfinals." Dispaltro will face a familiar opponent tomorrow in Samuel Andrejcik (SLO), a rematch from two years ago in Povoa."
"Today, I didn't feel that the athletes were quite as confident as they were yesterday, added Head Coach Mario Delisle. "All the matches were difficult, but if we had believed that we could win, the outcomes could have been much different. The athletes still played well and Canada has qualified two of four athletes for tomorrow's quarterfinals."
For a full list of results and schedule, visit www.BISFed.com. Follow live at https://www.youtube.com/channel/UCrL9eWqCXh185greh_oeHAg
Results Summary
BC3
Eric Bussière (CAN) 3, Patrick Wilson (GBR) 4
Philippe Lord (CAN) 0, Edyta Owczarz (POL) 6
BC4
Alison Levine (CAN) 2, Domingos Vieira (POR) 5
Alison Levine (CAN) 8, Ivan Frolov (RUS) 0
Marco Dispaltro (CAN) 6, Ramon Prat (ESP) 3
Marco Dispaltro (CAN) 5, Sergey Safin (RUS) 0
-30-
For media inquiries:
Natalie Antoine
613-608-4347
Two Canadians moving on to the Quarterfinals