Eight Canadian Boccia Athletes To Compete at Santiago 2023 Parapan Am Games
Published on: November 16, 2023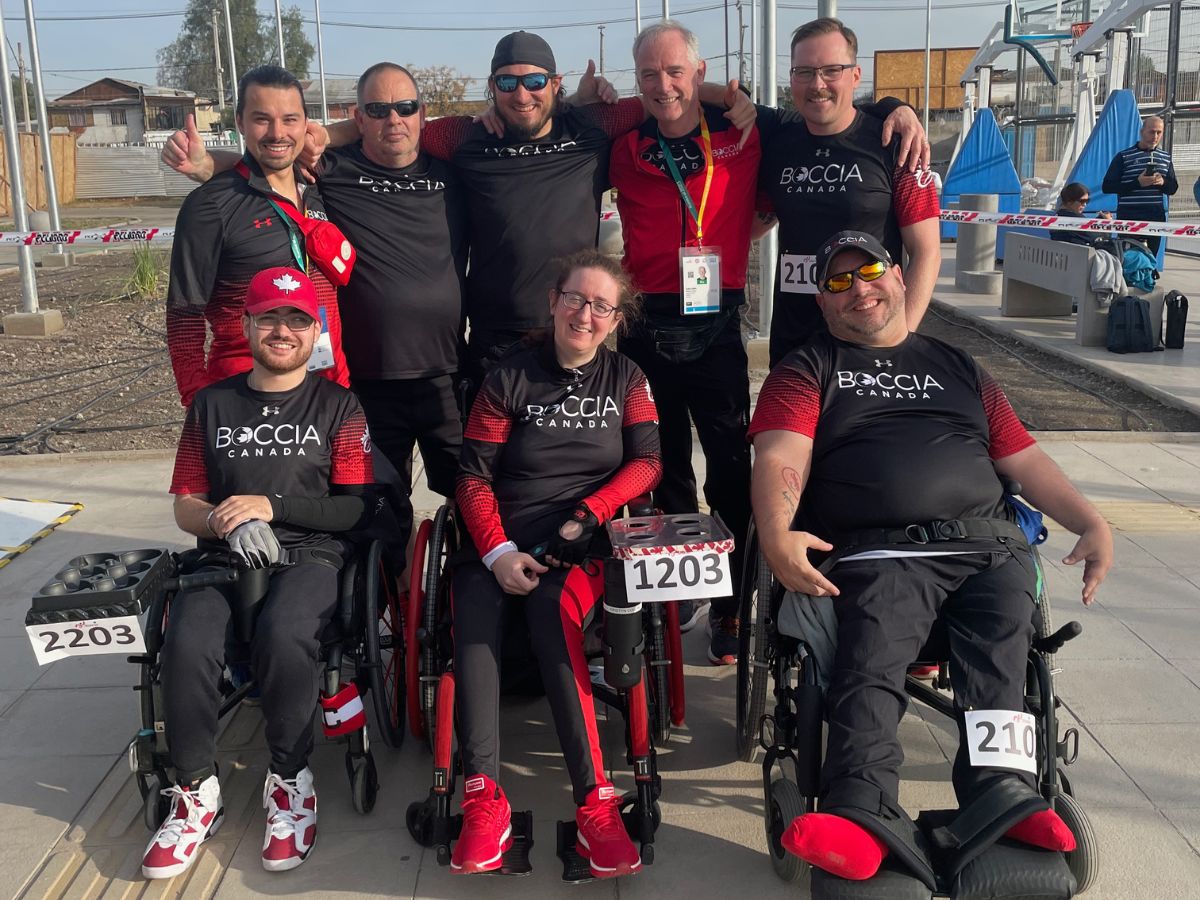 Among the athletes nominated are the BC1/BC2 Team of Danik Allard, Kristyn Collins, and Lance Cryderman (left to right)
Ottawa, ON (November 16, 2023) – Eight boccia players will compete for Canada at the Santiago 2023 Parapan Am Games starting Saturday. The Canadian Paralympic Committee and Boccia Canada originally announced nine nominated athletes in early September and an update has been made to the roster given a recent injury.
Santiago 2023 Canadian Parapan Am Team – BOCCIA
The squad includes a mix of experienced veterans and newcomers. All four athletes who competed for Canada at the Tokyo 2020 Paralympic Games – Danik Allard, Marco Dispaltro, Iulian Ciobanu, and Alison Levine – will be making the trip to Santiago.
Ciobanu and Levine teamed up to win bronze in BC4 pairs competition at the 2022 World Boccia Championships last December. Ciobanu is currently ranked world No. 7 in the men's BC4 classification while Levine, a former world No. 1, sits at No. 3 in the women's BC4 division.
"I think this Parapan Ams will be a lot like Lima [2019 Games] but a little more special because it'll be the first multi-sport event back after competing in Tokyo, and it'll be so nice to have the atmosphere of the crowd again," said Levine. "I have yet to win an individual medal at a Parapan American Games, so I'm looking forward to ticking that off my list. As for pairs, I have one silver and one bronze, so it'll be cool to complete the collection."
Currently world No. 13 in men's individual play, Dispaltro is a Paralympic medallist, winning bronze at London 2012 in BC4 pairs alongside Josh Vander Vies, Canada's co-chef de mission for the Santiago Games. The three-time Paralympian is headed to his fourth Parapan Am Games.
All three BC4 players – Ciobanu, Dispaltro, and Levine – are returning from the Lima 2019 Parapan Am Games team. Each reached the podium at those Games, with Dispaltro claiming gold in individual play and the trio teaming up to win bronze in the pairs event.
"Representing Canada at the Parapan American Games for the second time in my sporting career is a great honour," said Ciobanu. "This time I'm aiming for a double medal, as we did in Montreal at the World Cup and the Santiago Challenger this year."
Allard, No. 16 in the men's BC2 division, is a rising star in boccia and made his Paralympic debut in Tokyo. Lance Cryderman, a Sydney 2000 Paralympian and world No. 13 in his BC1 classification, is on the comeback trail after nearly 20 years away from the national team. Rounding out the team are first-time major Games participants Kristyn Collins (No. 11), Joëlle Guérette (No. 16), and Ryan Rondeau (No. 44). It would have also been a first for Lois Martin (No. 18).
At the World Boccia Challenger event in Santiago early this summer, a test event for the Parapan Am Games held in the same venue, the athletes notched a total of nine medals. All nine athletes except for Rondeau also competed at the 2022 world championships last December.
"Being with the national team has given me the opportunity to put my skills to the test against the best, and I am extremely proud of all my accomplishments," said Collins. "My main objectives for Santiago are to play well, put myself in a position to make top four, and hopefully my play results in a podium. I want to come out of the Parapan Ams with a world ranking that will get me to my ultimate goal of Paris 2024, but it's one step at a time and one competition at a time."
Boccia competition at the Parapan Am Games will take place November 19-25 and include individual, pairs, and team play. All eight participating athletes will compete in individuals, with the pairs and teams as follows: BC4 pairs Ciobanu and Levine; BC3 pairs Guérette and Rondeau; and BC1-BC2 team Allard, Collins, and Cryderman.
The winners of each of the BC3 and BC4 pairs and BC1-BC2 team tournaments will secure a qualification slot for their country for the Paris 2024 Paralympic Games next summer, while the event also offers valuable world ranking points towards qualification.
"Congratulations to all athletes nominated to the team in boccia," said Vander Vies, co-chef de mission of the Canadian Parapan Am Team and a two-time Paralympian in boccia. "As a former boccia player, I am of course really looking forward to watching all the action in Santiago. The Parapan Am Games is an important event for these athletes on the road to Paris, and we will do all we can to support them on their journey. Boccia is such an exciting sport unique to the Paralympic Movement and we hope all of Canada can get behind these athletes."
"It is so exciting to have our first athletes nominated for the Parapan Am Games, and I am thrilled to welcome each and every one to the team," said Karolina Wisniewska, co-chef of the Canadian Parapan Am Team. "I have always enjoyed boccia and know I will be learning everything I can about the sport from my co-chef de mission to become an expert leading into the Games. We can't wait to cheer the team on in Santiago."
The Santiago 2023 Parapan Am Games will take place November 17-26, 2023 in Santiago, Chile.
---
About Boccia Canada
Boccia Canada is the boccia delivery arm of the Canadian Cerebral Palsy Sports Association (CCPSA), the National Sport Organization for the Paralympic sport of boccia. Boccia Canada is focused on providing athletes and individuals of all ages and skill with the chance to play a unique Paralympic sport. We lead, develop and grow boccia from grassroots to producing World Champions, and we collaborate with partners to increase participation of Canadians with physical disabilities in sport.
---
About boccia
Boccia is a Paralympic sport of precision and strategy similar to lawn bowling or curling, played by athletes with Cerebral Palsy, Muscular Dystrophy and related disabilities. It is one of only two Paralympic sports that do not have an Olympic counterpart. Athletes compete in one of six sport classes based on their level and type of disability: BC1, BC2, BC3 BC4, BC5, and Open.
---
Media Contact
Holly Janna
Communications Lead and National Team Coordinator, Boccia Canada
Email: [email protected]
Phone Number: 613-748-1430 x3 | Cell: 514-944-5193