Women in Boccia Coach Mentorship Program Kicks Off at the National Boccia Training Centre
Published on: March 9, 2023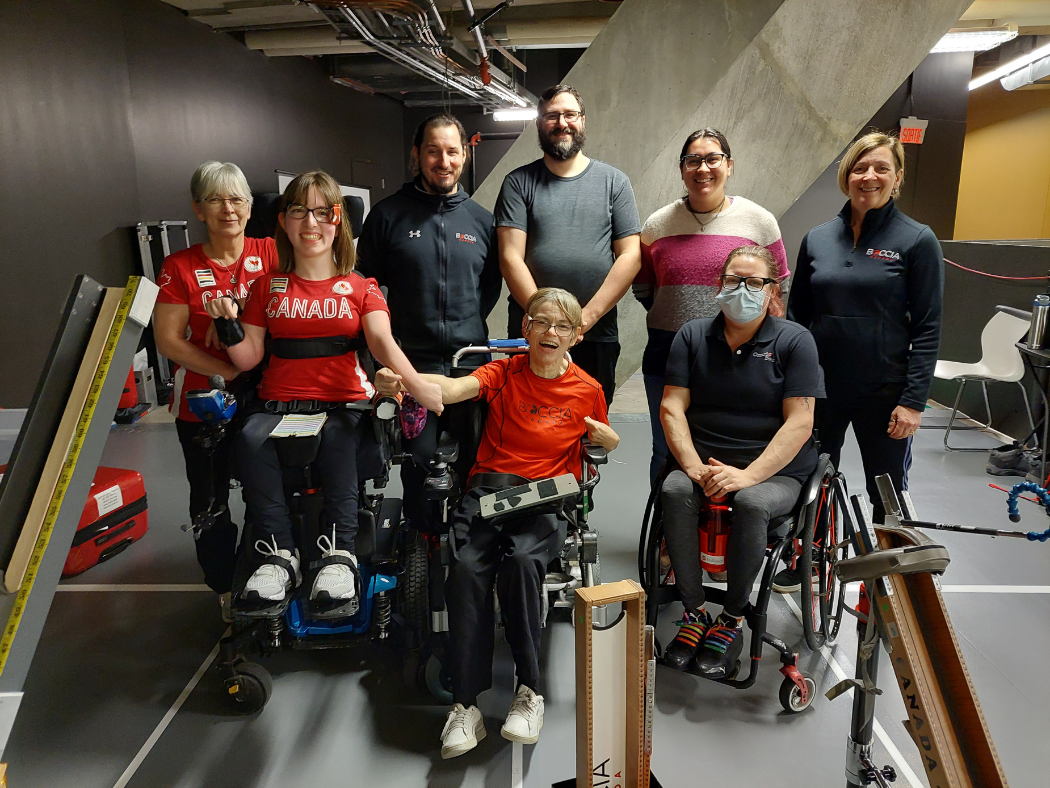 Mentor Monique Camirand with mentees Tiffany Gaudette and Adriana Guzman (pictured right to left) spent time at the INSQ with some of Boccia Canada's High-Performance Team
Ottawa, ON (March 9, 2023) – Boccia Canada and the Coaching Association of Canada (CAC) have partnered together to pilot the Women in Boccia Coach Mentorship Program. The program is based on the CAC's Female Coach Mentorship Model.    Through this program, four women will receive support from a mentor coach, gain exposure to the national boccia training centre environment and have the opportunity to progress in their National Coaching Certification Program training and certification. The mentees will receive the Coaching Association of Canada Mentee Training Modules along with regular contact with their mentors.    Adriana Guzman (Edmonton, AB), Colleen Moyer (Winnipeg, MB), Lauren Swan (Victoria, BC), and Tiffany Gaudette (Toronto, ON) are being mentored by former national boccia team coach Monique Camirand (Gatineau, QC) and para swimming Coach Vicki Keith (Amherst Island, ON).   The mentees recently visited the National Boccia Training Centre at the Institut national du sport du Québec (INSQ), where they observed and assisted with national team practices, participated in round table discussions with National Team coaches and Integrated Support Team personnel.      For Guzman, it's a chance to expand and deepen her existing coach network. "These five years I've been in the sport I've gotten to know and work with many women and I always jump at the chance to learn more from them. With the sport evolving so rapidly in every province, it's always interesting to hear what their challenges are. We all want the sport to succeed not just provincially, but nationally too, so we always help each other. The boccia community is small but mighty. We jump at the opportunity to learn from one another."    Gaudette has been a coach for six years and being a member of the Women in Boccia Coach Mentorship Program is another milestone in her career: "It's so important to showcase women in boccia or any other sport. It may encourage other women to get involved and keep more girls and women in the sport as athletes and coaches. I feel that I would be more open to another woman mentoring me and also more understood. It'll help me as I learn to navigate different coaching styles while building my coaching toolbox which is an invaluable asset for myself and my athletes."    The program aligns with Boccia Canada's 2022-25 strategic plan objectives to support the development of certified coaches and provide more opportunities for female coaches. Selection criteria for the mentees included completion of NCCP Learn to Coach Boccia or NCCP Introduction to Boccia Competition courses as well as geographic representation.     "We are thrilled to have developed a successful partnership with Boccia Canada/CCPSA in delivering this new program. There is so much value in developing a network of women coaches to build capacity in the sport, receive support through mentorship, and gain practical and meaningful experiences at the National Training Centre. Boccia Canada was a great fit for this pilot program as they had initially applied for an EDI NSO grant that morphed into a larger initiative with additional funding. Collectively we hope to continue to learn from the initiative and build momentum in providing more coaching opportunities for women in boccia. The approach Boccia Canada has taken will lead to longevity and sustainability in coaching across Canada," says Isabelle Cayer, Director of Sport Safety, Coaching Association of Canada.    Mentor Monique Camirand is looking forward to being a role model for these aspiring coaches.     "I hope to share my experience as a former coach at the community, provincial and national level. I have had the opportunity to witness the evolution of the sport over the years and I'm very happy to see more provinces (and women) getting involved. My experience as a former national and provincial coach should inspire the female coaches in the country that it's possible, as a woman, to coach at the highest level."   Find out more about the Coaching Association of Canada Female Coach Mentorship Model here.
---
About Boccia Canada
Boccia Canada is the boccia delivery arm of the Canadian Cerebral Palsy Sports Association (CCPSA), the National Sport Organization for the Paralympic sport of boccia. Boccia Canada is focused on providing athletes and individuals of all ages and skill with the chance to play a unique Paralympic sport. We lead, develop and grow boccia from grassroots to producing World Champions, and we collaborate with partners to increase participation of Canadians with physical disabilities in sport.
---
About boccia
Boccia is a Paralympic sport of precision and strategy similar to lawn bowling or curling, played by athletes with Cerebral Palsy, Muscular Dystrophy and related disabilities. It is one of only two Paralympic sports that do not have an Olympic counterpart. Athletes compete in one of six sport classes based on their level and type of disability: BC1, BC2, BC3 BC4, BC5, and Open.
---
Media Contact
Holly Janna
Communications Lead and National Team Coordinator, Boccia Canada
Email: [email protected]
Phone Number: 613-748-1430 x3 | Cell: 514-944-5193