Ottawa, ON (January 8, 2021) – Fourteen athletes have been named to the 2021 National Boccia Training Squad.  The group is a mix of Paralympic medal hopefuls and Next Generation athletes.
Tokyo medal contenders, Alison Levine, Iulian Ciobanu, Marco Dispaltro, and NextGen athlete Danik Allard will all be a part of the squad this year in their quest for success at the 2020 Tokyo Paralympic Games. All four punched their tickets to Tokyo during qualification in 2019.
There were no competitions in 2020, which was part of the reasoning behind Head Coach Mario Delisle's decision to keep the same team for 2021.
"Everyone showed a lot of resilience last year and all the athletes deserve another year in the program. In 2021 we are looking forward to the Tokyo Paralympic Games with a few of our athletes and the 2021 Regional Championship at the end of the year with our full team."
The National Boccia Training Squad was able to continue to train in 2020 thanks to Return to Training Guidelines devised by the organization. Despite boccia athletes being a vulnerable group to COVID-19, all athletes remained in good health over the course of the training period and abided by the restrictions put in place.
2019 Canadian Boccia Championship medallists, Éric Bussière, Éric Lefebvre, Hanif Mawji, Lance Cryderman, Marylou Martineau, Mike Mercer, and Philippe Lord all secured spots on the team for 2021.
Delisle is joined by coaches César Nicolai, Simon Larouche and Ed Richardson.
The Boccia International Sports Federation (BISFed) will decide next month whether the 2021 Póvoa Boccia World Open in Portugal will take place in July. All other sanctioned events until then have been cancelled. The Tokyo Paralympics are still scheduled for August 24 to September 5, 2021.
2021 NATIONAL BOCCIA TRAINING SQUAD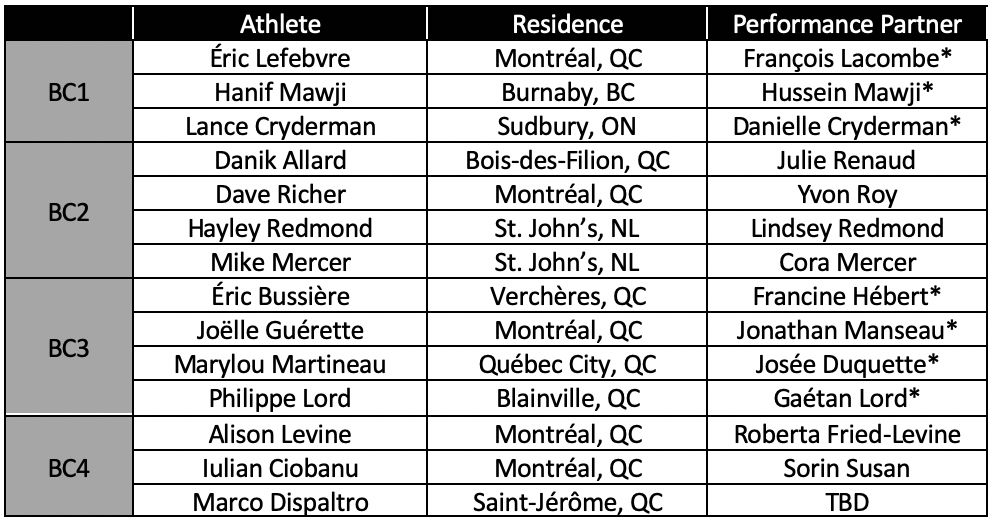 *Actively assists athlete during competition on the field of play in the BC1 and BC3 category only
About Boccia Canada
Boccia Canada is the boccia delivery arm of the Canadian Cerebral Palsy Sports Association (CCPSA), the National Sport Organization for the Paralympic sport of boccia. Boccia Canada is focused on providing athletes and individuals of all ages and skill with the chance to play a unique Paralympic sport. CCPSA collaborates with partners to increase the participation of Canadians with cerebral palsy and related disabilities in sport and physical activity, while leading, developing and growing boccia from grassroots, to producing World and Paralympic Champions.
About boccia
Boccia is a Paralympic sport of precision and strategy similar to lawn bowling or curling, played by athletes with Cerebral Palsy, Muscular Dystrophy and related disabilities. It is one of only two Paralympic sports that do not have an Olympic counterpart. Athletes compete in one of six sport classes based on their level and type of disability: BC1, BC2, BC3 BC4, BC5, and Open. For more information on boccia, visit http://bocciacanada.ca.
---
Media Contact
Holly Janna
Email: hjanna@bocciacanada.ca
Phone number: (613) 748-1430
Boccia Canada Announces 2021 National Boccia Training Squad