[email protected] Boccia Kits Return With Support from Jumpstart Community Development Grant
Published on: September 21, 2022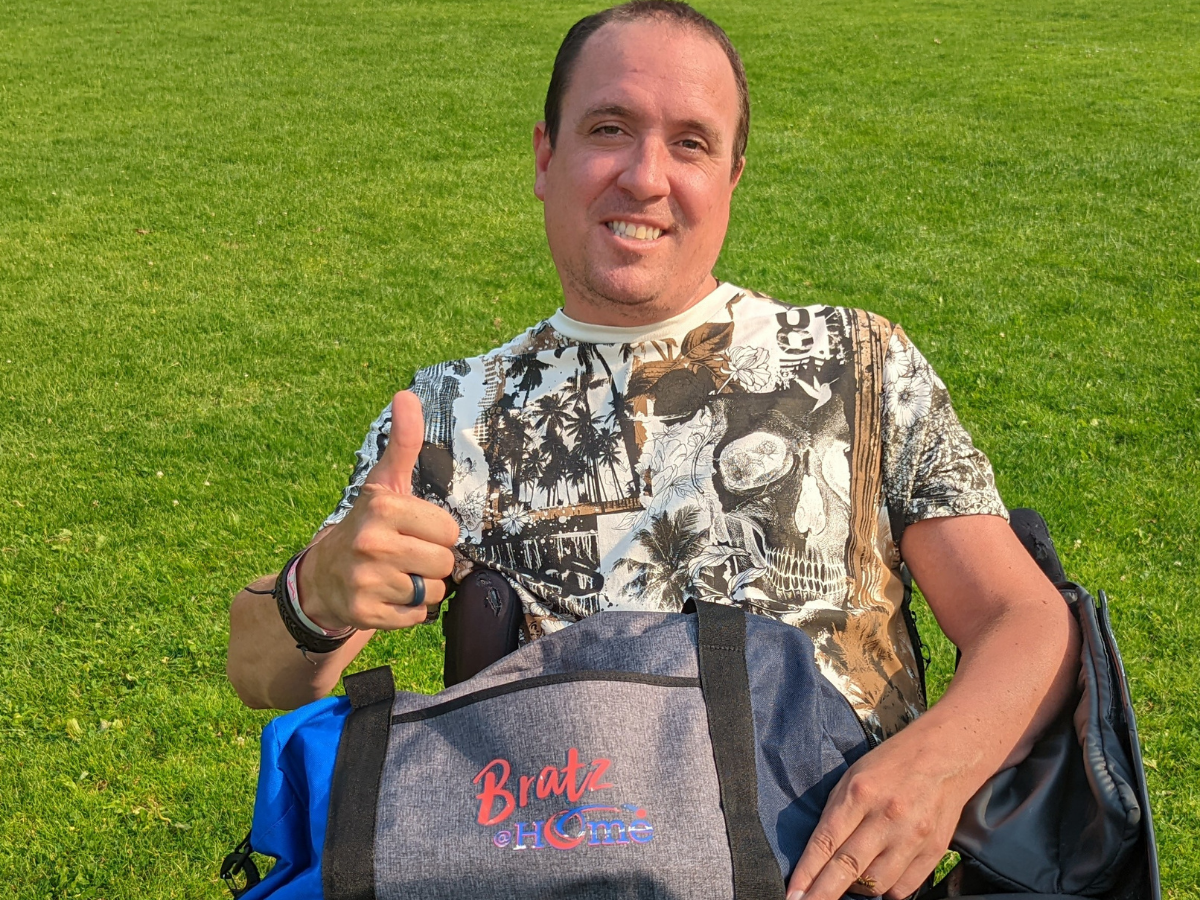 Mark Stockbrocks put the [email protected] kit to good use in phase two of the program
Ottawa, ON (September 21, 2022) – The third edition of [email protected] kits returns with support from Jumpstart Community Development Grant. Through this program, 50 children, youth and adults under 25 years of age with disabilities across Canada will receive free boccia equipment and coaching support, to develop their boccia skills. The goal of the program is to encourage grassroots boccia development in Canada.     "Unfortunately, boccia equipment is not usually available locally and can be costly. It's also hard to learn a new sport without access to trained coaches. With the support of the Jumpstart Community Development Grant, we're able to remove those barriers," says Jennifer Larson, Boccia Canada Program Manager. Geography is also taken into consideration when selecting recipients to ensure boccia development is being supported across Canada, and Larson couldn't be happier to see a new territory benefit from the program this year. "We are excited to receive three boccia kits for use in schools in Nunavut. Inclusion is an important aspect of our work in the schools, and boccia is a game that everyone can play, regardless of ability level. We hope this is just the beginning of a bright future for boccia in the region," said Carol Kehler, Physiotherapist from Ongomiizwin Health Services, Inuit Health Program/Indigenous Institute of Health and Healing. Boccia Canada thanks the Government of Nunavut for their support with translating the kit resource material into Inuktitut. Each kit has a set of boccia balls, targets, cones, a hula hoop, a beach ball, a [email protected] activity manual, and Boccia Canada stickers. Recipients will also receive five, one-hour sessions of coaching either online or in person with a trained, National Coaching Certification Program (NCCP) boccia coach.   This is the third iteration of the [email protected] boccia kit program, this time supported by the Jumpstart Community Development Fund. In January and August of 2021, 160 boccia equipment kits were delivered across Canada.   Boccia Canada will be working with the Ontario Cerebral Palsy Sports Association (OCPSA) to ship the kits to selected recipients. Previous recipients of the boccia kits loved the opportunity to try the sport, where kits were shipped across Canada. For example, Mark Stockbrocks explained, "Our boccia kit has been put to good use playing with family and friends all over the place. It's been to Whistler, Kamloops and of course a few parks around Vancouver giving my friends and relatives a really fun time together outside."  [email protected] equipment kits are also available for purchase directly though the OCPSA webpage, here.
---
About Jumpstart
Canadian Tire Jumpstart Charities is committed to ensuring kids in need have equal access to sport and recreation. Jumpstart helps eligible families cover the costs of registration, transportation, and equipment, and provides funding to selected organizations for recreational infrastructure and programming. Along with Jumpstart, we understand the importance of sport for the health and well-being of kids and their families and are proud of the work we do to provide community sport and play.
---
About Boccia Canada
Boccia Canada is the boccia delivery arm of the Canadian Cerebral Palsy Sports Association (CCPSA), the National Sport Organization for the Paralympic sport of boccia. Boccia Canada is focused on providing athletes and individuals of all ages and skill with the chance to play a unique Paralympic sport. CCPSA collaborates with partners to increase the participation of Canadians with cerebral palsy and related disabilities in sport and physical activity, while leading, developing and growing boccia from grassroots, to producing World and Paralympic Champions.
---
About boccia
Boccia is a Paralympic sport of precision and strategy similar to lawn bowling or curling, played by athletes with Cerebral Palsy, Muscular Dystrophy and related disabilities. It is one of only two Paralympic sports that do not have an Olympic counterpart. Athletes compete in one of six sport classes based on their level and type of disability: BC1, BC2, BC3 BC4, BC5, and Open.
---
Media Contact
Holly Janna
Communications Lead and National Team Coordinator, Boccia Canada
Email: [email protected]
Phone Number: 613-748-1430 x3 | Cell: 514-944-5193