Two Medals for Canada in Individual Play at Montréal World Boccia Cup
Published on: April 28, 2023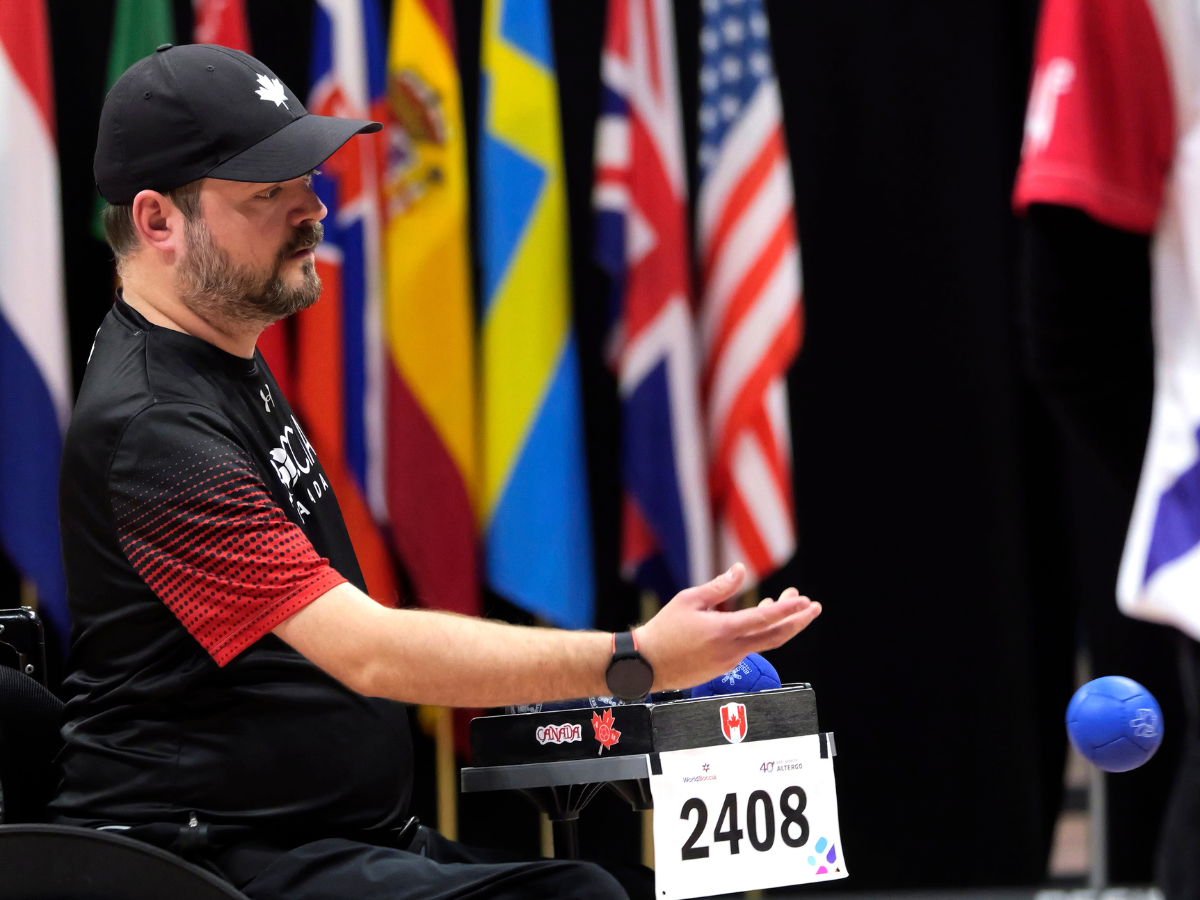 Iulian Ciobanu stays calm and collected on his way to Gold (Photo Credit: François Mellet) 
Ottawa, ON (April 28, 2023) – Iulian Ciobanu (Montréal, QC) and Alison Levine (Montréal, QC) win medals in individual play at the 2023 Montréal World Boccia Cup today: Ciobanu the gold and Levine the bronze. Twenty-eight countries, and one-hundred-and-four athletes gathered at the Maurice Richard Arena this week to compete in the Paralympic sport of boccia.    "It's not the first medal and it won't be the last. I felt very in the zone this week," said Ciobanu.     Ciobanu went into the finals undefeated in individual play, then cruised to an 8 to 1 win for gold against Brazil's Eliseu Dos Santos. Next at the competition he plays in BC4 Pairs with teammate Levine who took bronze.    Levine automatically moved on to the quarterfinals after beating Ercileide Da Silva 5-3 of Brazil in her first game of pool play. She then beat Chrysi Morfi Metzou from Greece to play in the semifinals. In her final game for the bronze medal, she stole the podium and did not disappoint with a whopping 9-0 win, effectively ending the match in third end for her Croatian opponent Anamaria Arambasic.     "I started the competition strong. All week we've been saying this is our house."   Levine and Ciobanu are native to Montréal, so they welcome this tournament every year with pride.    "We don't overtly show that we're patriotic, but I think we're all proud to be Canadian and respect our country. For me to be able to represent my country and represent women in Canada is something to be proud of."    Levine is a two-time Paralympian and has been a powerhouse in boccia. She made history when she became the first female to ever rank first in the world against men and women, when the class used to be mixed gender.    Ciobanu and Levine will be a force in the BC4 Pairs play, where they both play side by side as a duo.    "With what we're seeing this week from Alison and Iulian, they should be top contenders in BC4 Pairs", noted Head Coach Cesar Nicolai. "They showed us that the training we have put in place and their dedication to the sport at this point has paid off. We've known for a long time that Iulian can compete and win against the best in the world. Here, he demonstrated just that."   Danik Allard (Bois-des-Filion, QC) had a great competition as well. He made it to the bronze medal match where he demonstrated a lot of great shots that shows promise for the twenty-two-year old's future. Despite the Tokyo Paralympian's achievements thus far in his career, he leaves the tournament disappointed with the fourth place, but "proud to have positioned amongst the best in the world at this competition. Today I was ready to play well and perform. The match in the semis was close and it gave me confidence for the bronze medal match. In the bronze medal game, I would have liked to do better."    Notably, BC3 Joëlle Guérette (Ste-Sophie, QC) and BC2 Kristyn Collins (St. John's, NL) played in the quarters in the newly established female classes of World Boccia. Both have had success in the female division, but keeping with their high-level performance expectations, were ultimately looking for the podium this week.    Collins was able to secure a bronze in 2022 at the Rio de Janeiro World Boccia Cup. She is currently ranked tenth in the world in her class and Guérette fourteenth.    The separate men's and women's boccia division opens the door for more medals at future World Boccia competitions and the Paralympic Games.    Find all scores from the competition as well as the upcoming schedule for Team and Pairs play that starts tomorrow here. The medals for pairs and team will be decided this Sunday, April 30.    The livestream is available on court 5 here.
---
About Boccia Canada
Boccia Canada is the boccia delivery arm of the Canadian Cerebral Palsy Sports Association (CCPSA), the National Sport Organization for the Paralympic sport of boccia. Boccia Canada is focused on providing athletes and individuals of all ages and skill with the chance to play a unique Paralympic sport. We lead, develop and grow boccia from grassroots to producing World Champions, and we collaborate with partners to increase participation of Canadians with physical disabilities in sport.
---
About boccia
Boccia is a Paralympic sport of precision and strategy similar to lawn bowling or curling, played by athletes with Cerebral Palsy, Muscular Dystrophy and related disabilities. It is one of only two Paralympic sports that do not have an Olympic counterpart. Athletes compete in one of six sport classes based on their level and type of disability: BC1, BC2, BC3 BC4, BC5, and Open.
---
Media Contact
Holly Janna
Communications Lead and National Team Coordinator, Boccia Canada
Email: [email protected]
Phone Number: 613-748-1430 x3 | Cell: 514-944-5193