Alison Levine and Iulian Ciobanu Cap Off the Rio World Boccia Championships with a Bronze Medal
Published on: December 13, 2022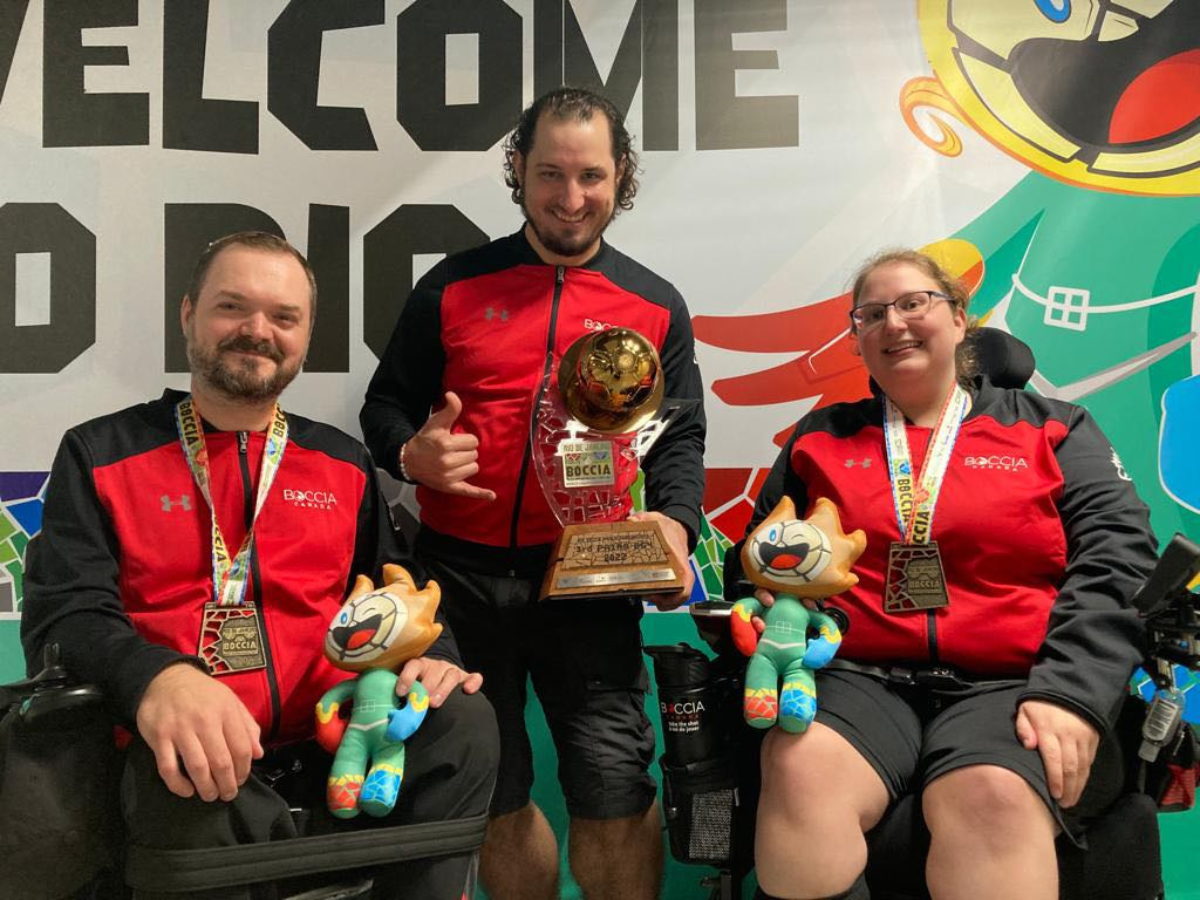 Iulian Ciobanu and Alison Levine smile with their bronze medal and trophy alongside longtime coach, César Nicolai
Ottawa, ON (December 13, 2022) – The BC4 Pair, Alison Levine (Montréal, QC) and Iulian Ciobanu (Montréal, QC) leave the World Championships with a bronze medal, defeating Japan 3-1 this afternoon in Rio de Janeiro, Brazil. This is the first medal they have earned at a World Championships, a major world boccia event, which will keep the duo in a top three placement (or better) in world rank following the updated rankings.   "This is the result of years of work with this group of athletes," emphatically stated Head Coach, César Nicolai. "It's the result of our investment in these last ten years, since we were on the podium at the 2012 London Paralympics… It's the first time that Alison and Iulian win a medal at a World Championships so it's enormous. I have no words… I'm happy. I'm proud. It's a very high level of play here in Rio. There are a lot of new athletes and many different countries winning medals now… It says a lot about our high-performance program so overall I'm very satisfied and happy."   This is another crucial step in the Pair qualifying for the 2024 Paris Paralympic Games and they will gain important world-ranking points going into 2023.     Canada breezed through the round robin portion with wins against Japan, Brazil, and Croatia. After a close 4-3 quarterfinal win versus Ukraine, Canada finally succumbed in the semifinals to rival and Tokyo Paralympic Gold medal winners, Slovakia, by a score of 6-2.   The bronze medal match-up against Japan was back and forth, with the countries trading points in the first two ends. With Canada up 2-1 going into the last end, Ciobanu threw a great first ball that set the tone. Levine followed with a power displacement shot and Ciobanu, again showing his touch, stuck their third ball and effectively hid the jack. Down to their last ball, Japan could not make the shot. Levine and Ciobanu's combination of power and precision allowed them to win the bronze without throwing their last three balls. The final score was 3-1.   "While Iulian and I  can both make all different types of shots, we definitely complement each other quite nicely," says Levine. "The medal means so much to me at a World Championships, where there were 15 of the world's best BC4 Pairs, which is a huge undertaking. It's a big milestone for us and for Boccia Canada. It was our time and we're going to continue working hard. This is not the end."   The Team BC1 and BC2 group of Danik Allard (Bois-des-Filion, QC), Kristyn Collins (St. John's, NL), and Lance Cryderman (Sudbury, ON) did not make it past their pool, after losing to number fourth and fifth world ranked Netherlands and Great Britain respectively.   "We will be using this competition as a learning experience… It's always an honour and privilege to represent our country at this level and I'm proud of my team no matter what the end result is," explained BC1 athlete Cryderman.   BC1 and BC2 Coach Ed Richardson feels that there is promise for the future with this group of athletes. "For such a new team only playing together for a little over a year now, we will definitely take our experience at the Rio World Championships and build on it for the future. Great cohesion has been demonstrated here and the strength of this cohesion should go a long way for us in the coming years."   Follow all updates about the Boccia Canada team here.   Find the list of the all the results from the competition here.   The links to rewatch the webcast can be found here.
---
About Boccia Canada
Boccia Canada is the boccia delivery arm of the Canadian Cerebral Palsy Sports Association (CCPSA), the National Sport Organization for the Paralympic sport of boccia. Boccia Canada is focused on providing athletes and individuals of all ages and skill with the chance to play a unique Paralympic sport. We lead, develop and grow boccia from grassroots to producing World Champions, and we collaborate with partners to increase participation of Canadians with physical disabilities in sport.
---
About boccia
Boccia is a Paralympic sport of precision and strategy similar to lawn bowling or curling, played by athletes with Cerebral Palsy, Muscular Dystrophy and related disabilities. It is one of only two Paralympic sports that do not have an Olympic counterpart. Athletes compete in one of six sport classes based on their level and type of disability: BC1, BC2, BC3 BC4, BC5, and Open.
---
Media Contact
Holly Janna
Communications Lead and National Team Coordinator, Boccia Canada
Email: [email protected]
Phone Number: 613-748-1430 x3 | Cell: 514-944-5193