Canadian Boccia Athletes Fall Just Short Against the Best in the World in Rio de Janeiro
Published on: December 11, 2022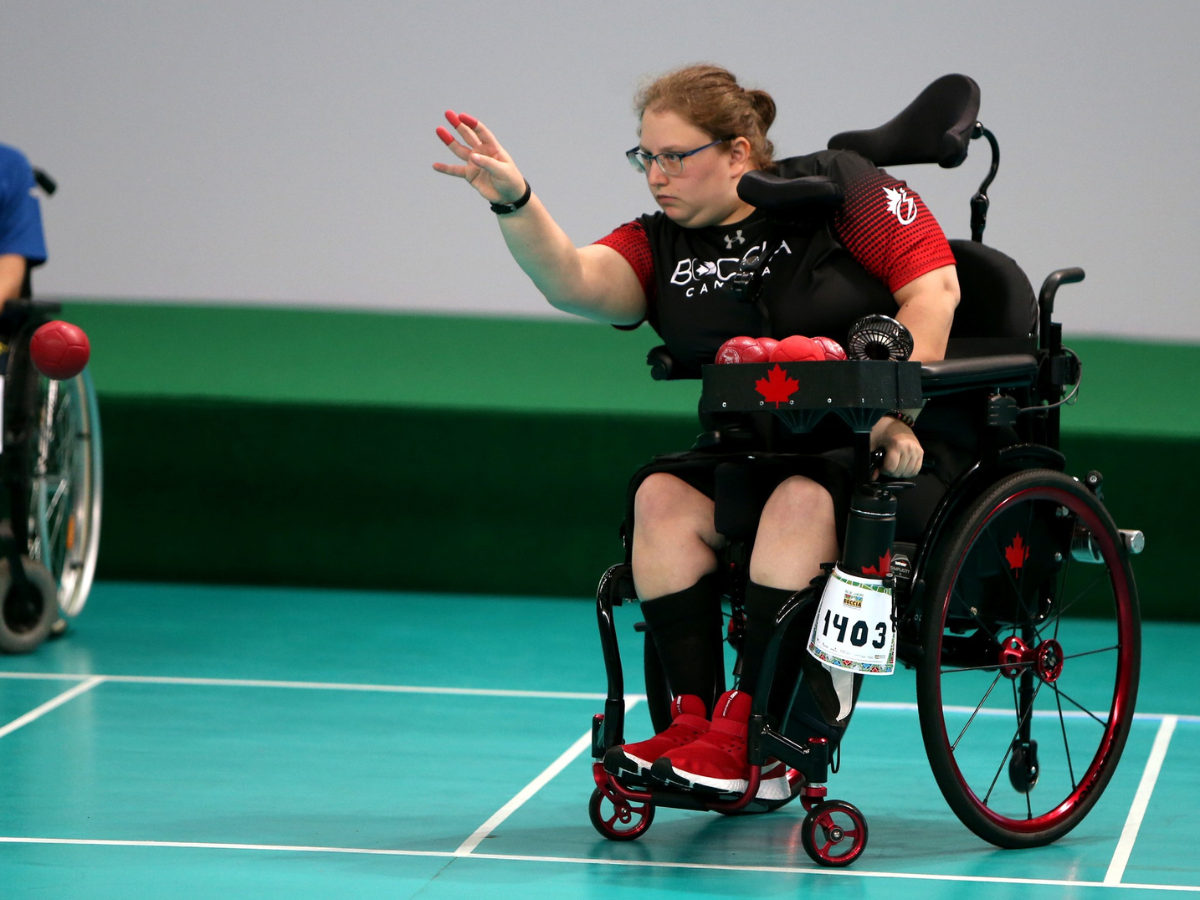 Alison Levine delivers a shot enroute to a fourth-place finish at the 2022 Rio de Janeiro World Boccia Championships
Ottawa, ON (December 11, 2022) – The National Boccia Team fell just short in the playoffs after the individual competition wrapped yesterday at the 2022 World Boccia Championships in Rio de Janeiro, Brazil. Next-up is  the Team and Pairs competition that commences today. Six of the eight athletes from Canada made it to the playoffs, half of which were competing  at their first World Championships ever.   Alison Levine (Montréal, QC) came-up just shy of the podium and was squeezed out by the nearest of margins against Hong Kong's Yuen Cheung, losing 4-3 in the bronze medal match.  In the semi-final match prior, Levine found herself down 3-0 after the first end, but fought back to take a one-point lead heading into the fourth and final end.  Her opponent and rival Michaela Balcova of Slovakia scored two, relegating Levine to the bronze medal.   "Alison passed through the round robin and quarterfinals with flying colours… In the semifinals and bronze medal match she was against two excellent athletes. We witnessed some great boccia but unfortunately for Canada the match turned in favour of our opponents," said Head Coach, César Nicolai.   Boccia Canada had eight athletes competing at the 2022 Rio World Championships, a major event for the 169 competitors from 40 countries around the globe. Among the Canadian athletes were Danik Allard (Bois-des-Filion, QC), Iulian Ciobanu (Montréal, QC), Joëlle Guérette (Montréal, QC), Kristyn Collins (St. John's, NL), Lance Cryderman (Sudbury, ON), Levine, Lois Martin (St. John's, NL), and Marco Dispaltro (St.-Jérôme, QC).   Some new athletes from Canada made their mark on the international scene at  their first World Championships ever.   Newfoundland's Collins had a great year in 2022 and came into this tournament ranked number nine in the world. She finished at the top of her pool and advanced to the knockout stage only to face the number one ranked BC2 female athlete in the world in Hong Kong's, Hiu Lam Yeung. Collins lost the match against Yeung 9-1 but came out of the event with another valuable experience in her career: "It was a great first experience in individual play at a World Boccia Championships… The positive is that I finished top 12 and gained some valuable ranking points going into 2023."   Allard, Cryderman, Dispaltro, and Guérette all advanced to the playoffs where they lost against tough opponents. Allard's loss was against the eventual gold medal winner with Guérette falling to the world number one and eventual bronze medalist.   Collins, Allard, and Cryderman plan to build on their fifth-place finish in Team last July at the Povoa de Varzim World Cup. The three athletes enter the next phase of the competition with a ranking of eleventh in the world in Team BC1/2. They hope for a repeat medal like the bronze-medal performance they had last December at the Sao Paulo World Boccia Americas Regional Championships which gave them a ton of confidence as a group heading into this year. It won't be easy, as they find themselves in a tough pool with world number four Netherlands and number five Great Britain.   "We won a medal at the end of 2021, and I have confidence in my team going into 2023," said Allard.   BC4 Pairs play also begins today with Ciobanu and Levine competing together for Canada. They kicked off the next phase of their competition bright and early at 7:30 AM EST, taking on Japan first in the round robin, followed by matches with host Brazil and then Croatia. Canada is number three in world rankings in BC4 Pairs.   "There's been a lot of learning at the 2022 World Championships. There were a lot of surprises, and the level of play never ceases to improve, with more and more countries participating every year. It reveals a great future for boccia worldwide," says Nicolai. Find the results and schedule here for both Individual, Team, and Pairs events.   Follow the webcast on four courts here.
---
About Boccia Canada
Boccia Canada is the boccia delivery arm of the Canadian Cerebral Palsy Sports Association (CCPSA), the National Sport Organization for the Paralympic sport of boccia. Boccia Canada is focused on providing athletes and individuals of all ages and skill with the chance to play a unique Paralympic sport. We lead, develop and grow boccia from grassroots to producing World Champions, and we collaborate with partners to increase participation of Canadians with physical disabilities in sport.
---
About boccia
Boccia is a Paralympic sport of precision and strategy similar to lawn bowling or curling, played by athletes with Cerebral Palsy, Muscular Dystrophy and related disabilities. It is one of only two Paralympic sports that do not have an Olympic counterpart. Athletes compete in one of six sport classes based on their level and type of disability: BC1, BC2, BC3 BC4, BC5, and Open.
---
Media Contact
Holly Janna
Communications Lead and National Team Coordinator, Boccia Canada
Email: [email protected]
Phone Number: 613-748-1430 x3 | Cell: 514-944-5193