Éric Bussière and Francine Hébert Step Away from the National Boccia Team After Nearly a Decade
Published on: November 16, 2022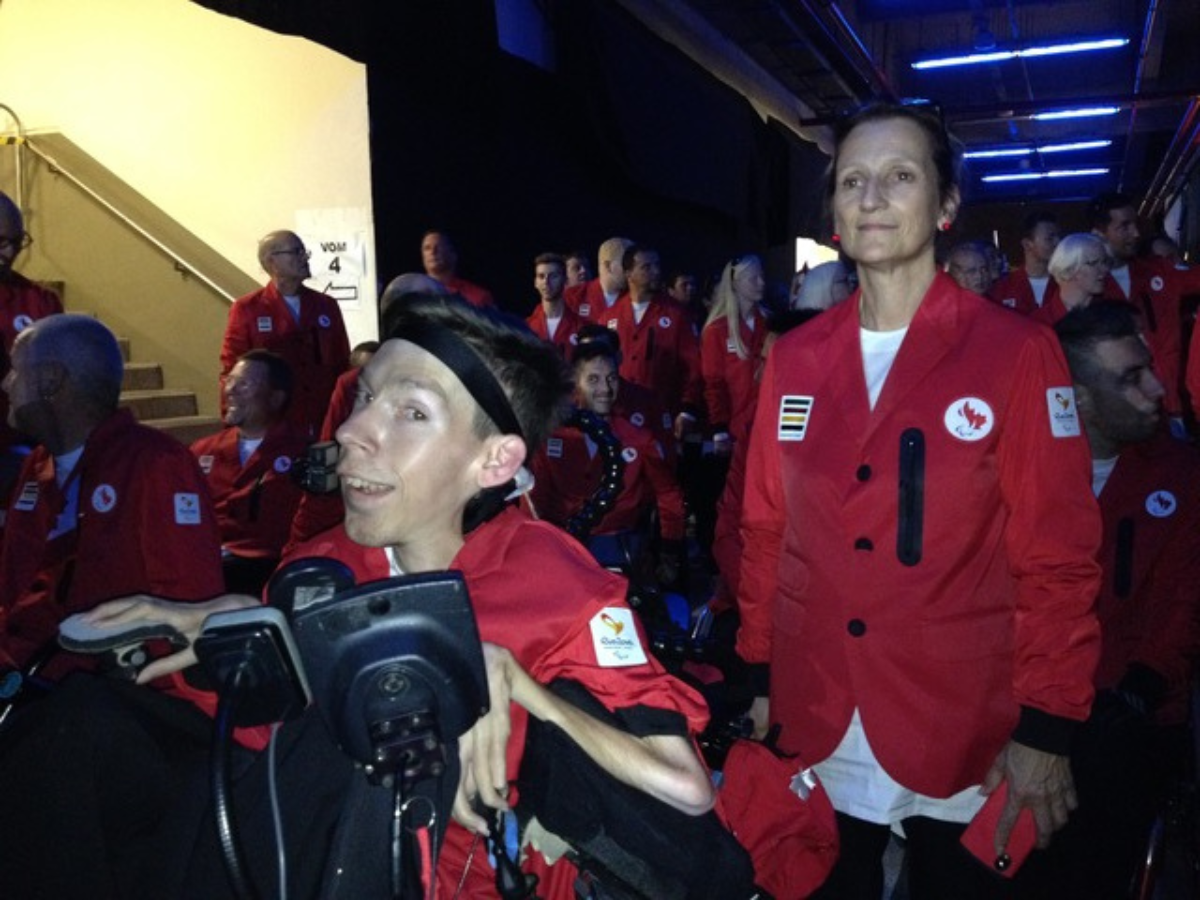 Éric Bussière and Francine Hébert (pictured left to right) awaiting the 2016 Rio Paralympic Games Opening Ceremony
Ottawa, ON (November 16, 2022) – Éric Bussière (Verchères, QC) and Francine Hébert have decided to step away from the national high-performance program after nearly ten years of competing internationally. Bussière and Hébert have a colourful history with the organization that will not go unmissed.
Bussière began his boccia career in 2011. Excelling in the sport, he made the national team two years later where he played with the likes of four-time Paralympic medalist, Paul Gauthier (Vancouver, BC), in BC3 Pairs. His mother and performance partner Francine Hébert has been by his side from the very beginning and has revelled in the adventure that her son's career brought.
"Éric's boccia career has allowed me to meet many people and travel around the world. It's a special time that I had with my son… I'm proud of Éric because being on the National Team has given him confidence and allowed him to develop socially… He is a persevering and curious person, who always finds a solution to reach his goals."
Bussière had an astounding number of accomplishments. He was multiple Canadian Champion in BC3 class, from 2015 to 2021. At the 2015 Parapan American Games in Toronto he won a gold medal in pairs alongside Bruno Garneau (Montréal, QC) and Gauthier as well as an individual silver. He won an Individual silver medal at the 2016 Povoa World Open, a Pairs silver at the 2017 Kansas City World Open, a pairs silver at the 2018 Povoa World Open, and a pairs silver at the 2019 Montréal World Open. Bussière also competed in BC3 Pairs and BC3 Individuals at the 2016 Rio Paralympic Games.
"My greatest moment is, of course, my participation at the 2016 Rio Paralympic Games. Although my performance did not meet expectations, I still feel a great pride to have made it to a Paralympic Games. The Brazilians were simply electrifying. When it came time to enter the field, the decibel level was incredible. It was like a Montreal Canadiens game at the Bell Centre. It's a moment that will always remain engraved in my memory!"
High-Performance Director, Mario Delisle, remembers, "I had the pleasure of being at competitions with Éric and Francine and I will always remember their capacity to compete at a high level, and despite major challenges, adapt to various situations with a smile… After the early retirement of Paul Gauthier due to an injury in 2016, Éric has been the leader in the BC3 class in Canada cumulating in many successes at the international level. Éric and Francine have come to almost all events with the National Team from 2016 to present. They were an example of success, determination, resilience, and an inspiration for everyone. We already miss them on the National Team."
Another fond memory was competing for Canada at the 2015 Toronto Parapan Am Games. There he won gold in Pairs and a silver medal in the singles event.
"Being at home in Canada, in addition to being my first big games, was special. We were able to visit a little bit of the city outside of the village during our free time. I have beautiful memories of me, Bruno, and our performance partners acting as tourists. I was very happy to have won medals there too."
In 2018 Simon Larouche took over as the BC3 Coach, where he had first-hand experience coaching Éric. "He was very involved in the international scene and persevered despite the challenges linked to his condition. He was one of the athletes with the highest needs, but also a very tactically skilled and strategically gifted individual."
Eric notes, "I have learned a lot during my ten years as a member of the National Boccia Team. All these years have allowed me to acquire new skills and to develop as a human being. These skills will always be with me and will be of great importance for my future projects. I want to explore new horizons while I still can and allow my mother to have more time for herself… I will continue to compete at the provincial level, so it's not a retirement. It's more of an indefinite hiatus from high level competition."
The boccia community recognizes Bussière and Hébert's enormous contributions as athletes, volunteers, and friends of many. Delisle bids adieu to a legendary pair: "It is with great reluctance that we turn the page on Éric and Francine in high performance. It was a very difficult decision for everyone to make but thinking of their well-being first, everyone concluded that it was the right thing to do. We wish the duo many fun experiences as they were an inspiration to many! Enjoy the time off!"
---
About Boccia Canada
Boccia Canada is the boccia delivery arm of the Canadian Cerebral Palsy Sports Association (CCPSA), the National Sport Organization for the Paralympic sport of boccia. Boccia Canada is focused on providing athletes and individuals of all ages and skill with the chance to play a unique Paralympic sport. CCPSA collaborates with partners to increase the participation of Canadians with cerebral palsy and related disabilities in sport and physical activity, while leading, developing and growing boccia from grassroots, to producing World and Paralympic Champions.
---
About boccia
Boccia is a Paralympic sport of precision and strategy similar to lawn bowling or curling, played by athletes with Cerebral Palsy, Muscular Dystrophy and related disabilities. It is one of only two Paralympic sports that do not have an Olympic counterpart. Athletes compete in one of six sport classes based on their level and type of disability: BC1, BC2, BC3 BC4, BC5, and Open.
---
Media Contact
Holly Janna
Communications Lead and National Team Coordinator, Boccia Canada
Email: [email protected]
Phone Number: 613-748-1430 x3 | Cell: 514-944-5193