Kristyn Collins and Alison Levine Medal in Individual Event at Rio de Janeiro 2022 World Boccia Cup
Published on: May 1, 2022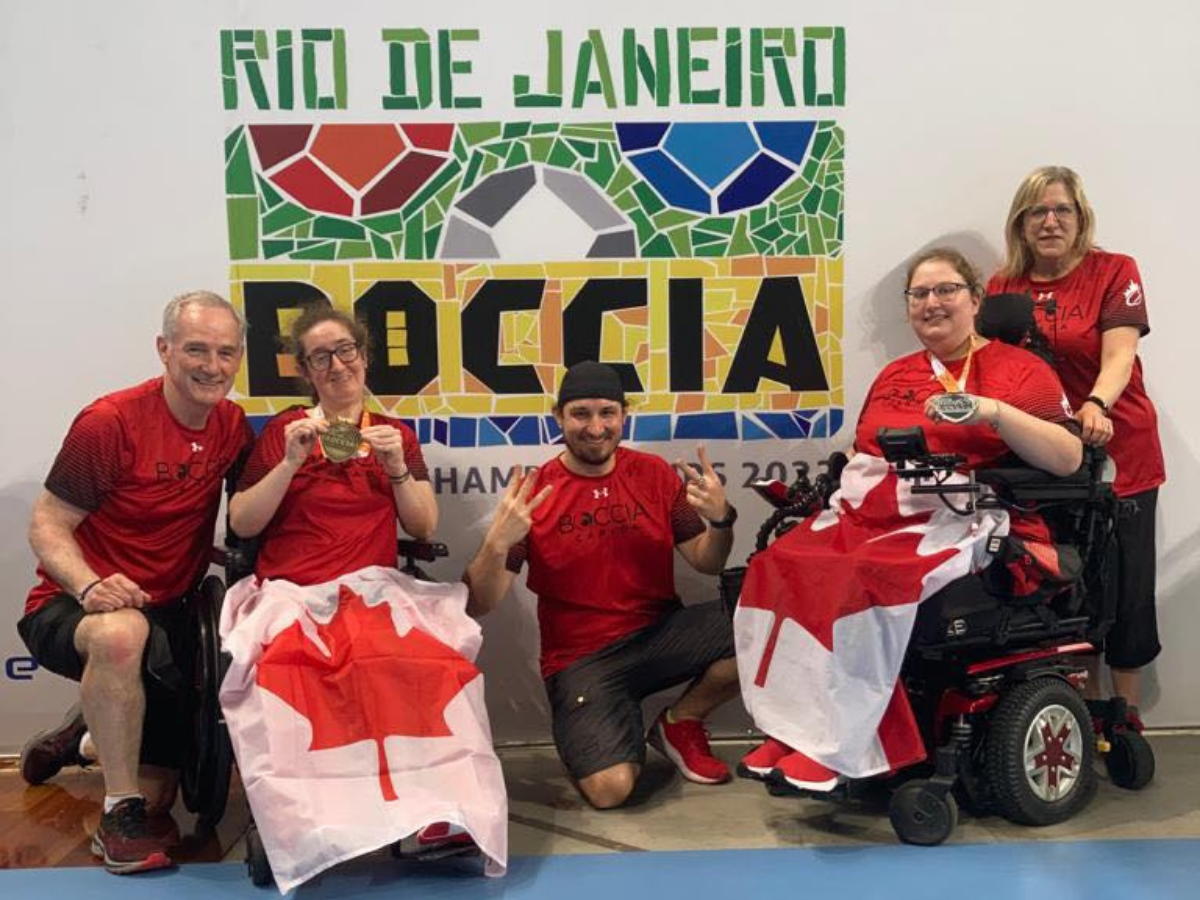 Kristyn Collins and Alison Levine celebrate with their performance partners and Head Coach César Nicolai at the Rio de Janeiro 2022 World Boccia Cup
Rio de Janeiro, Brazil (May 1, 2022) – Alison Levine (Montréal, QC) and Kristyn Collins (St. John's, NL) were among six Canadian athletes who qualified for the playoffs at the Rio de Janeiro 2022 World Boccia Cup. Levine finished with a silver medal and Collins with a bronze as the individual competition wrapped-up Saturday.   BC4 athlete Levine automatically qualified for the semifinals with two wins in the round robin. There, she played a convincing game against Michaela Balcova, winning 6-1 against the 2016 Rio Paralympics Pairs gold medalist. In the finals, she was against Leidy Chica Chica who scored an unexpected four points in the first end. Levine then had to gain ground in the following ends, but ultimately came-up short and settled for silver in a 8-1 final result.   "I'm very satisfied with my silver medal here in Rio," noted Levine. "It was an extremely difficult competition. The hardest of my career for many reasons, but my objective was to finish on the podium. Second competition of the season and second medal. I can't ask for much better than that. Pairs play starts tomorrow and I will turn my head towards that for another medal to bring home for Canada."   Columbia's Chica Chica, got some redemption after losing to Levine twice in the Individual and Pairs gold medal games at the São Paulo World Boccia Americas Regional Championships in December 2021.     Collins automatically qualified for the BC2 semifinals after Joselyn Michael Leon from Ecuador forfeited their game. Collins proved that she has what it takes with a bronze medal performance that came down to the fourth end. It was a tight game in the first three, with Collins only conceding one point in each end. In the fourth, Collins scored four points, capitalizing on a longer jack thrown by Slovakia's Kristina Kudlacova.   "I was beyond excited to win. The feeling was amazing. I want to thank the team, performance partners, and coaches for believing in me. They told me to never quit or doubt my abilities. I'd also like to thank my mom for being actively involved in my training in Newfoundland as well as my dad who has accompanied me here in Rio."   Collins is the first Canadian athlete in the BC2 female class to win a medal at a world event.   Marco Dispaltro (St-Jérôme, QC) went undefeated in the round robin finishing top of his pool in BC4 Male. He made it to the bronze medal game against Marcelo Dos Santos from Brazil but lost 6-2. Dispaltro beat world number ten Boris Nicolai from Germany in the quarterfinals 3-2 to advance to the semis.   Another BC4 athlete, Iulian Ciobanu (Montréal, QC), competed well with three straight wins in the round robin portion. One of his wins was against the number five world ranked male competitor in the BC4 class, Colombia's Euclides Grisales which went into tiebreak. Ciobanu played in the quarterfinals against Davor Komar who ended up finishing with a silver in the BC4 Male category.   Joëlle Guérette (Montréal, QC) made it to the quarters where she lost to Evelyn De Oliveira from Brazil in the BC3 class who eventually went on to win bronze. Guérette was optimistic about the experience: "I'm very happy and proud of my performance at this tournament. I battled against a top five ranked player, [Stefania Ferrando from Argentina], to finish first in my pool and then also performed well against the second world-ranked athlete in the quarterfinals. I've been able to progress well and I hope my success continues from here."   Danik Allard (Bois-des-Filion, QC) was the final member of the group to make it to the playoffs where he lost against Maciel Santos from Brazil, a London Paralympic gold medalist in 2012 as well as the eventual gold medal winner in the BC2 category at this World Cup in the men's division. The game was tight with Danik throwing some excellent shots but ultimately it came down to the third end where Santos scored some important points heading into the fourth.   Éric Bussière (Verchères, QC), Lance Cryderman (Sudbury, ON), Lois Martin (St. John's, NL), Marylou Martineau (Québec City, QC) did not make it through the round robin and were unable to qualify for the playoffs.   Newly named Head Coach, César Nicolai was content with the performances overall: "The individual competition here for Canada is very rich in lessons even for the athletes who did not succeed in qualifying for the final rounds. They have learned a lot and will leave full of motivation to come back stronger for the next competitions."   Next up for the athletes is the Team and Pairs competition which begin today. There, Ciobanu and Levine will be looking to defend their BC4 Pair title after a gold medal performance at the 2021 São Paulo World Boccia Americas Regional Championships. Bussière and Martineau are teaming up to play in the BC3 Pairs competition.   Notably, the BC1/2 Team of Allard, Collins, and Cryderman are hoping for another medal after winning a bronze together in São Paulo.   The results and schedule can be found here or on the Boccia Canada Facebook page here.  The webcast is streamed on Court 8 here.    For full international rankings visit the World Boccia site here.
---
About Boccia Canada
Boccia Canada is the boccia delivery arm of the Canadian Cerebral Palsy Sports Association (CCPSA), the National Sport Organization for the Paralympic sport of boccia. Boccia Canada is focused on providing athletes and individuals of all ages and skill with the chance to play a unique Paralympic sport. CCPSA collaborates with partners to increase the participation of Canadians with cerebral palsy and related disabilities in sport and physical activity, while leading, developing and growing boccia from grassroots, to producing World and Paralympic Champions.
---
About boccia
Boccia is a Paralympic sport of precision and strategy similar to lawn bowling or curling, played by athletes with Cerebral Palsy, Muscular Dystrophy and related disabilities. It is one of only two Paralympic sports that do not have an Olympic counterpart. Athletes compete in one of six sport classes based on their level and type of disability: BC1, BC2, BC3 BC4, BC5, and Open.
---
Media Contact
Holly Janna
Communications Lead and National Team Coordinator, CCPSA
Email: [email protected]
Phone Number: 613-748-1430 x3 | 514-944-5193