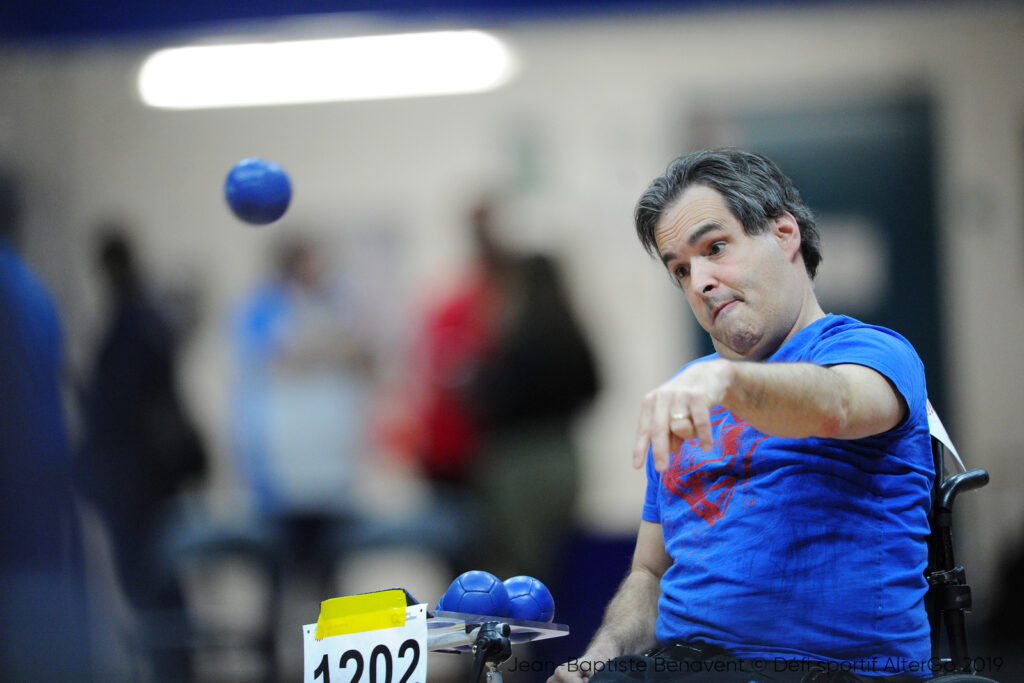 2019 Défi sportif AlterGo gold medalist Dave Richer prepared to defend his title in the BC2 category
Ottawa, ON (January 14, 2021) – The national boccia competition as part of the 38th Edition of the Défi sportif AlterGo has been cancelled, a decision centered on protecting and ensuring the health and safety of the participants given the current pandemic crisis.
The boccia competition was scheduled to take place April 30th and May 1st in Laval, QC.  Plans are underway between Boccia Canada and Défi sportif AlterGo to host a virtual boccia event, with more details to come.
"It's certainly disappointing that we won't be able to gather in Laval for this popular and well-run annual event, however with COVID-19 case numbers rising across the country, additional restriction measures being put in place, and so much uncertainty in the coming months, the mutual decision to cancel was clear to both partner Organizations. Ensuring the safety and well being of participants continues to be our highest priority. We look forward to working with Défi sportif AlterGo to give participants an opportunity to connect virtually this year," stated Peter Leyser, Executive Director, Boccia Canada.
"The entire Défi sportif AlterGo team is disappointed with the cancellation of the national boccia competition, which has been a staple in our programming for over 12 years. The health and safety of athletes is our priority and it is with this in mind that the decision was taken in collaboration with our partners. We are very proud to collaborate continuously with Boccia Canada. We can't wait to develop a virtual program with their collaboration so that athletes can still experience a spirit of competition and community," Maxime Gagnon, CEO of AlterGo.
In late December, the Boccia International Sports Federation (BISFed) announced the Laval Boccia World Open, which is also part of Défi sportif AlterGo event, had been cancelled.
Cancellation of the boccia competition at 2021 Défi sportif AlterGo